In the US, living 10 miles from school means riding a school bus or organizing a car pool. In many African countries, it means a very long, daunting walk—which often, in turn, means not going to school at all.  World Bicycle Relief, an American NGO, is trying to change that scenario by distributing 50,000 bicycles to impoverished schoolchildren—mainly girls—in rural Zambia.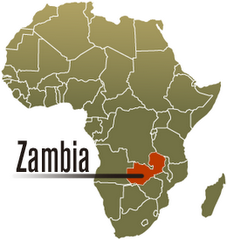 The program is called BEEP [Bicycles for Educational Empowerment]. A recent article in Global Post explains the rationale:
In Zambia, as in much of rural Africa, fewer girls attend school mostly because of the long distances involved and the tendency by some parents to use this as an excuse to push them into early marriages. A government of Zambia education survey in 2002 named distance as a major hindrance to rural children attending school; 27 percent of them dropped out because of this challenge, according to the survey.

In addition, the impact of HIV/AIDS, which affects an estimated 16 percent of the population, as well as the growing number of orphans and child-led households, help explain why only 60 percent of primary schoolchildren in Zambia complete their education.
Other organizations have taken notice. According to the World Bank, "There is no investment more effective for achieving development goals than educating girls," adding that lower pregnancy rates, lower infant child mortality rates and protection against HIV/AIDS infection are among the benefits.
BEEP emphasizes that the bicycles are not intended for recreation, as they are often used in the developed world. A parent of each of the girls who receives a bicycle must  sign a two-year contract that requires the recipient to attend class daily, use her bicycle prudently on transportation and household chores, and never for frivolous activities.
The program is clearly getting good results. Jephias Mutombeni is the Guidance and Counseling teacher at Lwimba Basic School where several students have received BEEP bicycles. He is quoted in Global Post as saying, "Looking at the program of World Bicycle Relief, I can see that there has been tremendous improvement among students in terms of attendance. In the past, we used to experience a lot of absenteeism, but with this, attendance has improved. We hope that even the performance of the students, in the near future, will also improve."
World Bicycle Relief was founded in 2005 by SRAM Corporation and Trek Bicycle in response to the December 2004 tsunami that swept the Indian Ocean. Its mission statement says:
"Simple, sustainable transportation is an essential element in disaster assistance and poverty relief. Bicycles fulfill basic needs by providing access to healthcare, education and economic development. Bicycles empower individuals, their families, and their communities. Our mission is to provide access to independence and livelihood through The Power of Bicycles.
In partnership with World Vision Sri Lanka, this project provided more than 24,000 locally manufactured bicycles to carefully selected men, women and children in greatest need. The $1.5 million Project Tsunami initiative dramatically accelerated their recovery from this brutal disaster, thanks to funding raised through the bicycle industry, foundations and individual contributors.
As part of its commitment, World Bicycle Relief retained an independent organization to measure the impact of Project Tsunami. Two years after the project was complete, the organization reports these results:
88% of recipients depend on bicycles for livelihood activities
Bicycles can save a household up to 30% of its annual income for transportation costs
The bicycle program provided critical, appropriate transportation enabling households to resume important livelihood, education and service activities
After the success of Project Tsunami, World Bicycle Relief partnered with a coalition of relief organizations to address the HIV/AIDS crisis in Zambia. Project Zambia will provide 23,000 bicycles to community home-based care volunteers, disease prevention educators and vulnerable households. They also are training and equipping more than 400 bicycle mechanics in the field. This $2.9 million program will reach more than 500,000 adults, orphans and vulnerable children.
In addition to Zambia, the organization also operates in Zimbabwe and Kenya, and it is exploring additional opportunities in Mozambique, Malawi and Uganda.