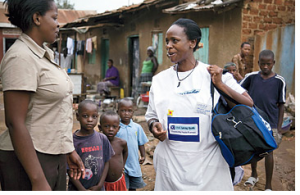 Door-to-door sales may be a quaint relic of the Norman-Rockwell past in the US, but they could be the next big thing in developing nations. At least they will be if an organization called Living Goods has its way.
Living Goods, founded in 2006, is combining door-to-door marketing—perfected by the Avon cosmetics giant—with the 21st century notion of micro-financing to help improve health and reduce poverty in Uganda.
Here's how it works. Instead of mascara and lip gloss, Living Goods offers essential health products, such as condoms, insecticide-treated bed nets, vitamin A, hand soap and toothpaste. Its sales force consists of local residents—mostly rural women—who receive micro-loans [$100 – $250] to get started. The sales force make at modest income by selling these health-promoting products at prices affordable to the poor.  The effect, says Living Goods, is "a sustainable system for improving access to basic health products and defeating the diseases of poverty." It's also a vital force of economic development, says the organization, "improving livelihoods by providing rural women a reliable source of income, by keeping wage earners healthy and productive, and by averting costly medical treatments through prevention."
The "business-in-a-box" that Living Goods' health promoters buy includes the products, as well as training and coaching. The products focus on: prevention [water treatment, Vitamin A, condoms]; treatment [essential front-line cures for malaria and diarrheal disease, worms, flu and colds]; personal hygiene [feminine hygiene, hand soap, skin lotion and toothpaste]; and household income or savings [solar lanterns, high-efficiency cook stoves, home water filters and reading glasses.]
Most of the health and hygiene items target diseases that are easily preventable and/or treatable with inexpensive drugs, but that account for more than two-thirds of childhood illnesses and death in the developing world. Living Goods focuses on villages with inadequate access to essential medicines, underserved by the existing public and private health infrastructure…

It's common for rural villagers to spend a full day and up to $2 for transportation to a government dispensary, only to find, after waiting in a long line, that vital medications are unavailable…

In addition, Living Goods agents offer basic family planning services and sell a range of contraceptive products. Health promoters seek out all pregnant women in their service areas and provide them basic pre-natal checkups and health training.
Living Goods chose Uganda as its first target by looking at a list of about 20 countries at the bottom of the World Health Organization's [WHO] health indicators list. Of the 192 member nations of the United Nations, Uganda had one of the highest mortality rates, with a life expectancy of 48.9 years, an infant-mortality rate of 80.2 per 1,000 live births and and under-5 mortality rate of 137.8 per 1,000 live births. Other health indicators add to a horrifyingly gloomy health picture in Uganda.
A key partner in Living Goods' effort is BRAC, one of the early pioneers of micro finance. It serves over five million microcredit borrowers and operates its lending profitably, despite charging below market interest rates. BRAC implements its lending through Village Organizations (VOs) composed of 25-30 women. BRAC targets the hard core rural poor who are not served by other lending groups. The average loan is $100-200.
Over the next five years, Living Goods aims to become financially self-sustaining and to replicate its model in other countries. Charles Slaughter, Living Goods' founder and president, is very open to helping other social enterprises adopt or replicate the model. [Slaughter's previous claim to fame was as founder of TravelSmith Outfitters, which ranked first in the 1980s as a direct marketer for travel clothing and gear.]
Partnering with the Poverty Action Lab* (PAL), Living Goods is tracking its impact through randomized control studies as it works to lower mortality rates for children under five by 15-30% in its target communities. It's looking for partners in priority areas including Tanzania, Mozambique, Rwanda, Kenya, Ghana and India.