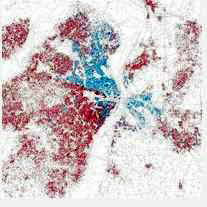 An "info-nerd" in California has translated data from the US Census Bureau into a map of the racial/ethnic divides in 40 American cities. On an overlay of each city, Eric Fischer has placed dots of varying colors, with each dot representing 25 people.
According to the St. Louis Riverfront Times, "the red dots represent people who self-identified as white, blue dots for black, green for Asian, orange represents Hispanic and gray is "other." You can draw your own conclusions about each city, but the overall impression is that we're still living in a very racially and ethnically segregated country.
Scrolling through Fischer's maps yields a look at American cities through a colorful prism. The dotted view of some cities is rainbow-like, while others are quite monochromatic. Looking at a city you're familiar with, you can see the striking neighborhood dividing lines.
Fischer's project includes: Ann Arbor MI, Baton Rouge LA, Hartford CT, Jackson MS, Knoxville TN, Laredo TX, Little Rock AR, Miami, FL, Newark NJ, New York City NY, Orlando FL, Portland ME, Providence RI, Reno NV, Rochester NY, Salt Lake City UT, San Bernadino CA, Washington DC and many more.
Fischer's Flickr site includes a variety of quirky visualizations and photo essays. Obviously, he's interested in cities and how they work. His image sets range from a "Geotagger's World Atlas," and vintage "Transit Plans," to San Francisco "City Planning maps" and something called "Cab spotting." The Census map idea came to him, he says, because "I was astounded by Bill Rankin's map of Chicago's racial and ethnic divides and wanted to see what other cities looked like mapped the same way."
Entertaining, enlightening, discouraging and worth a look.