Some people were duped by a recent April Fool's hoax showing a map of an improbable merger between the City of St. Louis and exurban St. Charles County. The map may have been a joke, but the issue that sparked the hoax is not. Not in St. Louis, and not in other urban areas, either.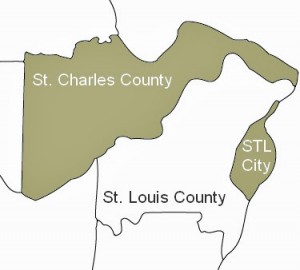 Off-again, on-again ideas about a re-consolidation of St. Louis city and St. Louis County have surfaced many times in the years since the two got what's known as The Great Divorce of 1876. Today, as 2010 census numbers show a dramatic and continuing hollowing out of the city, some city leaders are looking west, wondering if a city-county reconciliation is possible and/or desirable. But the topic is political dynamite. Just ask St. Louis County Supervisor Charlie Dooley, who, during his 2010 re-election campaign, was mis-characterized by his opponent as favoring consolidation with the City, creating a damaging negative buzz. [FYI: He was re-elected, despite the slam.] Even more recently, St. Louis City Mayor Francis Slay jumped in, hinting that City-County consolidation might be a good idea.
In the meantime, many other metropolitan areas have gotten busier—and some have actually made consolidation happen. Here's a look at some history, recent developments and prospects for city-county consolidation around the country.
Landscape
According to the National Association of Counties (NACo), fewer than 40 consolidated city-county governments exist nationwide. Today, in slumping economic times for counties and cities, some say that the urge to merge may be on the rise. Actually, consolidation has never gone out of style. NACo says, "Hardly a year has gone by since 1902 without local governments considering consolidation, taking proposals to the ballot more than 150 times."
Although proposed often, metropolitan consolidations usually don't materialize. Over the past 20 years, says NACo, consolidation plans have been proposed in more than 40 regions. Depending on whose statistics you believe, only between 15 and 30 percent of those proposals made it. The most recent successful big-city consolidation was in 2003, when Louisville and Jefferson County, Ky., united — after three earlier attempts were rejected by voters.
The pros and cons of city-county consolidation are a book in themselves. Proponents say consolidation brings economies of scale, elimination of redundancies, streamlined purchasing and reduced payroll. Critics of consolidation say evidence in already-consolidated areas shows that these benefits don't materialize, and that consolidation creates larger, more impersonal, less responsive bureaucracies.
Shape shifting
Any discussion of city-county consolidation needs to acknowledge that there are many ways to skin this particular cat. Some cities and counties have accomplished true mergers. Others consolidate and/or share services, but don't change boundaries—a form of consolidation that avoids the political-territorial wars that a full merger might ignite. Then there's the "unified government" model, a term used by Wyandotte County, Kansas to describe its consolidation with Kansas City, Kansas: In that arrangement, some cities and towns remain separate jurisdictions within the county. Or, how about a "coalition," as in Atlanta, Georgia, in which municipalities form governmental organizations that can't make or enforce laws, but can make recommendations on projects with regional impact.  To further confuse the issue, there are "consolidated cities," in which the formerly independent, incorporated areas maintain some governmental powers.
Whodunit
So, who's gotten city-county mergers passed? And how many tries did it take? Here's a look at some late-20th and early-21st century attempts. [Info compiled from several sources. [The National Association of Counties has a complete list of all city-county merger votes undertaken between 1805 and 2008.]
| | | | |
| --- | --- | --- | --- |
| City-County | State | Year Consolidated | # of attempts |
| Chesapeake-South Norfolk–Norfolk  County | VA | 1962 | n/a |
| Virginia Beach—Princess Anne County | VA | 1962 | n/a |
| Nashville—Davidson County | TN | 1962 | n/a |
| Jacksonville—Duval County | FL | 1967 | 1 |
| Juneau—Greater Juneau County | AK | 1969 | n/a |
| Carson City—Ormsby County | NV | 1969 | n/a |
| Indianapolis—Marion County | IN | 1969 | n/a |
| Columbus—Muscogee County | GA | 1970 | 1 |
| Athens—Clark County | GA | 1990 | 3 |
| Lafayette—Lafayette Parish | LA | 1991 | 1 |
| Augusta—Richmond County | GA | 1995 | 5 |
| Kansas City – Wyandotte County | KS | 1997 | 1 |
| Louisville – Jefferson County | KY | 2003 | 3 |
The flip side
If there's a Las Vegas betting line on city-county consolidations [and isn't there a line on just about everything?], the odds must be very long. As previously noted, most attempts fail, take multiple tries, or never even get off the ground. For example:
| | | |
| --- | --- | --- |
| Area | Status of consolidation | # of attempts |
| Tallahassee—Leon County FL | Continuing | 3 |
| Sacramento—Sacramento  County CA | Unsuccessful | 2 |
| Des Moines—Polk County IA | Continuing | 2 |
| Wilmington—New Hanover County NC | Continuing | 4 |
| Knoxville—Knoxville County TN | Continuing | 3 |
| Pittsburgh—Allegheny County PA | Discussed, no action taken [2008] | |
| Buffalo—Erie County NY | Discussed, no action taken [2005] | |
| Natchez—Adams County MS | Discussed, no action taken [2009] | |
| Macon—Bibb County GA | Under discussion [2010] | |
| Peoria—Peoria County IL | Under discussion [2010] | |
| San Antonio—Bexar County TX | Enabling legislation introduced in state  legislature [2011] | |
| Evansville-Vanderburgh County IN | Preliminary discussions held [2011] | |
A lesson from Memphis
The most recent attempt at a city-county consolidation took place in November 2010, when voters were asked to decide on a proposed merger between Memphis and Shelby County, Tennessee. To be enacted, the proposal needed to win in the simultaneous, but separate, elections held in the city and the county. It won narrowly in Memphis [51%-49%], but was trounced in the suburban county [85%-15%]. Opponents of the Memphis consolidation called the arguments for consolidation "fallacies," and used less-than-stellar statistics from a similar merger in Indianapolis as ammunition. Proponents of the merger, though discouraged by the results of the first such attempt in 39 years, are vowing to fight on and to keep the dialogue alive. The whole debate is further complicated by a lawsuit, filed by proponents, challenging the constitutionality of the dual election process.
In the meantime, voters in the same region, in a separate election held in March 2011, approved the merger of Memphis and Shelby County school districts. Insiders probably understand the dynamics of these two seemingly contradictory votes: To an outsider, however, they're inexplicable. But one lesson that can be taken from the Memphis-Shelby County situation is that, in tough economic times, when , on the surface, consolidation may look like a simple, logical solution, that old Humpty Dumpty nursery rhyme may contain a great deal of grown-up wisdom.