In recent days, there have been national and local indications that individual office-holders and candidates are truly advancing a progressive agenda. This is most refreshing because, for too long, the progressive banner has been carried by a few pundits, such as Paul Krugman, some blogs, and a couple of reliable stand-bys in Congress. Three encouraging developments in the political arena are:
One: President Obama's new attitude
President Obama's speech on jobs was encouraging and his actions following the speech have given true reason for optimism. First, he has drawn a line in the sand with regard to the need for increased tax revenues. He has strengthened his commitment to ensuring that the wealthy pay their fair share of taxes, and he has cleverly called the revision the Buffett Plan. Second, he has said that he will veto any debt reduction bill that does not include the Buffet Plan. He's using the bully pulpit, and it's already working. In a speech in Cincinnati on September 19, House Speaker John Boehner seemed on the ropes. He may be conservative, but he's not dumb. The framing is on the side of progressives, and Boeher's complaining about class warfare attacking the wealthy is about as effective as a national referendum to declare the Yankees "the people's team."
Let's give President Obama credit for dealing himself a strong hand and playing it. However, this will be a long drawn-out struggle. It's doubtful that the House will pass any tax increases, meaning that the president won't have any bill to veto. However, with 71% of Americans supporting tax increases as part of a deficit reduction plan, 2012 could be a good year for Democrats – if the Democrats have a spine and stand up for progressive policies.
Two: Elizabeth Warren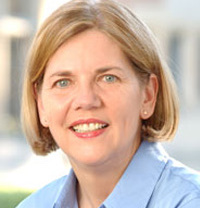 Elizabeth Warren, the remarkable special advisor for the Consumer Financial Protection Bureau, is now a candidate for the Democratic nomination for Ted Kennedy's old seat in Massachusetts currently held by Scott Brown. Frankly, when the word was out that she might run, I was concerned that she might morph into just another politician. It was with trepidation that I went to her web site. I have basically given up on contributing to political candidates, because it's hard to think of any other kind of spending that has more waste, fraud, and mismanagement. But Elizabeth Warren could be different. When I clicked on the "Donate Now" button, I shouted out a big cheer. Her default donation is $3. That's correct, three dollars. Of course, you can give more if you wish, but the suggested donation of $3 shows that she is aware of the financial struggles that many of her likely supporters are experiencing. It's clear that she is going to run with integrity. It is the job of progressives in Massachusetts and elsewhere to spread the word that she wants to run a principled campaign. There's a symbiotic factor to this. The more respect and support she gets for being honest and not seeking the big bucks, the easier it will be for her to continue to do so.
Three: A real progressive runs for Missouri House
Missouri's 83rd House district recently became vacant, and the Democratic Party met to select a candidate to fill the vacancy. Democratic committeepeople from the 83rd met to nominate a candidate in the Nov. 8 special election.
They had a chance to select a remarkable candidate in Tracy McCreery, but they preferred to take the "politics as usual" path. Tracy is simply too good to not be in office. With support from friends and colleagues and considerable personal courage, Tracy is now running for the seat as an independent.
How good is Tracy? She brings the basic characteristics of a progressive to the table: empathy, honesty, intelligence, and fairness. Additionally she has experience. It's not the kind of experience of being "present and inattentive." Tracy worked for eight years as a legislative aide to State Senator Joan Bray, the most thoughtful progressive legislator Missouri has seen in years. During that time she engaged in the struggles over protecting a woman's right to choose, fair funding for public schools, providing mass transit that is accessible to those who need it most, and a host of other issues. She has pounded the pavement of St. Louis County, listening to voters and helping to develop solutions to their needs. Through it all, she has maintained a fundamental commitment to keeping government out of areas where it doesn't belong but having it omnipresent to provide a safety net for those in need.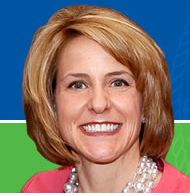 Fortunately, Tracy is giving residents of the 83rd District an opportunity for a "do-over" to remedy disappointing decision of the committee that selected the Democratic candidate. Running as an independent can be very challenging, because one loses key financial and volunteer resources. However, being an independent can also be liberating, allowing one to follow principles that might be compromised when running as part of a ticket. That freedom only matters if you have an individual with solid values; I think with Tracy we do.
In recent years, the Democratic Party has experienced tremendous difficulty in creating a clear and progressive agenda. Rather than being proactive, the party and its supporters have been very reactive, spending an inordinate amount of time taking the bait from Tea Party members and letting the right set the agenda.
Congratulations to President Obama for taking a new tack in negotiating, to Elizabeth Warren for challenging the political norms, and to Tracy McCreery for challenging the political establishment. Let the proactive momentum continue!