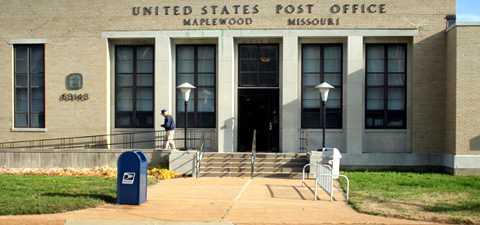 Times were tough. The country was barely on its way out of a crippling economic disaster. Jobs were scarce. People were hungry and without health care.
Sound familiar? Maybe, but that was the thirties. It was a time when people looked to government to help mend a broken economy. They believed government could play a role helping everyone gain back something that had been lost.
One answer was massive public works projects. Not just drab, utilitarian structures, but spectacular buildings, adorned with art. Architecture that said this country and its government can do big things.
Some of that architecture still exists in the St. Louis area in the form of magnificent old post offices. Ornate marble halls, murals and decorative brasswork all speak to the idea that we're all part of something bigger than ourselves. These buildings reflected pride. They conveyed a sense that the federal government was there be a part of the community. They provided a glimmer of hope for the future.
It's ironic that in our time, these grand buildings, symbols of strength and permanency, are part of an entity under severe economic pressure. With the Postal Service considering serious cuts to service, some facilities may be closed.
There is no easy economic answer, but somehow in the 70 years that have passed since those magnificent buildings were constructed, a lot has been lost.