Suppose that after nine-eleven, the Bush Administration had taken time to let their obvious and justified anger about the senseless attack chill a bit. Suppose the first step in developing a reaction had been to have someone with a "cool head" lead a seminar for decision-makers, rather than having Dick Cheney coerce everyone into crisis mode? It's possible that the United States would have looked at the hijacking of the four planes and subsequent suicide operations as criminal acts rather than acts of war. The United States was not attacked by everyone in Afghanistan. The plan was hatched by a group of terrorists who operated in ways that were somewhat similar to street gangs, the kind that often roam inner city streets in the U.S. Just as police target particular gangs rather than entire neighborhoods or cities, the U.S. could have focused exclusively on Al Qaeda rather than Afghanistan.
And suppose that a year later, National Security Advisor Colin Powell had listened more to his own doubts about Iraq having weapons of mass destruction. He also harbored doubts about whether Iraq was in any way involved in the nine-eleven attacks. He might have reflected more had he had been surrounded by others who were intent on taking time to get it right rather, than hastily doing something, however poorly conceived.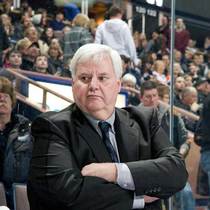 Perhaps George W. Bush and his neo-con friends could have benefited from the wisdom of a very tough and successful hockey coach. His name is Ken Hitchcock, and now works behind the bench of the St. Louis Blues. In two months as coach, he has taken a team that was out of the playoff picture in the NHL (and almost every team in the NHL makes the playoffs) to the top of the Central Division in the Western Conference.
Last Dec. 29, St. Louis Post-Dispatch hockey beat writer Jeremy Rutherford wrote a most illuminating piece on Hitchcock. The method that Hitchcock takes to deal with a disappointing loss might have been emulated by the Bush Administration more than ten years ago.
Rutherford wrote:
"Ken Hitchcock had planned to be in his office by 9 a.m. Wednesday, some 12 hours after the Blues' 3-2 loss to Detroit, but he didn't arrive until 10.

Hitchcock pulled into the club's practice facility in Hazelwood at 10, but he didn't enter the building for a few more minutes.

"When I'm angry, I'll sit at home," Hitchcock said. "I'll sit at Starbucks. I'll read a newspaper. But I ain't coming in until I'm in a 'hopeful' position because anger gets you nowhere.

"I was in the parking lot for five to 10 minutes, but I wasn't coming in until the coffee was over. Don't come in angry."
Hitchcock added,
"Am I ratcheting up the temperature here? No. I was brought in here to teach people what it takes to win. That's my job. It's not about yelling and screaming, 'You didn't do this, you didn't do that.' It's more matter of fact, 'Here's what it takes to get to the next level.' To me, it's all about the next day. The next day is the 'Learning Channel.'"
What's remarkable about Hitchcock is that becoming a teacher was a metamorphosis for him. He had previously been a yeller and screamer. There were times when the hyper Hitchcock had success, even winning a Stanley Cup in Dallas. However, the experience was very wearing on both him and his players. Were they having fun? Well, yes, but also no. The tension of Mr. Hitchcock erupting was unsettling to all.
His current approach is that if a player makes a mistake, whether it's a mental lapse or a physical mishap, the player is probably his own worst enemy. He's already beating up himself. Rather than pouring salt on the wound, the New Hitchcock will go over the play with the player or players and analyze what went wrong. The tête-à-tête is not successful if it has not been a learning experience for both players and coach. Through the process, a trust is built and strengthened, and the wisdom of the coach has further cachet next time it is imparted to the players.
Like virtually every coach, Hitchcock has gone through the cycle of being hired and fired. The down side of being fired is the disappointment and associated humiliation of being shown the door. The upside is that it provides the coach with time to reflect on what he has been doing and work on ways to improve his methods when the next opportunity comes along. Some coaches like the "new Hitchcock" are able to do this; others can't and repeat the same mistakes.
George Bush has been quiet since his days as president. Dick Cheney and Donald Rumsfeld have written books justifying their actions, with little consideration of the possibility that they may have made mistakes. While that was then and this is now, their present Republican cohorts who are running for president seem to be applying the failed strategies of the Bush Administration to the current situation in Iran. If any of them should become president, and perish the thought, let's hope that they can first add a Starbuck's to the White House amenities and when they're angry, they just go have coffee and not return to work until they chill. If so will have learned a lesson from Ken Hitchcock, whether they know it or not.