I remember about fifteen years ago speaking with a rather well-to-do woman in St. Louis who was about to give birth. She said that the first thing that she was going to do after the delivery and leaving the hospital was to travel out to one of St. Louis' elite secondary schools and have her daughter placed on the waiting list to enter 7th grade some thirteen or fourteen years later. I was appalled by the action, although I suppose a more balanced perspective would have included kudos to her for her foresight and proactive thinking. However, it was clear to me that a three-day-old child really had not been in a position to give much thought to whether or not she wanted to attend the school. She certainly had not voiced her opinion on the subject.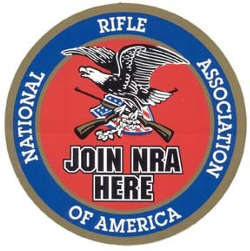 I was reminded of this story when several weeks ago I read that former Republican presidential candidate Rick Santorum had just signed up his three and a half year old daughter, Bella, to become a member of the National Rifle Association (NRA) [note: I'm not talking about Herman Cain's National Restaurant Association].
There are all the normal absurdities of Santorum signing Bella up for the N.R.A. He's treating her like a pawn. He's being a dominating and domineering parent. Even if Bella was of an age to consider some basic political issues, she still was still far too young to consider all the factors involved in the role of guns in our society and whether it would be in both her interest and that of society for her to join the NRA.
I suppose that there are progressives who are guilty of the same sort of manipulation of their children. There are probably three-year-olds who are "proud" members of the Sierra Club or the Children's Defense Fund. Even if these children are joining "my teams," I have no more respect for the parents who play out their own fantasies through the lives of their children.
I can't help but wonder whether 50 years ago, when Democrats and Republicans either got along with one another or gave the appearance of doing so, if they were polarizing the political situation by locking their young children into rigid political positions. My hunch is that it wasn't happening, if simply because there were fewer interest groups, and the ones that existed were less extreme.
Naturally, if we were to have a national dialogue of the ethics and propriety of permitting young children to join interest groups, we would fall right into the dilemma that already divides progressives and conservatives in our society. Progressives might advocate utilizing the government to prevent children from being manipulated – even abused– by adults who want to advance their own political agendas. They would also point out that three-year-olds would now be participating in the corrupting influence of money in our political process. Conservatives would say that the freedom of individual parents would be abused and restricted, because the government would be undermining individualism with "socialist" ideas.
It's conceivable that there would be some validity to both perspectives. However, the absurdity of Rick Santorum's action with Bella would still win the contest for most farcical parenting decision. The bottom line is that the NRA peddles a product that kills. The Sierra Club seeks to preserve our natural ecology, and the Children's Defense Fund works to protect life.
As has been the case with so many faux pas by Rick Santorum, Mitt Romney, and other one-time Republican candidates, their absurd ideas seem to have their fifteen minutes of fame. As progressives, we need to hold them accountable for the devastating impact of their ideas. As Bill Maher, Jon Stewart, and others mock the likes of Rick Santorum, the "real newscasters" need to continue to remind us of the danger of vitriolic conservative ideas. MSNBC does its job, but it is so blatantly biased towards progressivism that we need more mainstream media to remind us of the danger of right wing ideas. It's for the sake of all of us, as well as Bella.