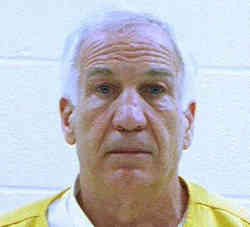 Everything about Jerry Sandusky's abuses at Penn State University are disgusting. and in many ways, it's difficult to think of any penalty that's too harsh. Additionally, top football coaches and the school administration had reason to know of Sandusky's transgressions, and yet they stood by and did nothing..
Shortly after Sandusky was convicted of 45 of 48 charges, the NCAA (National College Athletic Association) levied a series of penalties on Penn State. They include:
• $60 million fine (an amount equal to the average annual gross revenue of the football team.) The real losers here are the athletes in other sports that play less revenue-producing sports and have their budgets subsidized by football and basketball revenue.
• Four-year ban on post-season on games
• A combination of sanctions that will probably result in Penn State needingl ten years to return to the level of competitiveness and post-season prominence that it has enjoyed for decades.
However, these penalties may be positive developments for the players. The field is still 100 yards long and 53 1/3 yards wide. A first down still requires advancing ten yards in four downs or less. Play options for the offense still include running, passing, kicking a field goal, and punting. The defense can still line play in a four-three configuration; a three-four configuration, use a "nickel" defensive back arrangement as well as a "dime" one. In other words, it's still football.
Perhaps most importantly to the players, (a) it's still fun, so long as you don't get hurt, and (b) the primary goal of each game is to win it.
Years ago, the college football season was ten games long; before that a mere eight. It was clearly a fall sport without summer and winter games. Now, for Penn State, there will be no post-season games, so the number of contests will be no more than eleven, rather modest for the 2000s. There will be no hope or expectations of playoff games or bowl games. The BCS method of determining the best teams in the nation will not include Penn State.
The penalties include decreasing the number of scholarships per year by ten, meaning that ten more "walk-on" players will get a chance to make the team. These are non-highly touted players who want to play but do not come to the university with a great deal of hoo-hah.
The New York Times reports, "The postseason ban and the scholarship restrictions essentially prevent the program from fielding a team that can be competitive in the Big Ten. The N.C.A.A. will also allow Penn State players to transfer to and immediately play at other universities, inviting the possibility of an exodus. The players can transfer now or after the 2012 season."
It gives an out to those players that want to leave Penn State for other universities (currently a relatively low number), and clearly makes Penn State an underdog in all games it plays, except an opening game or two against a "patsy."
The penalties clearly hurt Penn State in a conventional manner. But they also provide opportunities for fresh students to play Division I football. It also puts the players on the field as conference underdogs, meaning that not only winning games, but also pulling off good plays and scoring touchdowns will be major physical and emotional victories. It will probably bring the players closer together because they will be focused on each game at a time rather than some huge trophy at the end of the season. And they'll do all this without a Jerry Sandusky or Joe Paterno around.
So while Penn State has been hit by a series of penalties, it also has been granted opportunities for a new set of players and coaches. The next four years could be the most fun in decades to follow. I'm not a big college football fan, but I'll be watching Penn State and rooting for them every game.