If you're interested in architecture and have ever considered the role architectural design plays in advancing a progressive social agenda, now is the time to sit up and take notice of a new breed of designer.
The focus of this new breed is neither abstract nor theoretical. Their designs are less about them and more about the people who are the ultimate users. They work primarily in the Third World and in underdeveloped nations where the needs are great, and small-scale solutions yield large-scale impact.
They're listeners and collaborators shaping modestly scaled design solutions to specific social needs. They're problem solvers and innovators who respect and celebrate local context. They're users of hyper-local vocabulary and sustainable, indigenous building materials. Theirs is a humanitarian commitment employing the practical tools of their trade.
If you look, you're not going to find their faces plastered on the covers of trendy shelter magazines; but the homes, shelters, hospitals, and schools they design and build and their impact on needy communities is profound.  They are everything the self-aggrandizing celebrity architect is not.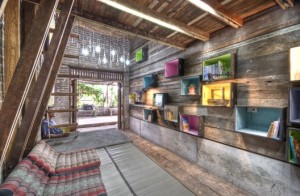 This new direction is inspiring youthful architects in countries around the world. Two design studios, TYIN tegnestue Architects, based in Trondheim, Norway, and MASS Design Group of Boston are only two of many that are committing themselves and their skills to promote social change.
 Design rooted in context
In 2012 Andreas G. Gjertsen and Yashar Hanstad of TYIN tegnestue Architects were awarded the European Prize for Architecture. The award recognized the architects' work designing and building shelters and community centers inspired by the vernacular of local communities in poor and undeveloped areas in Thailand, Uganda, Sumatra, Indonesia, and Norway.
The prize gave international prominence to the architects' vision of "serving a purpose" and designing and building architecture "that follows necessity."  Jointly awarded by The Chicago Athenaeum: Museum of Architecture and Design and The European Centre for Architecture Art Design and Urban Studies, the prize is the highest honor awarded to European architects "who have demonstrated a significant contribution to humanity and to the built environment."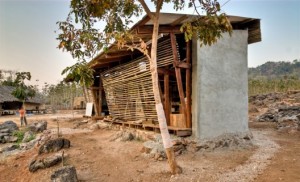 Expressing his hope that other architects might follow the example of the Norwegians, Christian Markiewicz-Laine, museum president of The Chicago Athenaeum, explained that "such selfless pursuits in helping other nations solve the difficult problems of their environment, their ecology, their economic hardship, while building and supporting local communities  . . . are the most important direction of our future architecture today."
Similar in their humanistic approach and commitment to social problem solving are Boston-based Michael Murphy and Alan Ricks of MASS Design Group.
 Improving health and education through design
While still in graduate school, Michael Murphy happened upon a lecture by Dr. Paul Farmer, founder of Partners in Health. Intrigued by Dr. Farmer's work in delivering healthcare to underserved communities in war-torn Africa, Murphy was surprised to discover that Dr. Farmer had been building hospitals and clinics without the expertise or collaboration of an architect.
Murphy and Ricks found their calling when they began working with Dr. Farmer to bring a creative, design-based approach to re-conceptualizing a hospital and, later, a school in Rwanda. Today, the designers of the MASS Design Group hope that their success in improving people's live will serve as "an example for how designers can rethink their role in the world."
If you want to be truly inspired, as I was, take a look at the video below and see for yourself what can happen when need and design meet and socially committed designers go to work.