How many times have you heard of athletes who signed mega-million dollar contracts and who went broke? They include baseball players Tony Gwynn, Bill Buckner, and Jack Clark; football players Johnny Unitis, Harvey Martin, and Danny White; and athletes from other sports including Steffi Graf, Dorothy Hamill, and John Daly. Basketball player Kenny Anderson earned $63 in salary; went bankrupt; and became a K-12 school teacher. Baseball player Lenny Dykstra turned a chain of car washes into an empire that eventually included a luxury airline, Wayne Gretsky's $17 million mansion and a $60 million personal fortune. Dykstra filed chapter 11 bankruptcy in 2008 listing over $30 million in debts to various banks and law firms. He is currently serving a three year sentence for grand theft auto.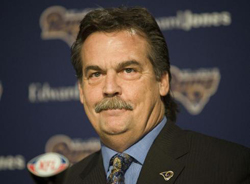 What does this have to do with Coach Jeff Fisher of the St. Louis Rams football team? Coach Fisher has initiated a team policy along with General Manager Les Snead and Kevin Demoff, executive vice-president for football operations. The essence is that players drafted out of college are not offered professional contracts as soon as possible after the team develops sole negotiating rights with them following the draft. The Rams have seven draft picks, none of them signed as of June 11, 2013. In contrast, seven teams have all their draft picks signed. All thirty- one of the teams other than the Rams have at least two players signed.
Until several years ago, it used to be difficult to sign players that your team drafted. But in an effort to make the playing field more level, the league established a system where each player would fall into a "slot" on the basis of in what order the player he was chosen. That slot would have narrow parameters for what the player could be paid. So the Rams are not being cheap; they're just trying to take advantage of the time they have with the players before they get ahold of the millions that will be coming their way.
Some of the former players on the "bankruptcy list" once played for the Tennessee Titans when Jeff Fisher coached that team. He doesn't want to see that happen again with players on the Rams.
"We just feel like they'll be better suited if we can take them through step A and B of Financial Planning 101 before we give 'em the money," Fisher said. "It's just that simple. We'll get them all signed and we're communicating with them."

It's been pretty well documented how many pro athletes squander their money by the time their careers have ended. Fisher figures the players, and the team, will benefit if he and the rest of the Rams' organization can set expectations for the rookies on and off the field before showing them the money.

"Exactly," Fisher said. "It's a life-changing event for them. We try to better prepare them for that."

Demoff continued: "A big focus of our entire program, with an emphasis from Coach Fisher and (general manager) Les (Snead) is on player development and skill development. We get La'Roi Glover involved, and really taking a holistic approach to the maturation process of the rookies and the vets."
Kudos to Fisher and the Rams. We can certainly appreciate any competitive sports team that takes a "holistic approach" to player development and maturation. There obviously is some "good citizenry" in what the Rams do, but it's also good business for them. The team is better off if its players are not squandering money and going on the edge of bankruptcy. The Coach won't keep his job if the players handle their finances well, but whatever the won-loss record is at the end of the season, he will have a sense of accomplishment if the rookies succeed in the "Game of Life" version of Finances 101.