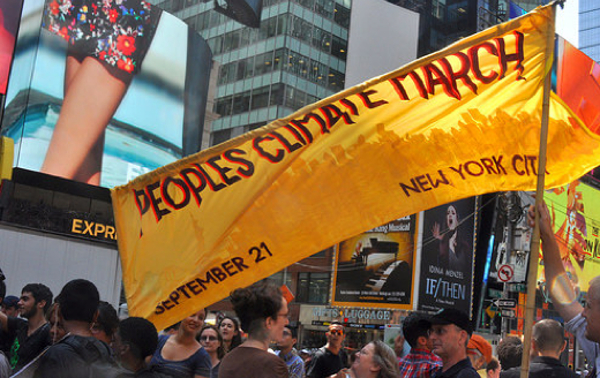 When I first got wind of the People's Climate March taking place in New York City on September 21, my first thought was "will my personal responsibilities allow me to get there?" My second thought was of Howard Zinn, the historian and activist who, more than thirty years ago, authored the brilliant but still-debated alternative history of the American experience titled "A People's History of the United States."
Surely, I thought, if Zinn were still with us, he would be crisscrossing the country reminding us of our collective responsibility to demand that our elected officials set aside the partisan divide and their distrust of international cooperation and come together to craft meaningful policies addressing the multigenerational crisis that is global warming.
I imagine Zinn would not have missed this opportunity to link arms with fellow activists at what may turn out to be a historic march. Grassroots organizing and street action were, after all, mother's milk to Zinn. From his first civil-rights marches with students at Spelman College in Atlanta, Georgia, to his anti-war activism during the Vietnam War, Zinn never faltered in his belief that the fundamental obligation of citizens in a democratic society is to make our voices heard through organizing, gathering together, and protesting peacefully so that we may affect government policy and push for social change. Zinn, who passed away in 2010, believed with a passion that power must never be allowed to reside solely behind the closed doors of corporate boardrooms nor even within the halls of government, but must be claimed and reclaimed again and again throughout history by the people themselves.
But power, as Zinn reminded any and all who would listen, is only power if it is exercised. The People's Climate March provides an opportunity to exercise that power.
The People's Climate March is timed to take place just two days before the world's leaders meet at the United Nations for what many hope will turn out to be a historic and game-changing climate summit. Organizers are predicting that the march through the streets of New York will be the largest ever. Among the one thousand participating organizations from the U.S. and abroad will be environmental, secular, religious, labor, business, and social-justice groups and schools. Supporting events are planned on September 20 and 21 in cities and towns across the U.S. and in countries around the world as part of the Global Weekend of Action.
The U.N. summit and the People's Climate March come at a time when frightening reports about the effects of climate change assail us daily. Those reports remind us that we are surely living through one of history's great turning points—a time when the challenge of environmental degradation is so immense it defies the imagination. With every grim revelation it becomes more difficult to hold on to a thread of hope. When I go down that road, I try to remember that Zinn's life demonstrated that optimism and realism are not mutually exclusive. "To be hopeful in bad times," Zinn observed, "is not just foolishly romantic. It is based on the fact that human history is a history not only of cruelty but also of compassion, sacrifice, courage, kindness."
And when I fear that the cruel complexities of our time seem to be insurmountable, I return to Zinn's speeches and writings in which he outlined a road map that is as relevant today as when he first shaped it. "What we choose to emphasize in this complex history," Zinn wisely observed, "will determine our lives. If we see only the worst, it destroys our capacity to do something." Zinn goes on to remind us that if we can recall "those times and places—and there are so many—where people have behaved magnificently, this gives us the energy to act, and at least the possibility of sending this spinning top of a world in a different direction."
On September 21, the hope is that the People's Climate March will demonstrate to the skeptics and the cynical deniers and those we have allowed through our complacency to profit for far too long from unchecked environmental destruction that we, the people, are tired of waiting for action on climate change. With hope for the future, the march should send a powerful message to world leaders that the world has no choice—as Howard Zinn would remind us— but to send this magnificent spinning top in a different direction.
Read the full text of the invitation to the march below. You can find a map of events taking place in your area at http://peoplesclimate.org/global/.
Dear Friends,

This is an invitation to change everything.

On September 23, world leaders are coming to New York City for a historic summit on climate change. This is an opportunity to inspire the world's most powerful politicians to ambitious action on the climate crisis.
With our future on the line and the world watching, the People's Climate March will meet this moment with unprecedented mobilizations in New York City and around the globe.

From New York to Paris and Delhi to Australia, we'll take to the streets to demand the world we know is within our reach: a world with an economy that works for people and the planet; a world safe from the ravages of climate change; a world with good jobs, clean air and water, and healthy communities.

There is only one ingredient required: to change everything, we need everyone. Join us.