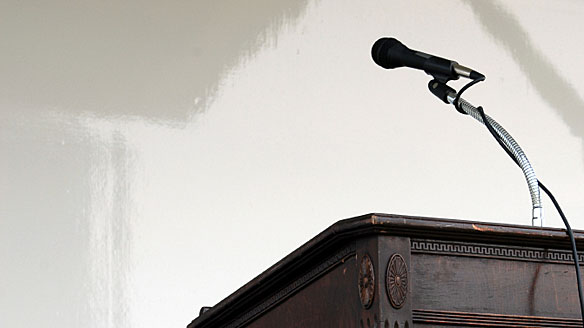 Ever since the election-changing Presidential Debates between Richard M. Nixon and John F. Kennedy in the 1960 election, American voters have come to expect debates between candidates.
More recently, however–and particularly this year–campaign debates have gone into a state of decline: It's becoming harder and harder to get political opponents to appear together live to discuss issues. [There's also an accompanying decline in the level of discourse at debates that manage to make it to prime-time, but we'll discuss that later.]
Here's an example: In St. Louis, Missouri's 2nd Congressional District, incumbent Republican Ann Wagner is opposed by Democratic challenger Arthur Lieber. Lieber assumed that the the local chapter of the League of Women Voters would arrange a debate, because of the importance of a Congressional race. He assumed wrong. Contacting the League, he learned that only when a candidate requests a debate does the League spring into action. In this case, Lieber's request triggered an attempt by the League to schedule a debate with Wagner–but her campaign said that she couldn't participate, because she would be in Washington DC on the proposed dates. [A disingenuous answer, of course, because Congress has exactly zero days in session between now and the Nov. 4 election.] The League–and Lieber–are still waiting for a response to some alternate dates.
And that's how it's going everywhere: Candidates are ducking and covering, reneging on debate promises, cancelling scheduled debates, and using every excuse in the book to avoid face-to-face debates, or even lower-key public forums. It's happening on the right and on the left, in red states and blue states, in Congressional races, governors' races and mayoral contests.
It's an epidemic of what some have called "political truancy." And it's robbing voters of something they deserve: a forum where candidates must face the public live, demonstrate their command of the issues, and allow themselves to be challenged on their ideas, unprotected by scripted advertisements and sanitized press releases.
Debate ducking
In Ohio, for the first time in 36 years, there will be no formal debate between the candidates for governor, incumbent John Kasich and challenger Ed FitzGerald, says the Columbus Dispatch. "The candidates blamed each other for a breakdown in negotiations. The last time  Ohioans experienced a gubernatorial campaign without a debate came in 1978, when Gov. James Rhodes wouldn't debate Democratic challenger Richard F. Celeste."
Similarly,  Colorado's CBS 4 television outlet reports, "For the first time in CBS 4 history [30 years], an incumbent U.S. senator has declined to debate his opponent live on air. In fact, Sen. Mark Udall isn't doing a debate on any of the four major network television stations in Denver." One CBS 4 staffer commented:
Live debates are the one opportunity voters have to see candidates go toe-to-toe without a media filter, see the clarity of their vision and courage of their conviction; how they think on their feet and respond under pressure. We've been trying to schedule this debate for more than two months.
In Michigan, Republican Terri Lynn Land and Democrat Gary Peters are vying for the open seat being vacated by retiring Sen. Carl Levin, a Democrat. Land, who has been running a low-visibility campaign dubbed "stealth" and "invisible" by some news reports, notoriously flopped during a primary debate, reportedly saying, "I can't do this," and later acknowledging that she was not comfortable with public appearances. She offers a classic case of debate avoidance. US News recently reported that:
[Land's] refusal to debate might be the strategic decision that marks the beginning of the end of her long-shot hopes as the fall campaign veers into focus. Her political truancy is beginning to draw wider attention.

On Monday, the local NBC affiliate in Land's hometown of Grand Rapids, Michigan, was forced to cancel its scheduled debate because Land's campaign team never agreed to terms. In order to highlight her absence, Peters stole a page out of Clint Eastwood's 2012 Republican National Convention playbook, propping up an empty chair and debating it in front of a gathering of his own supporters.
Michigan's candidates for governor exhibit the same reluctance to debate. Incumbent Republican Governor Rick Snyder has, so far, declined all invitations to debate his Democratic challenger, Mark Schauer. Snyder is opting, instead for a series of town hall-style meetings with voters. Schauer's camp calls this tactic an evasion. "A carefully scripted town hall with a partisan Republican audience is not the same as a statewide televised debate," said a Schauer spokesperson recently.
The incredible, shrinking debate schedule
Even when candidates agree, in principle, to debate their opponents, they're agreeing to fewer debates, balking over the rules, the venue, the time, the moderator, etc., and some even cancel previously arranged sessions, with little time for rescheduling. In Hawaii, for example, the democratic candidate for governor dropped out of a scheduled debate over the host organization's intention to record the debate and post it, unedited, on its website. In Texas, the candidates running for governor–Greg Abbott and Wendy Davis–have scheduled, cancelled and then re-scheduled debates several times as they wrangled over the format of the meetings.
On Aug. 30, 2014, Montana's Flathead Beacon reported this scenario:
With little more than two months to go before the general election, the only U.S. Senate candidate debate that had been scheduled in Bozeman by Friday was in question. …[Congressman Steve] Daines can't attend on Oct. 4 and more coordination is needed before details would be confirmed. Other debates are in the works in eastern Montana and towns including Missoula, Kalispell and Helena. [Daines' opponent] Ryan Zinke has declined to participate in debates in Great Falls and Billings.
Debates over debates are common in high-stakes political campaigns, says Michael Bitzer, professor of history and political science at Catawba College in Salisbury, North Carolina. The 2014 race for a U.S. Senate seat there features an intensely watched race between incumbent U.S. Senator Kay Hagan and her challenger, North Carolina Speaker of the House Thom Tillis. Hagan has agreed to three debates. Tillis wants more:
There's a general sense in these elections that the candidate with more momentum, more name recognition, usually the incumbent, wants fewer debates and the challenger wants more," Bitzer said. "In the Republican primary, Tillis had the most name recognition, the most momentum. Now that it's such a close race with Hagan, neck and neck, of course he'd like more debates. But there isn't really an incentive for her to do more than three debates.
In the Louisiana race for U.S. Senate between Democratic incumbent Mary Landrieu and Republican challengers Bill Cassidy, and Rob Maness, one debate has been scheduled [Oct. 14]. But while Landrieu and Maness have agreed to multiple dates, Cassidy has yet to commit to more than the Oct. 14 event. Both campaigns appear to be trying to jigger the schedule and the locations for maximum political advantage. The jockeying for political advantage is a bit dizzying, and it probably typifies the kind of calculations being made in other contests: . Here's a glimpse of what may be going on, according to the Times-Picayune:
Campaign frontrunners generally want to avoid debates because they pose more a risk than an opportunity for leading candidates…Cassidy could be steering clear of debates if he thinks he is currently ahead of Landrieu in the election.

Of course, Landrieu isn't necessarily pushing debates because she thinks she has fallen behind Cassidy and needs the exposure. The Democratic Senator may just believe her debate skills are superior to the Republicans…

The Republican congressman is likely reluctant to commit to more debates because the candidate perceives he has more to lose than his opponents, according to experts. It's an unusual situation. Typically, incumbents like Landrieu turn down debates and challengers like Cassidy push for more of them.
Why is it so hard to get candidates to stand up, face-to-face in front of an audience of the people they hope to represent? Maybe it's all political–not wanting to say something embarrassingly uninformed, not wanting to give an opponent the opportunity to look good at your expense, or simply not wanting to let people see who you really are without a script. Or maybe the problem is the format of debates themselves–a forum in which debate skills–the ability to outshout your opponent, overtalk him or her, or recite an unbroken litany of memorized facts–are valued more than thoughtful discourse. For most candidates, it's simply easier and safer to share your image and a few pithy soundbites via the much safer method known as advertising.
Whatever the reason, the diminution of this aspect of political campaigns is, bottom line, a loss for voters and for democracy.