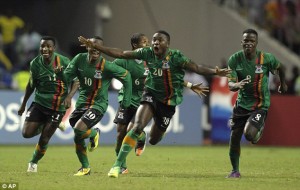 With the rash of unjust police shootings, all eyes are on the home front, so to speak: Americans are talking about racial inequality and other pressing domestic issues.This is to be applauded, as its hard to get folks to focus on tough domestic issues like race and inequality.
Still, my inner International Relations major won't be satisfied until another pressing story is brought to light from outside the USA. Just such an issue fell into my lap recently, and it is a hell of a story, combining sports, politics, and social justice.
For the past few months I've been intern for an organization called EG Justice, a US-based human rights group aimed at bringing democracy and accountability to Equatorial Guinea. Equatorial Guinea is a very small country of 700,000 consisting of a couple isl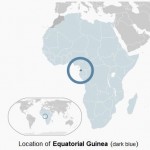 ands off the western coast of Africa and a sliver on the African mainland.[Not to be confused with Guinea, Guinea-Bissau, Papua New Guinea, or New Guinea.]
President Teodoro Obiang, in power since 1987, is among the worst of the post-colonial African autocrats. For this reason Equatorial Guinea routinely ranks among the least free places in the world. Despite the oil boom of the 1990s, which brought in millions and millions in revenue, the average citizen still lives on about $1 a day.
And yet, Equatorial Guinea will host the African Cup of Nations (AFCON 2015) in January and February, a prestigious soccer tournament followed by millions.
How did this happen? Morocco, the original proposed site, was scrapped over Ebola concerns. With very little time to find a new spot, President Obiang volunteered his country. This produced a glowing response from CAF head Issa Hayatou as a generous and humanitarian gesture, but is problematic for multiple reasons:
Equatorial Guinea's hosting of AFCON is irresponsible. The government already ignores everyday people, despite the country's considerable oil wealth. To spend lavishly on a hastily-organized AFCON is a slap in the face to the small African nation's majority.
AFCON 2015 also serves as a distraction from more pressing problems. Equatorial Guinea is a land of extrajudicial killings, torture, and other forms of political violence. AFCON represents represents an attempt to distract from these urgent issues and for the elite to line their pockets. It is no coincidence that the Deputy Minister of Sports, Ruslan Obiang, or Ms. Francisca Obiang, President of the Office of National Projects, are President Obiang's children.
In short, we are about to watch the AFCON games play out against the backdrop of oppression and inequality. For those interested in athletics and/or current events, this is one story you won't want to miss. To find out more and learn how to help, head to http://www.egjustice.org/.