The next time you hear Donald Trump, Ted Cruz, or any of the phony journalists and sneering pundits of Fox News claim that Muslims have failed to speak out against extremism and terrorism, remember the faces of Naji Jerf and Ruqia Hassan. These determined, anti-Isis activists are just the latest victims of a targeted assassination campaign waged against journalists and filmmakers who are putting their lives on the line to bear witness to the human-rights abuses of the Islamic State in Syria.
Jerf and Hassan, along with three other Syrian journalists murdered by Isis since October 2015, had their lives taken from them because they refused to keep silent. A recently released video shows another five men—who were falsely accused of spying—recounting the crimes that ultimately led to their executions. What exactly did they do? The first crime was operating an Internet café. The second was sending photos of life in Syria to Turkey.
It's shameful that American media provides a seemingly unlimited platform for pundits and politicians spreading unsubstantiated claims of widespread Muslim acceptance and support for terrorism. It is even more shameful to witness how the narrative of hatred and fear is successfully exploited to gain airtime and rack up a few more polling points, while courageous Muslims are risking—and losing—their lives to protest the violence and let the rest of the world know the truth.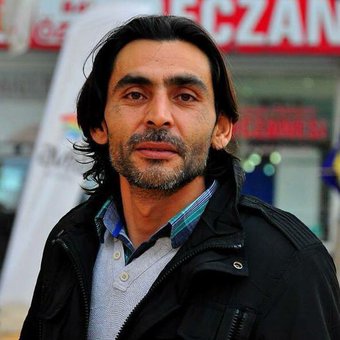 Naji Jerf was a Syrian documentary filmmaker, anti-Isis activist, and editor-in-chief of Hentah, a magazine reporting on Syrian life.
The 38-year-old father of two made films documenting massacres by the Islamic State in Syria. According to reports from the Committee to Protect Journalists—a non-profit organization promoting press freedom world wide—Jerf was shot and killed just one week before traveling to France where his wife and children had already been granted asylum status.
Jerf had been working with the citizen group Raqqa Is Being Slaughtered Silently, which in recent months has lost three other members of its staff by assassination.

Ruqia Hassan was killed by Jihadists in September of 2015. Thirty-year-old Hassan was the first female journalist and activist killed by Isis.
Hassan, who studied philosophy at Aleppo University, used social media to post information about everyday life in Raqqa, Syria, and the challenges of women living under the rule of the Islamic State. She also shared information about coalition airstrikes on social media using the pseudonym Nisan Ibrahim.
Confirmation of Hassan's execution on charges of espionage was only recently announced, even though she had been killed in September.
According to The Independent, for months Isis claimed that Ruqia, who was imprisoned, was still alive. During the interim Isis hijacked her Facebook account and continued posting in her name, hoping to entrap other dissidents.
Two months before her murder, Hassan tweeted these defiant words:
"I'm in Raqqa, and I received death threats, and when Isis [arrests] me and kills me it's ok because they will cut my head and I have dignity its better than I live in humiliation with Isis"