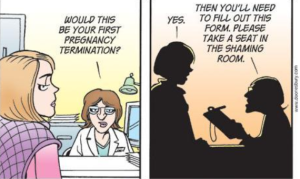 If you had an abortion in Missouri between 2010 and 2015, you're on Missouri State Senator Kurt Schaefer's hit list.
Schaefer, a Republican, demanded that  Planned Parenthood of the St. Louis Region turn over the list. He made the same demand of a St. Louis-area pathologist.
Schaefer's excuse? He's "investigating" those already-proven-bogus allegations that Planned Parenthood sells fetal tissues for profit.  Missouri's Attorney General has already examined those charges against Planned Parenthood, and found no wrongdoing. Not to mention that the creator of the maliciously edited videos circulated to "prove" the case has been indicted in Houston, TX for creating the misleading videos.
Need I mention that a federal law passed in 1996 sets up strict guidelines for healthcare facilities and providers to protect the private of patients' healthcare records? It's a well-known law called HIPAA. And should Schaefer try to say that Planned Parenthood should be exempt from HIPAA protections, he'd be contradicting his party's own view of Planned Parenthood. In other actions related to Planned Parenthood, Republican lawmakers have made it clear that they view Planned Parenthood as a medical facility. They've insisted on a vast range of changes that generally apply to healthcare facilities: hospital-admitting privileges for doctors performing abortions, ambulances on call, hospital-like hallways and driveways. There's no question that HIPAA applies.
But none of these things has stopped Schaefer. He has not specified what he would do if he got the names, but it's a scary prospect. One can imagine the abortion-shaming that would follow. And make no mistake, previous actions by Missouri Republican lawmakers demonstrate that they are quite capable and willing to go to extremes.
A St. Louis Post-Dispatch editorial called this latest Republican gambit "a thinly veiled effort to expose the identities of abortion patients as a means of shaming and discouraging other women from exercising their constitutional rights."
We can only hope that Schaefer is not really serious about this strategy: After all, he's running for Missouri Attorney General, so attacking Planned Parenthood is good for arousing the base.  And one would expect cooler legal heads to prevail in the courts when this outrageous demand is challenged.
So far, Schaefer has not backed down, and he's supported by the Missouri Senate's Rules and Ethics committee, which last week approved a resolution to compel Planned Parenthood's CEO to "appear before the whole Senate to explain why they should not be punished for failing to comply with the demand."
He has threatened the CEO of Planned Parenthood with "contempt," if she does not produce the desired list. That's pretty ironic. What's really contemptible is Schaefer's behavior.