This fall, "single ladies" interested in ensnaring a man can take a course at St. Louis Community College, listed in the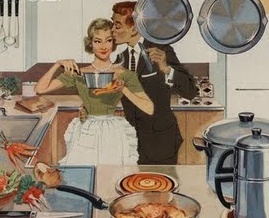 catalogue as "Girls' Night Out:  "Marry Me Dishes."
I stumbled onto this when the 2016 St. Louis Community College Continuing Education catalogue arrived in my mailbox. I'm not making this up. This is not an Onion story or a spoof. And if the course title wasn't enough, things got even wackier when I read through the description. I can only hope that the course instructor wrote this with a wink, as a joke that we'd all get. But, living in Missouri as I do, and knowing how conservative some of our citizens are [We have a constitutional amendment banning same-sex marriage], I doubt that there's any irony intended.
I invite you to judge for yourself. Here's the verbatim wording of the class description. It's listed, by the way, in the Personal Enrichment section of the catalogue. Read into that what you will…
Girls Night Out: "Marry Me Dishes"

Calling all single ladies! Say "goodbye" to the single lady status! Learn to prepare "marry me" dishes that will have him "put a ring on it!"  Start off the evening with a bacon-beer cheese dip that is perfect for his next tailgating event or home game party. We'll prepare "marry me chicken"—a skillet Sicilian Chicken with a sun-dried tomato garlic-cream sauce that will impress your honey! Our lobster mashed potatoes will wow your man the next time you make his favorite steak. Finish off the night with the ultimate sweet for your sweetie—the deal-sealing "marry me" ultimate loaded chocolate chip cookies! There will be plenty of tasting plus you can take home any leftovers [bring a container]….
The class description doesn't include this, but I wonder if participants will be climbing into a time machine and going back to 1956 during the 6:30 – 9:30 pm class period. That would seem to be a requirement, as the notion that "girls" need to attract men via their cooking skills is a giant leap backwards in social expectations.  [Not to mention that, according to this description, men like their steaks and have tailgating parties, while the women's jobs, apparently, are to stay in the kitchen, anticipating their men's needs, preparing their food, impressing them with their womanly cooking skills, and waiting for them to propose marriage.]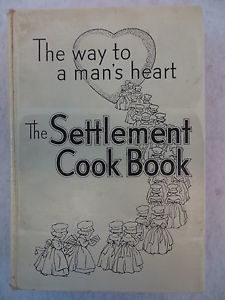 And, what if there's a guy who likes to cook? Can he take this course? Who might he attract–gawd forbid?
The last time I saw a stereotype like this, it was written on the cover of my mother's favorite cookbook [she's 102 now, but it was her standby in our family's kitchen.] Its title was: "The Settlement Cookbook: The Way to a Man's Heart."  It was first published in 1903.