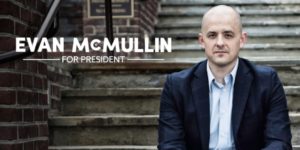 There's a new independent candidate for President in 2016, but can he get on the ballot in time to make a difference?. Evan McMullin is a former CIA officer and a fervent anti-Trump Republican. He declared his candidacy today–August 8, 2016. If he wants to mount a serious challenge to Trump, he's got a big uphill climb.
If all he's interested in, as some have speculated, is stopping Trump in a few states–such as McMullin's home state of Utah, and a few others–he's got a better shot. As you'll see in the chart I've created below, Utah's ballot access rules give him a week–the deadline is August 15–to gather 1,000 signatures. [Note that McMullin is Mormon, and that there's a huge Mormon vote in Utah–as well as in Nevada and Colorado. He's still got a couple of days left in Colorado, but Nevada's deadline has already passed.]
McMullan also has a bit of lead time in several other states. But to be the spoiler in those states, he'll have to get busy fast.
How to get on the ballot as an independent when you have more time
At this stage of the 2016 election, it's too late to get on the ballot in all 50 states. If it were earlier in the election cycle, that might be possible. Doing that, though, would take a  large on-the-ground organization, because there is no central place where an independent, a third-party candidate, or even a Republican or Democrat can just fill out a form to get his/her name on the ballot. You have to do it state by state. And ballot access laws—the rules that govern how one gets on the ballot—vary widely from state to state.
It's also important to note that state laws governing ballot access are skewed toward the established parties—Republicans and Democrats. Third-party candidates or independents not affiliated with a party face additional burdens not required of R's and D's. According to Wikipedia, these additional hurdles usually come in the form of "difficult, signature-gathering nominating petition drives" not required of major-party candidates.
Ballotpedia offers a one-page-per-state summary of the rules candidates must follow to get their names on the ballot. I've condensed the information into the following chart to demonstrate the labyrinth of requirements for candidates outside the two major parties. [This chart is not intended to be an official guide for candidates. Please don't sue me if I've got something wrong. Consult your local Secretary of State for the official nitty gritty. End of disclaimer.]
For me, the takeaway from this chart is that non-mainstream presidential candidates had better get a detail-oriented coordinator in every state ASAP, and get some signature-getters on board right away, too. As with just about all state-controlled government processes in the US [see: Medicaid], the whims of state legislatures have created a hodgepodge of practices and eligibility requirements. There's very little state-to-state consistency. And down there in the weeds, there are undoubtedly lots of picky regulations just waiting for a partisan bureaucrat to use to disqualify signatures and candidates. [And if you don't believe that election regulations have become a partisan sport, you haven't been keeping up with the latest voter suppression tactics instituted in many states.]
One small advantage for independent candidates…
One other takeaway from this chart: States appear to have granted one concession to off-brand candidates—an extended deadline. You'll see that the filing deadline for independents and third-parties fall after most states' primaries and caucuses. That schedule makes it possible for someone like Michael Bloomberg to wait in the wings a bit longer, until the dust has settled from the major parties' primaries and caucuses, and to assess his chances of jumping in. But there's still a lot of pressure: Getting enough signatures—valid signatures that will survive the challenge of being checked, one-by-one—can be tricky and frustrating.
But it can be done. [See: Teddy Roosevelt 1912, Ross Perot 1992, and Ralph Nader 2000]
Here's the chart. It's long, but we're a big country, with a lot of rules.
| | How to get on the presidential ballot: State by state | | |
| --- | --- | --- | --- |
| | | | |
| | | | |
| State | Independent, 3rd Party, or Unaffiliated Candidates | 2016 filing deadline for Independent, 3rd party, or Unaffiliated candidates | Democratic & Republican Candidates |
| | | | |
| Alabama | Signatures representing 3% of the total votes cast in the last election for the specific race, or 3% of the total votes cast in the last gubernatorial election | 8/18/16 | Primary election |
| Alaska | Signatures equaling at least 1% of the total number of state voters who cast ballots for president in the most recent election. | 8/10/16 | Party caucuses |
| Arizona | 20,000+ valid signatures from registered voters, county-by-county. | 9/09/16 | Voter registraton |
| California | Receive 2% of total vote in previous election for governor; OR demonstrate that at least 1% of voters [via registration] have indicated a preference for the independent or third party. | 8/12/16 | Voter registration |
| Colorado | Receive the nomination of the party's state convention [73 days before primary election]. OR collect 5,000 valid signatures from registered voters. An unaffiliated candidate must be registered as unaffiliated by the first business day in January of the year of the election. | 8/10/16 | Nomination by party convention or primary |
| Connecticut | Collect signatures equaling 1% of the total votes cast for president in CT in the most recent election, or 7,500, whichever is less. Deadline Aug. 10, 2016 | 8/10/16 | Placed on ballot by CT Secretary of State |
| Delaware | Signatures equaling at least 1% of the total number of registered voters in the state. | 9/01/16 | Party primary |
| Florida | Signatures equaling at least 1% of the total registered voters in the state | 7/15/16 | Party submits names for ballot |
| Georgia | Signatures equaling at least 1% of the total number of registered and eligible voters in the most recent presidential election. An independent candidate must also pay a filing fee. | 712/16 | Party submits names for ballot |
| Hawaii | Signatures equaling at least 1% of the total number of votes cast in the state for president in the most recent election | 8/10/16 | Party caucuses |
| Idaho | Signatures of at least 1,000 qualified voters. | 8/25/16 | $1,000 fee to have name placed on party's primary ballot. |
| Illinois | Signatures equaling at least 1% of the total number of voters in the most recent statewide general election, or 25,000, whichever is less. | 6/27/16 | Party primaries |
| Indiana | Signatures equaling at least 2% of the total votes cast for Indiana Secretary of State in the most recent election | Initial filing with county: June 15, 2016. Final petitions to Sec. of State: July 15, 2016 | Collect 4,500 signatures to have name placed on party's primary ballot. |
| Iowa | At least 1,500 signatures from eligible voters from at least 10 counties. The candidate of a political nonparty organization must be nominated via convention or caucus. At least 250 eligible voters must attend the meeting at which the nomination is made. | 8/19/16 | Party caucuses |
| Kansas | Signatures from at least 5,000 qualified voters. | 8/01/16 | Party caucuses |
| Kentucky | Signatures from at least 5,000 registered voters. | 9/09/16 | Automatically placed on primary ballot automatically candidate qualifies for matching federal campaign funds. Or by petition [signatures] |
| Louisiana | Petition for placement on the general election ballot or pay a filing fee. | 8/16/16 | Petition or pay a filing fee to get on primary ballot. |
| Maine | Signatures from between 4,000 and 6,000 qualified voters. | 8/01/16 | Party caucuses |
| Maryland | Signatures equaling at least 1% of the total number of registered state voters. | 8/01/16 | ME Sec. of State determines names on primary ballot. Or petition to get on primary ballot. |
| Massachusetts | Signatures of at least 10,000 voters. | Initial filing: Aug. 2, 2016. Final deadline: Aug. 30, 2016 | MA Secretary of Commonwealth determines names for party primary ballots. Or petition. |
| Michigan | Signatures of at least 30,000 qualified voters | 7/21/16 | Names on ballot determined by Sec. of State and party leaders. Or by petition. |
| Minnesota | Signatures of at least 2,000 eligible voters | 8/23/16 | Party caucus |
| Mississippi | Collect signatures of at least 1,000 qualified state voters | 9/09/16 | Secretary of State determines names for ballots |
| Missouri | Signatures of at least 10,000 registered state voters | 8/23/16 | $1,000 fee to appear on party primary ballot, or by petition. |
| Montana | Signatures equal to 5% or more of the total votes cast for the successful gubernatorial candidate at the last general election, or 5,000 electors, whichever is less. | Initial filing: Aug. 17, 2016. Final deadline: August 25, 2016 | Collect 500 signatures to get on party primary ballot. |
| Nebraska | Collect signatures of at least 2,500 registered voters | 8/01/16 | Primary candidates determined by Secretary of State. Or by petition. |
| Nevada | Filing fee, plus signatures equal to 1% of the total votes cast for representatives in Congress in the last election. | 7/08/16 | Must participate in party caucuses |
| New Hampshire | Signatures of at least 3,000 registered voters and a $250 filing fee. | 8/10/16 | $1,000 filing fee to get on party primary ballot |
| New Jersey | Signatures of at least 800 qualified state voters | 8/01/16 | Collect 1,000 signatures to get on party primary ballot. |
| New Mexico | Signatures equaling at least 3% of the total votes cast for governor in the last election. | 6/30/16 | Special committee determines names on party primary ballot. Or by petition |
| New York | 15,000 signatures | 8/23/16 | Party primary |
| North Carolina | Signatures equaling at least 2% of the total votes cast for governor in the last general election | 6/09/16 | State Board of Elections determines names for party primary ballots |
| North Dakota | 4,000 signatures | 9/05/16 | Party caucus |
| Ohio | Signatures of 5,000 qualified voters | 8/10/16 | Party primary |
| Oklahoma | Signatures equaling at least 3% of the total votes cast in the last general election for president | 7/15/16 | Signatures of 1% of registered voters in each congressional district, or or 1,000 registered voters in each district, whichever is less. Or, a $2,500 filing fee. |
| Oregon | Signatures totaling 1% of the votes cast for president in the previous general election. Or, be nominated by an assembly of 1,000 voters gathered in one place during a 12-hour period. | 8/30/16 | Party primary |
| Pennsylvania | $200 fee, plus signatures equaling at least 2% of the entire vote cast for any statewide elected candidate in the last election. | 8/01/16 | 2,000 signatures and a $200 filing fee in order to get on primary ballot |
| Rhode Island | Signatures of at least 1,000 registered voters. | No info available | 1,000 signatures to get on party primary ballot |
| South Carolina | Signatures totaling 5 percent of all registered state voters | 7/15/16 | Party primary |
| South Dakota | Signatures equal to 1 percent of the combined vote for governor in the last gubernatorial election | 8/02/16 | Party primary |
| Tennessee | 275 signatures | 8/18/16 | Party primary |
| Texas | Signatures of at least 1% of the total votes casts for all candidates in the previous presidential election | 8/22/16 | Party primary |
| Utah | 1,000 signatures and a $500 filing fee | 8/15/16 | Party caucus |
| Vermont | Signatures of 1,000 registered voters. | 8/01/16 | Party primary (1,00 signatures and $2,500 filing fee) |
| Virginia | 5,000 signatures | 8/26/16 | Party primary (5,000 signatures) |
| Washington | Hold an assembly attended by at least 100 registered voters, and signatures of at least 1,000 registered voters. | 8/05/16 | Party caucus (D) Party rimary (R) |
| West Virginia | Signatures equaling at least 1% of the total votes cast in the state for president in the most recent election. $2,500 filing fee | 8/01/16 | Party primary ($2,500 filing fee) |
| Wisconsin | Signatures of between 2,000 and 4,000 qualified voters | 8/02/16 | Party primary |
| Wyoming | Signatures equaling at least 2% of the total number of votes cast for U.S. Representative in the most recent general election. $200 filing fee. | 8/29/16 | Party caucus |
Source: Excerpted and summarized from Ballotpedia