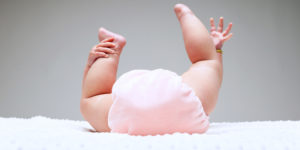 I'm sad to report that it's Diaper Need Awareness Week here in St. Louis, and across the country–a program promoted by the National Diaper Bank Network.
It's sad, of course, because it's necessary. And it's necessary because low-income people can't afford to buy enough diapers for their infants and toddlers. And they can't afford diapers, of course, because they don't have enough money, and diapers are expensive. And they don't have enough money because it is United States policy to not allow low-income people to buy diapers with SNAP [food stamp] funds or with WIC funds, which are specifically aimed at Women and Infant Children..
Yes, you read that correctly. Diapers—an absolute health necessity—are not on the list of items approved for purchase under the SNAP program. [SNAP stands for Supplemental Nutrition Assistance Program.] Food stamps and Special Supplemental Nutrition Program for Women, Infants and Children (WIC) benefits can't be used for diapers, which get grouped with pet food, cigarettes, and alcohol.
The Food and Nutrition Act of 2008 defines eligible food as any food or food product for home consumption.  The Act precludes the following items from being purchased with SNAP benefits:  alcoholic beverages, tobacco products, hot food and any food sold for on-premises consumption. Nonfood items such as pet foods, soaps, paper products, medicines and vitamins, household supplies, grooming items, and cosmetics, also are ineligible for purchase with SNAP benefits.
While it apparently doesn't specify diapers, the wording of the act makes it clear that diapers, as a non-food item, are not eligible. If what they're trying to do is to prevent people receiving government assistance from buying things that the Republicans running this show consider unnecessary, they've gone way overboard. Diapers are not a convenience item. I can understand prohibiting SNAP funds for hair-dyeing products, for example. But diapers?
[As an aside, the wording of the act also precludes feminine hygiene necessities like menstrual pads and tampons. But that's another story for another day.]
The consequences of disallowing diapers are enormous, and the phenomenon now known as "diaper need" is widespread. According to the National Diaper Bank Network:
-Babies need an average of 6-10 diapers a day to stay clean, healthy and happy. That's a total of up to 3,650 diapers a year for one child.

-1 in 3 mothers struggle to provide the diapers their children need. It's estimated that an adequate supply of disposable diapers can cost as much as $100 per month for one child.

-Families try hard to extend the use of the disposable diapers they have on hand by changing diapers less often or by trying to clean and reuse them.

-Babies who go an entire day without a diaper change are uncomfortable; they develop rashes and infections; and, often, they cry more, unnerving their parents, who are already feeling guilty about not being able to afford the basics for their kids.

-Child-care providers even have a phrase— "Monday morning rash" — to describe how babies from low-income families sometimes arrive after a weekend of infrequent diaper changes.

-Most childcare centers, even free and subsidized facilities, require parents to provide a day's supply of disposable diapers. Cloth diapers are not accepted at the vast majority of child care centers. And many parents cannot go to work or school if they can't leave their babies at child care.
These problems are not evidence of bad parenting but of bad public policy.
So, absent a humane public policy, community groups have gotten together to form Diaper Banks. The St. Louis Area Diaper Bank is a typical example. Founded as a nonprofit in 2014 in response to tremendous diaper need in the region, the diaper bank raises money to buy diapers in bulk at deep discount. It distributes them through 10 partners that work directly with children and families.
The National Diaper Bank Network [NDBN] describes itself this way:
We are leading a national movement to safeguard one of the most basic needs of all babies and their families, access to clean, dry diapers. Fair access to clean diapers improves the physical, mental and economic well-being of babies, families, and communities.

NDBN connects and supports the country's more than 315 community-based diaper banks that collect, store and distribute free diapers to struggling families.

In 2015, the network distributed nearly 46 million free diapers, including 20 million donated by NDBN founding sponsor Huggies®. The Network serves more than 346,000 children throughout the country each month.
It's a noble mission, but one that wouldn't be necessary if our Republican-led Congress wasn't dead-set on punishing poor people–and their children– for the "sin" of being poor.