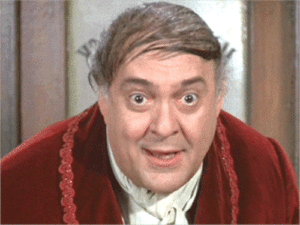 Donald Trump declared an eye-popping, one-year loss of $916 million on his 1995 federal tax return. Sound like something you once saw on Broadway or in a movie? It is. Trump is the new Max Bialystok. Bialystok is the producer in "The Producers" who—along with his mousy accountant, Leo Bloom, gleefully plot a get-rich-quick scheme in which they would oversubscribe a Broadway musical and make sure that it bombed, so they could take it as a loss at the same time that they pocketed the investors' [little old ladies'] money.
Max and Leo ended up inadvertently producing a smash hit and then going to jail when they couldn't pay back the investors. Theirs was a brilliant scheme that went wrong. Trump's foray into the Atlantic City casino business was an unintended, unmitigated disaster, created not by a brilliant idea, but by some very bad business decisions. His losses were huge,  [if his colossal numbers are to be believed]. And they put the lie to his claims about his entrepreneurial prowess.
I'm not sure if this is life imitating art, or vice versa. And the analogy isn't perfect, I know. Max Bialystok failed to fail. Trump just flat out failed–"bigly." . And the revelation is simply delicious.
A standing ovation to whoever "produced" the documents that let us in on this secret, and to the New York Times, for revealing it.
Here's the trailer for the original 1968 movie, "The Producers." Zero Mostel plays Max Bialystok with a crazed, manic energy that is hilariously reminiscent of Donald Trump, don't you think?