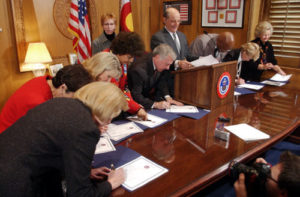 One way to stop Donald Trump from taking office is to block him in the Electoral College. Sure, it's a long shot, but we are already seeing defections from electors who can't, in good conscience, cast their votes for him. So, it's worth a try. Below, you'll find the names and contact information for Missouri's 2016 electors. I urge you to call them and try to get them to either vote for someone else or to abstain from voting [which is a tactic that is included in the rules.]
Talking points
What will you say when you talk to them, email them, or leave a voice-mail message? Here are some suggested talking points:
Donald Trump is temperamentally unfit to be President of the United States. [We already know that a large percentage of people who voted for Trump in November view him as unfit. We also have evidence of his un-presidential temperament, via his threats to the press, his vindictiveness regarding people who are not loyal to him, and his impulsive, thin-skinned reactions to perceived insults. His unpredictable nature represents a threat to world security.]
Donald Trump is going to harm the Republican party. [He is voicing support for policies that will hurt the very voters who supported him—lower-income voters who strengthened the reach of the Republican party in the 2016 election.]
Donald Trump is a walking conflict of interest who has stated that he is above the law. .[His international network of businesses represents a dangerous conflict of interest that may violate the US Constitution and will, undoubtedly, engender controversies and legal challenges that will entangle his Presidency for years. He has indicated no intention of distancing himself from these conflicts and has, in fact, bragged that he can be President and head of the Trump Organization at the same time.
We need to stop this unqualified and unfit man from taking office, before it is too late. Electors have the power to do this.
Can Electors actually do this? Yes. Missouri is one of 11 states that do not require Electors to vote according to the popular vote in the state.
Please contact your Missouri Electors as soon as possible [they vote on December 19], and urge them to put country before party.
Contact information
Here are the names and contact information for the 10 Missouri electors.. Hat tip to my partner in political commentary, Arthur Lieber, for doing the research on these and beta-testing the email addresses and phone numbers.
First
Last
District
E-Mail
Home Phone
Cell Phone
Address
Tim
Dreste
1
tdreste@sprintpcs.com
tdreste@comcast.net
tdreste1@spintpcs.com
(314) 524-6957
234 Argent Avenue
St. Louis, MO 63135
Jan
DeWeese
2
irelandwinslow@att.net
(636) 343-5360
307 Dart Lane
Fenton, MO 63026
Hector
Maldonado
3
hector.m.maldonado@us.army.mil
(573) 468-5439
295 Cedar Breeze Dr.
Sullivan, MO 63080
Sherry
Kuttenkuler
4
gpms@zahav.net
pms@zahav.net
(660) 433-2300
205 South Street
Tipton, MO 65081
Casey
Crawford
5
celtic2842@yahoo.com
(913) 620-2995
509 SE Country Lane
Lee's Summit, MO 64063
Tom
Brown
6
liz92381@aol.com
browntn@aol.com


(417) 334-6133
1208 Blackberry Drive
Liberty, MO 64068
Cherry
Warren
7
(417) 835-5772
11866 Farm Road, #1045
Purdy, MO 65734
Scott
Clark
8
frog63965@hotmail.com
(573) 204-0852
(573) 694-8689
1010 Greensferry Road
Jackson, MO 63755
Al
Rotskoff
At-Large
al@crescentsupply.com
stlcards19@aol.com

(314) 569-0495
146 No. Mosely Road
Creve Coeur, MO 63141
Susie
Johnson
At-Large
susanjohnson001@charter.net
(573) 286-7851
5 Cree Lane
Eldon, MO 65026