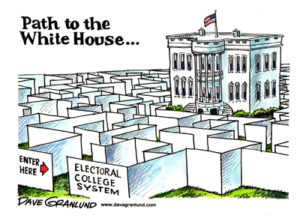 I used to think that Donald Trump might be the lesser of multiple "evils" among Republican choices for president. At best, he might be called whimsical and that might lead him to occasionally do a few things that would benefit the country rather than damage it. With his selections for "leaders" in the area of national security, I have become increasingly concerned about Trump's finger being near the nuclear trigger. If it's not nuclear war, it will be some other foreign or even domestic calamity.
The electors who actually cast the final votes for president of the United States do not "meet" or officially cast their ballots until Monday, December 19, 2016. In eleven states including Missouri, the electors are legally allowed to cast the votes for someone other than the candidate who carried their state's popular vote. In other states, the electors may also be able to do so, but at limited legal liability.
I have written to the ten Republican electors in my home state of Missouri. I suggest to them casting their votes for someone other than Donald Trump, perhaps Mike Pence. Mike Pence certainly would not be my choice for president of the United States, but the individuals who I would favor are completely unacceptable to Republican electors. At this point, I simply want to try to spare the country from Trump. Perhaps you will consider writing a similar letter or e-mail to your electors.
Dear Elector,
I am writing you about the upcoming election of president of the United States by the Electoral College, of which you are an honored member.
I am not a Republican, but like you, I care more about our country and the world than any political party to which I am a member. I am quite concerned about what Donald Trump could do to our country and the world, if he is elected president. I understand that Missouri is fortunately one of eleven states where electors are not bound by law to vote for the popular vote winner in their state.
I recognize that Missouri clearly voted Republican on November 8. I am urging you to consider voting for another Republican for President. If 37 electors from states that Donald Trump won choose to vote for someone else or simply to abstain from voting, then the election can be thrown into the House of Representatives.
The rules for such an election in the House highly favor any Republican candidate. Certainly Mike Pence would be a viable candidate as would a number of other Republicans.
I am very concerned about Trump's temperament and impulsiveness. While he may have many qualities that could make him a good president, I do not think that we can afford anyone who we cannot fully trust with the nuclear code. We live in an era where many world leaders do not appear to be stable. This includes President Putin of Russia as well as irrational heads of state in North Korea, Syria and Iran, all of whom put the world further at risk.
I also fear that Mr. Trump's erratic behavior will do long-term damage to the Republican Party as well as the new voters who are putting faith in the party.
I apologize for this invasion of your privacy and hope that you understand that I do it now only because for these few weeks you are a very important public figure in an elite group that determines the future of our country and the world.
I hope that you will consider not voting for Donald Trump for president.
If you wish to communicate your thoughts to electors in the state of Missouri, here is their contact information:
First
Last
District
E-Mail
Home Phone
Cell Phone
Address
Tim
Dreste
1
tdreste@sprintpcs.com
tdreste@comcast.net
tdreste1@spintpcs.com
(314) 524-6957
234 Argent Avenue
St. Louis, MO 63135
Jan
DeWeese
2
irelandwinslow@att.net
(636) 343-5360
307 Dart Lane
Fenton, MO 63026
Hector
Maldonado
3
hector.m.maldonado@us.army.mil
(573) 468-5439
295 Cedar Breeze Dr.
Sullivan, MO 63080
Sherry
Kuttenkuler
4
gpms@zahav.net
pms@zahav.net
(660) 433-2300
205 South Street
Tipton, MO 65081
Casey
Crawford
5
celtic2842@yahoo.com
(913) 620-2995
509 SE Country Lane
Lee's Summit, MO 64063
Tom
Brown
6
liz92381@aol.com
browntn@aol.com


(417) 334-6133
1208 Blackberry Drive
Liberty, MO 64068
Cherry
Warren
7
(417) 835-5772
11866 Farm Road, #1045
Purdy, MO 65734
Scott
Clark
8
frog63965@hotmail.com
(573) 204-0852
(573) 694-8689
1010 Greensferry Road
Jackson, MO 63755
Al
Rotskoff
At-Large
al@crescentsupply.com
stlcards19@aol.com

(314) 569-0495
146 No. Mosely Road
Creve Coeur, MO 63141
Susie
Johnson
At-Large
susanjohnson001@charter.net
(573) 286-7851
5 Cree Lane
Eldon, MO 65026