Local history may be about to repeat itself in suburban St. Louis, as another well-established African-American neighborhood faces extinction by buyout, demolition and commercial development. This time, it's an area of the inner-ring suburb called University City. That municipality's city council is proposing a $70-million tax-increment-financing plan [TIF] to entice a developer to transform a 50-acre area via a $170 million project. Currently occupying the redevelopment area is an diverse array of successful, locally owned, small businesses—including Japanese, Jamaican, Vietnamese and Korean restaurants, and other enterprises. Behind the shops are neighborhoods of small, 1950s-vintage homes, many of which are owner-occupied by people of diverse ethnicity.
St. Louis has seen this movie before. In the 1950's, an African-American residential enclave fell victim to an ambitious plan for the suburban City of Clayton, which transformed itself from a quiet County seat into a virtual second downtown for the St. Louis area. In the 1980's, the City of Kinloch—founded in 1948 as Missouri's first incorporated African-American city—lost a vast chunk of its territory, and later, most of its population, to the expansion of St. Louis' airport. In the late 1990's, another mostly African-American area, known as Hadley Township, was largely demolished and reincarnated as a Wal-Mart development. More recently, most of the remainder of Hadley Township disappeared as well, to be replaced by a Menard's hardware super center. Nearby, the traditionally black neighborhood called Evans Place vaporized when a developer paved it over for the Brentwood Promenade, anchored by Target, Trader Joe's, Bed Bath & Beyond and other big boxes. And, about five miles away, is a development known as Kirkwood Commons, which clear- cut a huge swath of an historically significant African-American neighborhood called Meacham Park.
So, it comes as no surprise that yet another African-American neighborhood is now up for grabs. Supporters of the development—primarily members of University City's City Council— say it will bring a "pot of money" to University City's coffers, which can be used, in turn, to help homeowners in other deteriorating neighborhoods improve their properties, and upgrade infrastructure. Opponents object to the destruction of established, affordable neighborhoods, the demolition of locally owned businesses, and the notion of anchoring the project with a big-box store—presumably Costco—in a city  with a decades-old track record of failing big box stores. "You don't build up a city by tearing it down," they say in their anti-TIF literature.
University City officials want the project completed by sometime in 2020. Getting there could be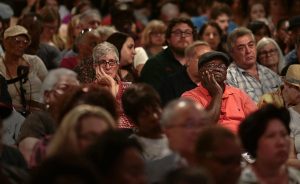 problematic. A public meeting held this evening drew an overflow crowd of about 500 University City residents and business owners. After less than 20 minutes of presentations by city officials, members of the audience—already annoyed by an inadequate sound system and an overcrowded venue—began shouting out questions and criticisms. Before the meeting began, at least 50 people put their names on a speaker's list. [Full disclosure: I left the meeting when audience members began to break protocol with angry comments. Clearly, the rest of the meeting was almost sure to be loud and contentious.] It was.
So, while the TIF commission came into the public meeting leaning toward support of the project, getting fully to "yes" is probably going to be a rocky road.
Whether this development proposal succeeds or not, the underlying question remains: Why do these projects seem to occur so frequently in African-American neighborhoods? It's not coincidence. A 2014 report, entitled "For the Sake of All," laid out, in great detail, the governmental policies, discriminatory mortgage-lending practices, and real-estate-industry behaviors that intentionally created racial segregation patterns in the St. Louis area over many years. Undoubtedly, those machinations factored in to the concentration of African-Americans into certain areas in the region and to the devaluation that has attracted commercial re-developers through the years.
A 2018 update to the first report, entitled "Dismantling the Divide," proposes strategies that could help reverse the entrenched patterns of racial segregation that plague the St. Louis region. And today, in an op-ed published in the St. Louis Post-Dispatch, Jason Purnell, a professor at Washington University in St. Louis, and project director for "Dismantling the Divide," called the University City TIF proposal—if done thoughtfully and innovatively— an opportunity for positive change:
This proposed development holds the chance for University City leaders to distinguish themselves as innovators regarding racial equity, inclusion and fair housing. Before granting a TIF, they could require the developer to sign off on a community benefits agreement with the residents and other neighborhood stakeholders. This sound policy decision would require [the developer] Novus to meet with these groups and negotiate requirements for the development, which could include the creation of appropriate affordable housing and retail spaces so existing businesses and residents can continue to call the area home.
In the 1960s and 1970s, University City distinguished itself as a bulwark against "block-busting" and white flight. Residents formed the Freedom of Residence Committee that "pressed for fair housing and inclusion of African-Americans in University City so they weren't steered out of the local real estate market, and whites weren't steered away from integrating neighborhoods," writes Purnell.
Can U. City revive its reputation as an innovator in addressing the racial divide?  The answer to that question may well lie in how it deals  with the proposed TIF project.