Sometimes it takes just one person to spark a movement. Swedish student Greta Thunberg is one such person. In August 2018 the then fifteen-year-old sat down to protest for the first time in front of the Swedish Parliament House in central Stockholm. For three weeks during every school day, Thunberg skipped her classes and sat down to protest the Swedish government's lack of meaningful action on climate change.
One month later, Thunberg made the decision to stay out of school every Friday and to continue to demonstrate weekly until the government of Sweden committed to take action on policies to cut carbon emissions consistent with the goals of the Paris Agreement signed in 2015.
As word of her strike spread via Twitter and Instagram, Thunberg's solitary act of dissent became a global student movement, called Fridays for Future, that spread to countries on five continents.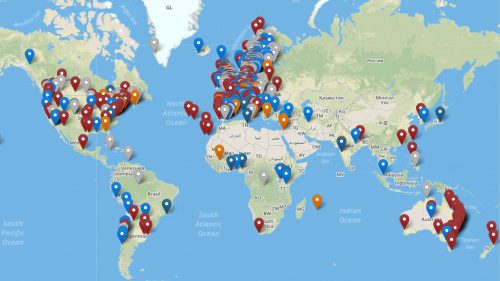 In cities across Europe, Japan, Australia, Canada, the U.S., Latin America, Africa, and India tens of thousands of students have responded enthusiastically to Thunberg's call to walk out of their classrooms and join the worldwide fight for the future.
On March 1, addressing thousands of students in Hamburg, Germany, the now sixteen-year-old activist rallied her followers. "Yes, we are angry," she began. "We are angry because the older generations are continuing to steal our future right now. For way too long the politicians and the people in power have gotten away with not doing anything to fight the climate crisis. But we will make sure that they will not get away with it any longer. We will continue to school-strike until they do something."
Thunberg's success in rallying students worldwide has given her the platform to expand her message even to world leaders. At the 2019 Davos conference in January, Thunberg explained how the responsibility to act on climate change falls on young people because "their future is at risk, and they need to get angry and then transform that anger into action." Later, at an EU conference in February, Thunberg urged representatives to double the bloc's commitment to greenhouse-gas cuts. In Germany, where Fridays for Future rallies have sparked widespread support among students, Chancellor Angela Merkel felt compelled to offer her support of the rallies in a controversial podcast video. While stating her strong support for the protests and the students' long-term goals, the chancellor offered a note of caution about the challenges Germany faces in the process to end the country's reliance on coal and coal-fired power plants.
For students interested in getting involved and voicing their concerns about climate change, Thunberg urges them to demonstrate every Friday in front of their own local town halls and to take a picture and post it with the hashtag #Fridaysforfuture or #Climatestrike. Thunberg also urges students who might hesitate to walk out of their classrooms to think creatively about how they might find symbolic ways to "strike" and to share their tactics with the Fridays for Future community.