I don't want to leave, but I have to.
When I left, I didn't want to go. But in Venezuela, there was nothing more I could do. After a year and a half of soul-sapping mental and emotional questioning and re-questioning, late in 2017 I packed my life into two suitcases and a bag. Every day the crisis was worse than the day before; there were shortages of food and basic products, and in order to stretch what little money there was, it was necessary at times to wait in line for up to three days.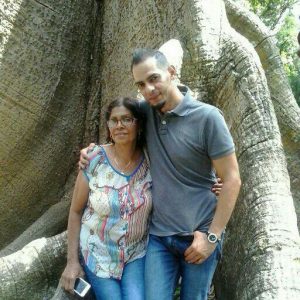 At my last lunch at my mother's house right before leaving, my Mom as always busied herself in the kitchen. I couldn't look at her face. I didn't want to register her pain and to have that image with me as I left Venezuela. And I didn't want her to see my face then either, a face reflecting a disenfranchised life so far from her dreams. Then in the bustling bus terminal, it seemed like years had passed since I said goodbye to my family less than an hour ago. How could that be? I had at that moment the sensation of waking up from a drunken stupor, of leaving a country disintegrating from its core, of having made the right decision. And so, as I disappeared and reappeared, the night journey to Colombia gave me an inscrutable landscape of shadows and sounds drowned out by the roar of a bus engine.
I don't want to go back, but I have to.
March 2019. I live in Bogotá, Colombia. I eke out a life very different from my previous one as an editor in Venezuela. Here, I make ends meet cleaning buildings and selling homemade jams and marmalades. The news from Venezuela is not good. As is the case with most medicines in Venezuela, my Mom's hypertension medicine has run out. She doesn't want to stress her children with this development. I had already sent pills from Colombia in the past. Finally, she admits to me via Whatsapp that she's feeling very dizzy. The information alarms me. Her admission of dizziness means to me that she is really unwell. She hasn't taken her medicine in 10 days. This sets off a series of communications between Colombia and Venezuela in a frantic search for high blood pressure medicine. An alternative is finally found, but the determination of the dosage requires a doctor's visit. The reality of present day life in Venezuela immediately makes itself known. There is a blackout. There is no electricity. There is no more Whatsapp. A weekend looms. When my mother is able to get Whatsapp back, she tells me that she has a doctor's visit scheduled for the upcoming Monday. But then another national blackout takes place in Venezuela. My Mom's medical consultation never takes place.
By the time some power is restored and communication comes haltingly back, my mother has suffered a stroke. The news comes to me early on Monday through a message from my sister. Several days go by before my brothers tell me that my Mom's death is now imminent.
I want to go back to Venezuela before it's too late. A friend lends me the money for the trip, and I fly to Cúcuta, Colombia to get to Venezuela. The border is closed. The only way to get through is by the so-called trails, trochas, irregular pathways where people venture from one side of the border to the other. The heat here is immediately unbearable. Hundreds of people, like ants, are moving with gigantic and overweight bags along the bed of the Táchira River.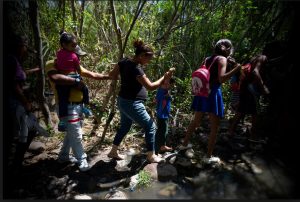 A trochero, an experienced denizen of the trails, offers me his services to help me enter Venezuela. We negotiate a price. In addition to carrying my luggage, he will help me navigate checkpoints controlled not by Colombian or Venezuelan border agents but by armed irregular groups. My trochero tells me that anyone carrying a computer or tablet will have it taken away. Here, the law of the guerrilla and the mafia prevails amid the chaos that the lack of control imposes. We cross the rocky bed of the river. Colombia, my refuge, is left behind.
We are stopped at a checkpoint. They check my bag and I make a payment to continue. Once in Venezuela and past that initial welcome, my odyssey to return home continues. The driver of a buseta, larger than a van, smaller than a bus, exercises his share of power over his passengers. The verbal abuse reflects the debasement that has taken hold of the country. The departure of the buseta is delayed by more than four hours. We finally start to travel through Venezuela in the dark.
The passageway of the buseta bus is congested with bags and packages; food and household items both for the passengers' own consumption and for resale. The sacrifice and difficulty of the trip to Colombia is worth it in order to be able to buy something rather than having money in hand in Venezuela and not be able to do anything with it. As the bus progresses, a reality emerges to outrage basic human decency. Not more than thirty minutes into our trip, the Bolivarian National Guard stops us on the road. As passengers we must collect the equivalent of 50 thousand pesos, about $15, in order to be able to continue and not have our bags and merchandise seized or destroyed. This stoppage by the National Guard is repeated four more times on our journey. Thus the night passes.
With the sunrise, there are other images and perceptions. I don't consider myself chauvinistic; however, I cannot help feeling love for my country. I experience a sense of belonging and rootedness in the place where I forged my character and my dreams, a place where I built a life with a purpose towards a better world. But the memories are overshadowed by the bright colors of day that reveal the ruin. What a shame. What used to be fleets of modern buses now look ramshackle and old, with plastic in the windows as a substitute for glass.
There is something strange in the environment. At a stop to rest, few sit at the tables to eat. The majority stretch a little to alleviate the tedium of the trip. Perhaps remembering past moments when they were able to enjoy a good piece of meat or cachapas stuffed with a generous supply of cheese, the passengers stand to one side. With sweaty faces and languid glances, we get back on the buseta. We all want to reach our destination, nothing more.
In daylight, the sun oppresses; it oppresses and crushes not only people, it suffocates the air itself. The visible drought is unusual. Everything seems burned and destroyed. What was once a prosperous place is now ruined, sad and backward. A former expropriated sugar cane plantation, once luxuriant and prosperous, where the best Venezuelan rums were made, now looks dry, unkempt, abandoned and signposted, paradoxically, with a discolored government billboard announcing food sovereignty for the country.
Finally in the bus terminal, the feeling of acute transformation is overwhelming. The terminal is empty. There are few buses. The stalls, stands and stores that were once bustling are now deserted. People have a previously unknown aspect: a look of extreme poverty. Some people look famished, dirty and sad, while others simply look lost, a result perhaps of so much barbarism, so much impotence and frustration. All these images are heightened by the terrible silence of a once noisy place, crowded with vehicles and smiling people, many returning from Choroní or Cata, the emblematic beaches of Aragua, the most visited in the country.
My sister is there to meet me. On the way to the hospital, the streets and avenues are empty of traffic. The absence of public transport has given way to improvised means of transportation called kennels, pick-up trucks, which transport people of all ages under the inclement sun. Children, women and the elderly travel long distances to stand in line to get water. Water rarely comes through the pipes anymore. It's necessary to provision oneself with containers, any size serves.
My mother is in bed number 9. She is unconscious; she is in a coma. Even so, her skin is smooth and soft, her hands strong, almost ready to continue giving love through her cooking just as she did with my brothers the night before her stroke. It is not easy for me to see her diminished, helpless, defeated. But there is nothing left to do, just pray for an end to her suffering. On Sunday, after six in the morning, I am talking to my sister while we prepare breakfast. The phone rings. It's my brother who has spent the night at my mother's side. My mom has stopped breathing. I feel empty.
 I can no longer stay here. This is not healthy.
During my stay I see and feel the most awful consequences of this regime. There are complete days without electricity, or at times electricity for only three or four hours a day; there are days without water, with the need to share a small bucketful of water to bathe. Even the most human and intimate act of going to the bathroom becomes unbearable. Perishable foods have to be cooked, and then reheated the following morning and again the following evening simply to avoid losing them completely. Underwear has to be reused, as there is no way to wash clothes. The sharp deterioration in the quality of daily life since my original departure is shocking.
I have to leave, to get back my new life, the one that I had to begin in Bogotá just 16 months earlier. I leave my siblings and nieces and nephews deep in thoughts of their own immediate need to escape while there is still time. The scene of November of 2017 is repeated; hugs, kisses, tears, and the promise of seeing each other again, only this time without the image of my mother clinging to the railings of the house as I left. Pain and anger accompany me on my trip back to Colombia. I am dogged by the uncertainty of not knowing if my mother would still be alive if her medicine had been available. The question goes round and round in my mind; was my mother's a natural death or the collateral damage of a crime against humanity?
But it's the image of my mother clinging to the railings of the house, the last memory that I have of her before her stroke, that accompanies me back to Bogotá. And it's that image that still accompanies me today.
[Editor's note: Eduardo Ponce shared this article with his friend, Christopher Burke, a longtime contributor to Occasional Planet. Burke translated it from Spanish and sent it to Occasional Planet for publication.]