Celebrating in these difficult times is hard. We're still in the middle of an unprecedented pandemic. Thankfully, vaccines are being approved and the beginning of the end of the devastation of Covid may be in sight. Coincidentally, we are also just now being delivered from the most backward-leaning presidency in our history. Celebrating our emergence from a dark place is not only essential but necessary.
How do we do that? How about with a joyful hand-clapping gospel song from South Africa? As somebody on YouTube wrote, "The only good thing to remember in 2020 is this song."
Jerusalema is a phenomenon: More than 266 million people have viewed the video. This exuberant song, sung in Zulu, is the brainchild of South African DJ and record producer Kgaogelo Moagi, better known as Master KG. The vocalist who powers the song is Nomcebo. When the song was released in late 2019, it was an immediate success in South Africa.
However, it was a video uploaded to YouTube by Fenómenos do Semba, an Angolan dance troupe, in February 2020 that gave impetus to the worldwide embrace of Jerusalema, the dance. That video pushed Jerusalema to unprecedented international success. The Angolan dance video set in motion something called the #jerusalemachallenge on YouTube, followed by the #JerusalemaDanceChallenge on TikTok. Groups of people from all over the world began to upload videos emulating the Fenómenos do Semba dance moves. This music has brought people together in celebration during a pandemic. No easy feat.
Since the beginning of the pandemic, this irrepressible track has captivated audiences all over. Jerusalema has been the number one song in Belgium, France, Spain, the Netherlands, Romania and Switzerland. Frontline workers especially seem to relate to the song's exuberance. For many, it's been a moment of reprieve from the virus.
The song has roots in a much older gospel hymn, "Jerusalem Ikhaya Lami (Jerusalem My Home.)" The original hymn celebrates a longing for a New Jerusalem, a hope for a better place where suffering will end. Jerusalema echoes those same desires. Here are the words and the English translation: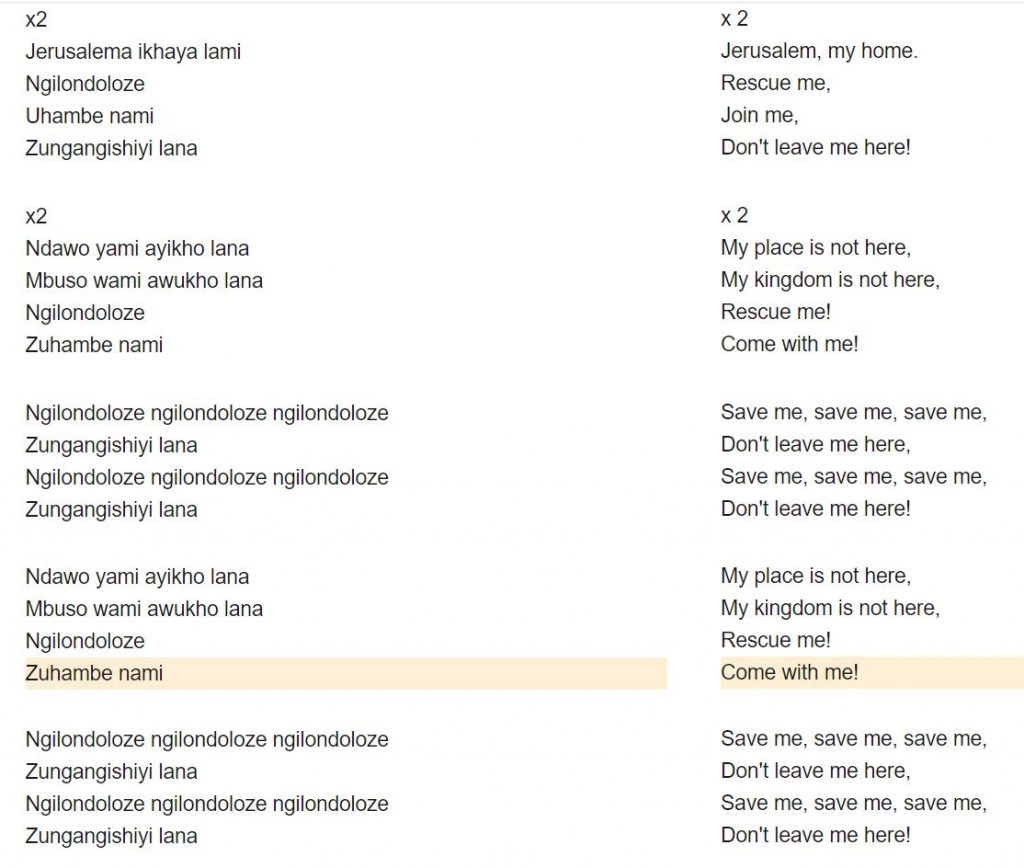 Of course, it's not the words that have captivated millions around the world. (How many of us understand Zulu?) it's the animated and infectious rhythm of Master KG's genius and Nomcebo's voice that make us feel that we should just get up and dance.