The eyesore next to the new Busch Stadium in downtown St. Louis was supposed to be Ballpark Village, an ambitious, downtown-changing development of restaurants, bars and luxury condominiums. But as the 2010 baseball season begins, it's still just a swath of scorched earth, evidence of another wealthy corporation's broken promise.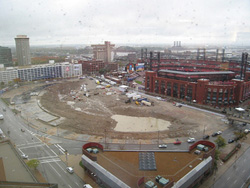 Ballpark Village has devolved into ballpark "pillage." And if the history of redevelopment pledges in downtown St. Louis holds true [specifically, Kiel Auditorium, almost 20 years of nothing–and counting], we can expect to see that chain-link fence and veneer of grass at Ballpark Pillage for decades to come.
Here's an alternative: Turn the "Ballpark Village" site into a vertical farm, and be the first city in the U.S. to bring this innovative concept to life.
What's a vertical farm? It's exactly what it sounds like: a high-rise greenhouse, with a farm on every floor. It uses advanced, soil-free technologies to grow crops, and because its footprint is vastly smaller than that of a tradition farm, it's perfectly suited for small plots of land in urban areas.
Vertical farming is a big-concept innovation with world-wide implications, says Dickson D. Despommier, a professor of public health at Columbia University. In his August 24, 2009 op-ed in the New York Times, Despommier wrote:
"If climate change and population growth progress at their current pace, in roughly 50 years, farming as we know it will no longer exist. This means that the majority of people soon could be without enough food or water. But there is a solution that is surprisingly within reach: Move most farming into cities, and grow crops in tall, specially constructed buildings."
That idea is catching on among urban planners, proponents of the local-foods movement, agricultural experts, and climate-change scientists. Vertical-farming technology developed by El-Paso, Texas-based Valcent Inc., was cited by Time Magazine as one of its Top 50 Best Innovations of 2009. A small-scale design of a vertical farm for downtown Seattle won a regional green-building contest in 2007. And the U.K.'s Paignton Zoo is making high-tech horticultural history by creating a small vertical farm to grow food for its animals.
To date, however, no American city has jumped into vertical farming. So, why not St. Louis? A vertical farm in the heart of downtown St. Louis could be the visionary, transformational development that city residents, boosters, planners and politicians have hoped for since the last game-changer—the Busch Stadium doughnut—opened in 1966, on the exact same spot where Ballpark "Pillage" sits idle today. Having the first large-scale vertical farm could revitalize urban life in St. Louis. Architectural renderings of vertical farms reveal buildings that—because they promote growth by capturing passive sunlight—feature completely transparent walls and ceilings, making them potentially eye-catching, graceful additions to the cityscape. Such an iconic structure in St. Louis could bring thousands of visitors—both to look and to learn. It would put St. Louis in the vanguard of a new technology, and help to jump-start a revolution in urban agriculture.
No, it wouldn't be cheap. Despommier estimates that a prototype, five-story farm, taking up one-eighth of a square city block [in New York City], would cost $20 to $30 million. Presumably, the cost in St. Louis could be far less. And considering what the owners of the St. Louis Cardinals wangled in tax breaks to build the stadium next door, plus more recent strong hints that they want even more before fulfilling their promise to build Ballpark Village, Despommier's estimate represents a bargain. (To get the stadium built, the state contributed $36 million in tax credits and spent $12 million to move a highway ramp. The city agreed to suspend a tax on ticket revenue. The team financed $363 million, which includes a subsidized $45 million loan from St. Louis County.)
But long-term profits are feasible, says Despommier: "The real money would flow once entrepreneurs and clean-tech investors realize how much profit there is to be made in urban farming."
Making the argument for vertical farms, Despommier says, " When people ask me why the world still does not have a single vertical farm, I just raise my eyebrows and shrug my shoulders. Perhaps people just need to see proof that farms can grow several stories high. As soon as the first city takes that leap of faith, the world's first vertical farm could be less than a year away from coming to the aid of a hungry, thirsty world. Not a moment too soon."
St. Louis' impressive horticultural resume already includes the Danforth Plant Science Center, the Missouri Botanical Garden and Monsanto world headquarters. This city is well-positioned to lead in this arena. How about it? Let's get vertical.