If you live in or near St. Louis, you may have walked or driven on a street named in her honor, but you might not know who she was.  Leonor K. Sullivan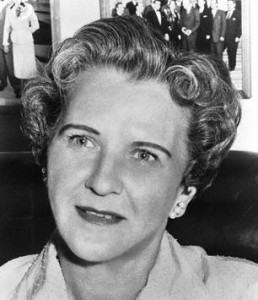 was the first woman from Missouri elected to Congress.  The street named in her honor runs at the foot of the Gateway Arch, along the Mississippi River. Once known as Wharf Street, and occasionally underwater,  it has been called Leonor K. Sullivan Boulevard for years.

We recently wrote of Senator Margaret Chase Smith of Maine, the first woman to officially have her name placed in nomination for president.  She first served in the House of Representatives; then the Senate.  As was the case with so many of the first women in Congress, she was elected to her late husband's seat following his death.  The situation was similar for Leonor Sullivan.  Her husband, John–a Democrat, like Leonor–had  an odd tenure representing Missouri's Third district. The trajectory of his elections had a pogo-stick quality.  He was elected in 1940, defeated in 1942, elected again 1944, defeated again in 1946, made another comeback in 1948 and finally won a consecutive term in 1950, only to die in January of the following year.
Leonor had served as his administrative aide during his off-and-on tenures in Congress.  She was clearly familiar with the territory.  After Congressman Sullivan died, the governor appointed another gentleman to complete the term.  Mrs. Sullivan ran for the seat in 1952. She won and served through 1977, choosing not to run for re-election in 1978.
Her obituary, reported in the September 2, 1988 New York Times described her accomplishments:
In her years in Congress, Mrs. Sullivan became a prominent environmentalist and consumer advocate. She pressed for preservation of environmental resources and improved employment conditions, as well as consumer protection laws for foods, drugs and cosmetics. In 1954, she was an author of legislation creating the food-stamp program.
While progressive in the areas cited by the Times, her record is marred by her having been the only woman in Congress during the early 1970s to vote against the Equal Rights Amendment.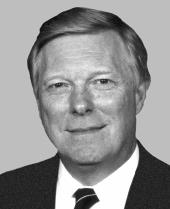 The Third district has remained interesting. Leonor Sullivan was succeeded by a St. Louis alderman who was a member of the "young Turk" faction advocating reform.  He was the son of a milkman. You know the rest: His name was Dick Gephardt.  He served as both the Majority and Minority Leader of the House, but not as Speaker of the House.  After a failed presidential bid in 2004, he retired to seek a non-political fortune, but theThird district remained interesting, as Russ Carnahan, whose father had been Missouri governor, and whose mother, Jean, had been a senator from Missouri, won a primary with eleven contestants, one of whom was Jeff Smith (Can Mr. Smith Get to Washington Anymore?).
Leonor Sullivan was successful enough to overcome the unpredictability of election results experienced by her husband.  Since she was first elected in 1952, Democrats have won every November election for the seat.  That's thirty consecutive races.
Despite her hard-to-fathom opposition to the E.R.A., she distinguished herself in Congress.  Her name is now back in play as the City to River movement in St. Louis is capturing the city's imagination to link downtown with the riverfront, and Leonor K. Sullivan Boulevard.