Three huge, built-in wind turbines top the just-opened Strata Tower in London. Assuming all goes well, the skyscraper's turbines will generate eight percent of the energy needed to power the building. That 8 percent is "roughly enough to run its electrical and mechanical services (including three express lifts and automated window-cleaning rigs) as well as the lighting, heating and ventilation of its public spaces, which include an underground car and cycle park," says The Guardian.
Strata Tower is the first skyscraper to have built-in wind turbines, and it's London's tallest residential building. [Other tall buildings have wind turbines perched on their roofs, or sitting atop adjacent towers, but Strata is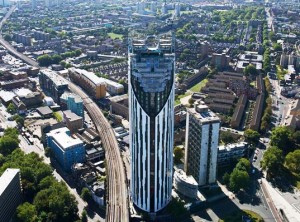 the first to incorporate them into its structure.] Its 43 stories encompass 408 apartments, and it's designed to take advantage of the area's typical 35 mph wind speeds.
According to Inhabitat, "[Strata Tower] also takes into account the Venturi effect created by nearby structures that drive the wind through the turbines at faster rates, which is projected to generate 50 MWh of electricity annually."
Will they produce as expected? Designers, developers, investors, residents and environmental observers are eager to find out. And although the turbines each have five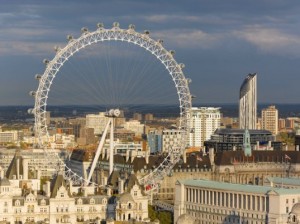 blades, rather than the conventional three, to reduce noise, there's still uncertainty as to how annoying they might be for people living in the expensive apartments on the floors below.
Set in a part of London—Elephant and Castles—slated for revitalization, the building is the first of three skyscrapers planned for the area. Its sleek, unconventional appearance has earned it nicknames such as "The Electric Razor" and "Lipstick."
So what do green experts think? There's no shortage of debate about the way the turbines look and their potential to make a difference.
"You've got to take your hat off to the design team for delivering a building that captures the imagination," says Paul King, head of the UK Green Building Council. "I doubt wind power will become a common feature in high-rise inner city projects, but without this type of bold innovation, how would we ever know? Developments like this show that sustainability is increasingly becoming mainstream. That's something everyone should celebrate.
But, The Guardian asks,
Are [the wind turbines] just a tokenistic green gimmick? Or will they propel us towards a new urban architecture, one that's cinematically thrilling and ecologically sound? Until its sibling towers rise and the redevelopment of Elephant and Castle is complete, it will be hard to properly judge Strata. Right now, it stands alone, a sleek silver sentinel, towering over the follies of the recent past.