I grew up to be a liberal; my views, which were largely based on empathy, were formed well before I graduated from high school. I didn't need Rachel Maddow, Lawrence O'Brien, or Ed Schultz telling me what to believe or mocking conservatives. I just needed a solid delivery system to receive news – news that included stories on the plight of those inside the U.S. and overseas who were suffering.
As a teenager, almost every evening upon getting home from a day of generally irrelevant learning at school, I got my primary education in 30 minutes (minus commercials) in the CBS Evening News with Walter Cronkite. Cronkite, who was his own managing editor, delivered it as it was, blemishes and all. We saw Birmingham's fire hoses trained on African-Americans who were exercising their right to free speech and assembly. We saw the poverty of Appalachia. We saw the escalation of America's involvement in Vietnam. And with the senseless slaying of President Kennedy, we learned that whatever questionable reason there might have been for most gun ownership, it paled in comparison "all necessary steps" to minimize the likelihood of anyone who owning a gun unless they had a compelling reason.
CBS Evening News was my first electronic teacher because of the credibility and authenticity of Walter Cronkite. There are those who think that news anchors are just glorified news readers. That may be true of many, perhaps most, but there are some who seem to relay the day's events with a combination of gravitas and humanity. When it came to space exploration, Cronkite added enthusiasm to the mixture.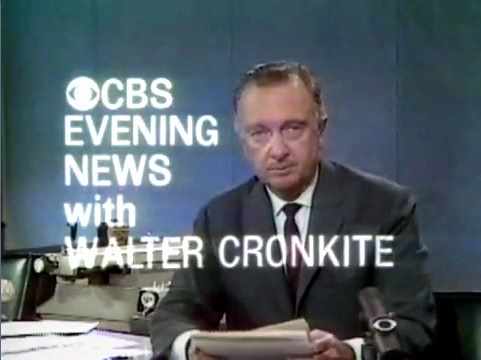 Walter Cronkite delivers news on April 4, 1968, shortly before Dr. Martin Luther King was assassinated.
Without offering any disparaging remarks about other anchors, since Walter Cronkite retired in 1981, I think that you can count on one or two hands the number of anchors who presented an objective, sensitive and authentic manner. In its early days, CNN had a few, most particularly Bernard Shaw. CBS currently has three journalists in particular who carry credibility somewhat reminiscent of Cronkite.
First is Bob Schieffer, a veteran who tells a remarkable story of how he covered the John Kennedy assassination and who in recent years has on and off been allowed to sit in the anchor's chair, always with good ratings. Second is Russ Mitchell, who is a weekend anchor and whose demeanor is a refreshing contrast to the sports hype that general precedes his broadcasts. Third is the current occupant of the Evening News, Scott Pelley, who assumed his position in June, 2011. If someone is a news junkie, he or she can get non-hyped and meaningful news seven nights a week on CBS. On weekdays it's with Scott Pelley, and on weekends with Russ Mitchell.
Scott Pelley has jettisoned the bad puns of his predecessor as well as most of the fluff stories. As I was watching the broadcast on Monday, Dec. 5, 2011, I was struck with the continuity between the news that we received from Walter Cronkite forty years ago and what Scott Pelley was delivering that evening. In each case, important and engaging information was presented in a calm and thoughtful manner. Here is the "storyboard" for the broadcast:
1. The revolution aimed at Syria's Bashar al-Assad including risky secret interviews by reporter Clarissa Ward.
2. Downed drone in Iran
3. European Debt Crisis – banks downgraded
4. U.S. spending on "Cyber Monday" up 15% from 2010
5. Cutbacks in the Postal Office – report from Burr Hill, VA
6. Director of Federal Aviation Administration placed on leave for DUI arrest
7. Des Moines Register poll puts Newt Gingrich in lead for Iowa Caucus
8. Woman in Afghanistan has been jailed for two years for not marrying her rapist
9. Results from parliamentary elections in Russia
10. NASA reports possible "sister planet" to Earth 600 light years away
11. Fourteen car wreck of exotic cars in Japan [could be considered frivolous]
12. Bringing together amputees from Haiti's earthquake with others from recent U.S. military engagement in a unique soccer game.
Reporters: Clarissa Ward, Bob Orr, Nancy Cordes, Mandy Clark, Byron Pitts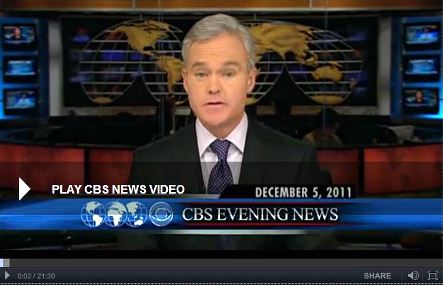 (twenty-one minutes with condensed commercials)
Even though I like Rachel Maddow and most of the rest of the MSNBC crew, I didn't need any of them telling me how to feel. The violence in Syria was only matched by the bravery of Clarissa Ward in covering it. The downed drone in Iran illustrated how risky international relations are. Cutbacks in the Postal Service illustrated what's happening to our domestic work force, particularly those in the public sector. The plight of the woman in Afghanistan reminded us of how easily human rights can be abrogated and what a challenge it is to protect them. And Byron Pitts' story on the amputees from Haiti and the ranks of wounded American soldiers showed the power of hope and inspiration when combined with creative planning and design.
More and more of us seek our news on the internet. With the wide variety of choices and the presence of excellent journalists in various news outlets including blogs, we can generally find whatever we need.
However, at 5:30 PM [Central], the image of millions of Americans sitting at a computer and literally going in millions of directions is quite different from the era of Walter Cronkite when we had only three choices for electronic news. There was something unifying by the shared experiences we had when many of us ritualistically watched the news each evening. Walter Cronkite didn't have to tell us; we knew he was ashamed to live in a country in which fire hoses flattened people exercising First Amendment rights. We shared the fear of the Cuban missile crisis and wept with joy when John Glenn finally reached orbit speed.
We can't fully turn back the clock. Television news has its high points and its low points. Former Federal Communications Commission Chairman Newton Minnow once called American TV "a great wasteland." It would be hard to argue with him. But even with imperfections, it's hard to find a better way to get an overview of what is happening in our nation and the world than watching Scott Pelley. He's only 54; if CBS doesn't mess up we have many more years to learn from him. We won't go back to the unity of the moment that we formerly had. However, high quality has been preserved, or perhaps more accurately restored. Scott Pelley's ratings are rising; I hope they continue to do so because we'll have a better informed and likely more compassionate country if they do.