On April 7, 2012, Mike Wallace of CBS News and 60 Minutes passed away. It's hard to imagine any other journalist/entertainer who received a more respectful and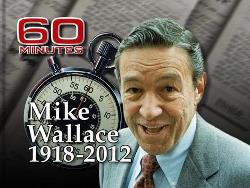 lavish funeral and send-off than Mr. Wallace. Most of his colleagues from 60 Minutes, along with celebrities whom he had interviewed, either spoke on his behalf or were in the audience. Barbra Streisand was a key figure at his funeral. Perhaps, but the journalist would probably not want to be considered one of her best friends, unless it was important to him to be in the company of the rich and famous.
Not too long after Wallace's death, Dan Rather, his former colleague at CBS News, published his new book, Rather Outspoken: My Life in the News. There is a world of difference between the words of Dan Rather and those of Mike Wallace, as well as those spoken about each of them.
It is neither my job nor my intention to criticize Mike Wallace. On the other hand, it is fair game to compare the life of Dan Rather with the legacy of Mike Wallace.
Wallace had remarkable accomplishments. He initiated high quality "ambush investigative journalism," in which he trapped criminals and others who were clearly taking advantage of innocent individuals and groups. He did it enough times that he created a band of journalists who tried to emulate him. He also had the good judgment to know when to stop these kinds of stories, because they were defining and stereotyping him to the extent that he could do little else.
He had remarkable interviews with the likes of Yasser Arafat, Nelson Mandela, Mahmoud Ahmadinejad, and numerous other international and domestic leaders. He once interviewed Ali Khamenei, the "supreme leader" of Iran and told him that many people have called him "crazy." Wallace asked him if he agreed with that statement. It was a shocking experience and obviously befuddled Khamenei.
Wallace also did stories on remarkable artists; his favorite being with pianist Vladimir Horowitz.
One of the big differences between Rather and Wallace was how they dealt with adversity, "when the heat was turned up." In 1995, Wallace was caught in the middle of a 60 Minutes story with Brown & Williamson Tobacco Company on whether cigarettes were essentially delivery systems for nicotine. They had the help of a remarkable whistle blower by the name of Jeffrey Wigand. The story was so big that it inspired the movie "The Insider," with Russell Crowe playing Wigand.
Even though the charges of the story were clearly and obviously true, Brown & Williamson threatened to sue CBS for $15 billion. Wallace and 60 Minutes producer Don Hewett chose to "punt" and scale down the story, so as to not accuse Brown & Williamson of intentionally delivering toxic chemicals to smokers.
In contrast, in 2003-04, Rather learned of the atrocities at the Abu Ghraib prison in Iraq. Along with outstanding investigative work with producer Mary Mapes, he tracked down sources and eventually photos of the torture and humiliation that American prison guards were inflicting on Iraqi prisoners, many of whom had not committed crimes, but instead were jailed because of their political beliefs.
Rather and Mapes thought that it would be a "slam dunk" to convince their superiors at 60 Minutes to run the story. Much to their surprise and chagrin, the story was delayed for months as more and more Iraqis were tortured, and American soldiers committed horrendous acts. It finally occurred to Rather and Mapes that the reason was that CBS was now owned by a corporate entity name Viacom1. Viacom was very close to the George W. Bush Administration and did not want to embarrass them. They did not want to undermine the war, no matter how irrelevant it was to either al Qaeda or weapons of mass destruction. Executive after executive, including Don Hewett at CBS, refused to unequivocally support Rather and Mapes. In the meantime, other news organizations were getting hold of the story. Eventually, Mary Mapes, with the backing of Rather, gave the basic information to one of America's greatest investigative reporters, Seymour Hersh. Hersh ran with the story, embarrassing CBS and forcing them to run another scaled down story. Rather and Mapes saw this story through in a way that Wallace never would have.
Later in 2004, prior to the November presidential election between incumbent George Bush and Democrat John Kerry, Rather discovered  that, while Bush was in the Texas National Guard during Vietnam, he violated a plethora of military regulations. He used his father's influence to get into a "sweetheart" unit. He refused to take a required physical exam. He crashed two planes in simple training exercises. And most egregiously, he went AWOL for almost a year.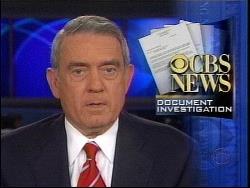 All evidence points to Rather and Mapes having the story right. However, some of their documents were copies, and minor items such as fonts and proportional spacing were challenged. All of this was debatable. Once again, corporate owner Viacom stepped in, and with further support from executives at CBS News, they delayed and then watered down the Rather/ Mapes story. Even though it ran without the full body of knowledge that had been uncovered, it set off a firestorm. Rather was accused of having a personal grudge with Bush and distorting the truth.
As is clear in both Mapes' and Rather's books, they had the story right, and with sufficient documentation to prove it. Unfortunately, some of their key witnesses died untimely deaths.
Eventually Rather was forced to read an apology on the air, one that he did not write. He lost his position of 24 years as anchor of the CBS Evening News. Mapes was fired, and Rather's role was diminished to the point where he chose to leave CBS.
Rather has started a new career ,in which he has ultimate freedom and autonomy. He works for Mark Cuban's HD-Net cable network, producing up to 41 one-hour documentaries a year. He also wrote his book and has numerous speaking engagements.
Mike Wallace's funeral was full of praise, graciousness, and perhaps embellishment. He was a remarkable journalist. But he never stuck with a story as Dan Rather has. He never took his work as seriously. His protocol was more "shotgun journalism" rather than in-depth investigative reporting.
As we said, we certainly respect Mike Wallace. But when Dan Rather passes away, he will have a very different service. He will be remembered for his courage and tenacity. I would love to have dinner with Rather; it would be real, informative, and reflect his modesty. Wallace would also be interesting, but probably a bit inflated and overpowering. Dan Rather, we will miss you. Fortunately we still have the benefit of your fine work.
1 Two of the five highest salaried CEOs in 2011 were from CBS or Viacom.
1. David Simon, Simon Property Group, $137.2 million (Min. wage worker 9,000 years), up 458 percent [from 2010]. 2. Leslie Moonves, CBS, $68.4 million, up 20 percent. 3. David M. Zaslav, Discovery Communications.,$52.4 million, up 23 percent. 4. Sanjay K. Jha, Motorola Mobility, $47.2 million, up 262 percent. 5. Philippe P. Dauman, Viacom, $43.1 million, down 49 percent