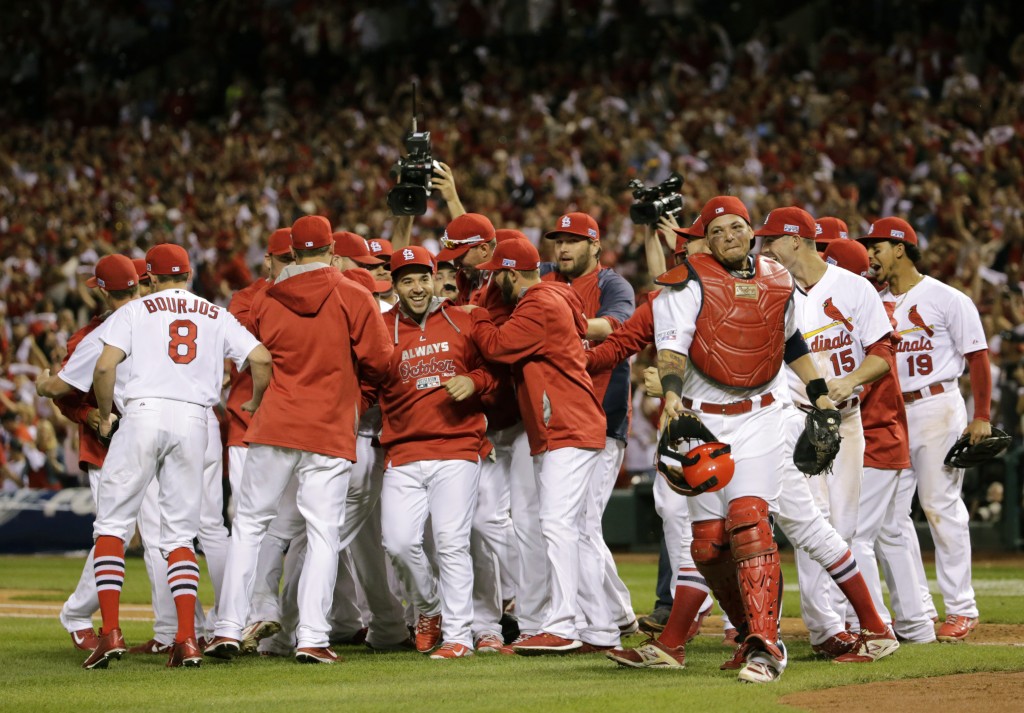 Unaccustomed as I am to writing about sports, I beg for indulgence just this once. I'm still breathless from this evening's amazing come-from-behind win by my local team, the St. Louis Cardinals. But as caught up as I have been for the past three hours in the play-by-play, the strategic moves, the psychological analysis and my city's sense of reflected glory lived through a baseball team, I can't resist turning this into a political story.
It's pretty simple, really: The team with the most money lost.
The Dodgers play in one of the top media markets in the U.S. Their revenue from cable rights and advertising has been reported at about $293 million per year. The Cardinals, in a much smaller media market, reap much less from media–$28 million– and they must rely on ticket sales for the rest of their operating budget. Of course, that means that the Dodgers, whose annual payroll budget is $243 million, can pay huge salaries to baseball superstars and pre-empt most other teams when the best players become free agents. The Cardinals have an annual payroll budget of $107 million, and have to be much more strategic in assembling a team.
Today's upside-down result [the Cardinals beat the Dodgers 3 games to 1 in the best-of-five division championship] is a victory for financial underdogs. And this is where, for me, the political parallel kicks in.
It has become axiomatic in politics that, without a huge campaign treasury, a candidate cannot be competitive-just as in baseball, the lower-budget teams start every season at a competitive disadvantage.
But that assumption has had a negative effect on the political game. Candidates, as well as political parties, have bought into the idea that money is everything—and they act accordingly. In the frantic pursuit of campaign contributions, ideas take a back seat to money. Fundraising events take precedence over meaningful contact with constituents—even cutting into the time elected officials spend on the floor of the legislative bodies to which they are elected. In the endless money chase, politicians see fundraising as their day jobs, and reelection—for the sake of retaining power—as the primary goal. Their patrons—wealthy donors, corporations and lobbying groups—use the power of the dollar to buy the loyalty—and votes—of their dependent candidates and incumbents.
At this point in American politics, it's a financial free-for-all, and, as a result, American democracy is in free fall.
In politics, money is ruining the game. In baseball, a limited form of revenue sharing has narrowed the income gap among teams slightly [pro football has a much more robust revenue-sharing system]. In American politics, the only way to achieve financial parity would be to institute a system of publicly financed elections, with spending caps. The chances of that happening in the near future are dim, especially in light of the Supreme Court's decision in Citizens United. [There was, of course, that little glimmer of hope in 2012, when Karl Rove's Crossroads GPS Super PAC spent upwards of $400 million and yet still failed to elect Mitt Romney to the presidency.]
So, when the lower-income St. Louis Cardinals beat the extremely wealthy Los Angeles Dodgers today, and when the notoriously free-spending New York Yankees didn't even make it to post-season, upending all the financial assumptions of the baseball world, I feel hopeful. I'm going to take it as positive indicator, both for baseball and for the political realm: Money can't buy everything.