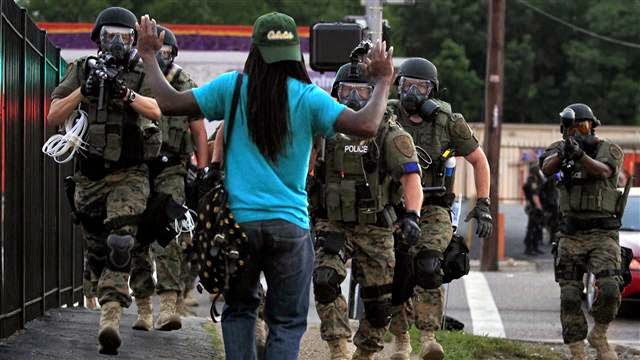 The St. Louis Post-Dispatch recently published an editorial titled, "A defining moment." The editorial states that by creating a Ferguson Commission,,Missouri Gov. Jay Nixon "has set the table for important, potentially groundbreaking conversations." The governor says that the commission "will need to be led by the region's great academic institutions, by professionals who will let the research lead them …" but that it "can't be an echo chamber."
My ears are already beginning to throb. I know from dozens of "groundbreaking" studies conducted in the past that there is no new ground to be broken. We know many of the things that are wrong; they have been identified time and time again.
During the past few years, St. Louis has become proficient at doing studies. Some have been conducted by institutions of higher learning; some have been sponsored by government entities or local organizations. No matter how "groundbreaking" or definitive or intelligent or resourceful these studies have been, most of them have one thing in common: They have been taking up shelf space.
Gov. Nixon set out three charges for the Ferguson Commission. The first is to "conduct a thorough, wide-ranging and unflinching study of the social and economic conditions underscored by the unrest in the wake of the death of Michael Brown."
Last spring a truly groundbreaking study, "For the Sake of All," was released. This study, conducted by a group headed by Jason Q. Purnell, assistant professor at the Brown School at Washington University, definitively identified conditions that have created the staggering social and economic racial disparities in St. Louis.
"For The Sake Of All" recommends investing in quality early childhood education, creating economic opportunities for low- and moderate-income families, investing in coordinated school health programs, investing in mental health programs, investing in neighborhoods, and enhancing disease prevention and management.
This study was truly thorough, wide-ranging and unflinching. We don't need to do it all over again.
Another important study has been conducted by ArchCity Defenders, a small law firm that "strives to prevent and end homelessness among the indigent and working poor in the St. Louis region by providing holistic criminal and civil legal services." Attorneys with ArchCity conducted research that has been published and verified showing how our municipal courts exploit the poor. As a result of that study, the U.S. Department of Justice has launched a study of how small municipalities conduct and benefit financially from their courts.
The governor's second charge is to tap the expertise needed to address the concerns identified by the commission — from poverty and education, to governance and law enforcement. Again, much of this work is already being done. Professionals from a variety of disciplines are conducting both public and private conversations with community leaders and others throughout the region who have the ability to make changes.
The governor's final charge is to offer specific recommendations for making this region a stronger, fairer place for everyone to live. Again, previous studies have included many specific recommendations. ArchCity Defenders, St. Louis University Law School and others have called on municipalities to correct the problems with their courts. "For the Sake of All" is now preparing and distributing action packets to address the problems of economic, health, housing and educational disparity in our region. Various reports by Focus St. Louis, Vision for Children at Risk, the RCGA and other organizations have made recommendations for years.
In addition to the great academic institutions and professionals that the governor has called for, we need to remember that the St. Louis area is blessed with many wonderful organizations — some large and well-funded, others volunteer, and some led by grassroots activists. These groups support and work for quality education, child health, keeping our neighborhoods safe, creating economic opportunity, and on and on. Many advocate with our legislators in Jefferson City to pass laws to protect our children, to provide health care for all Missourians, and to fully fund our schools.
We don't need another commission and we don't need any more studies. We know the problems. Let's listen to the professionals who have already studied them and already made thoughtful recommendations. Many solutions have already been identified. It's time to stop studying. It's time to act.
This post originally appeared on the Op-Ed page of the St. Louis Post-Dispatch.