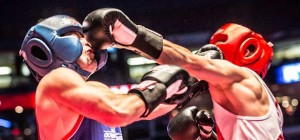 At the risk of being labeled a wet blanket, I'd like to lodge a complaint against Gun 'n' Hoses. The event is an evening of amateur boxing and martial-arts matches pitting St. Louis police officers against St. Louis firefighters. Since its inception 28 years ago, it has been the biggest source of fundraising for St. Louis Backstoppers, an organization that offers financial assistance to police, firefighters and EMTs killed while doing their jobs.
Whoever came up with the name of the event was quite clever: It's a pun on the once-popular alt-rock band called Guns 'n' Roses. Cute, right?
Unfortunately, the cuteness is no longer appropriate. Here's why.
The 2014 Guns 'n' Hoses was originally scheduled for Thanksgiving Eve. But in late September, the organization announced that it was postponing the event. According to news reports, organizers "were concerned that participants would be weary from working long hours of extra duty"—meaning extra time spent dealing with protests and violence in Ferguson after the death of Michael Brown.
The delay is understandable. What I'm wondering about, though, is why—in the aftermath Ferguson, in which a police officer shot and killed an unarmed teenager whose offense was jaywalking—Backstoppers continues to use the name "Guns 'n' Hoses."
It's a tone-deaf name.
I can understand using 'hoses' to symbolize firefighters. But why—with all of the controversy around the police-shooting of Michael Brown—would you want to use "guns" as the symbol for police? If you're trying to convince the community that police officers are more than just brute enforcers, you might want to de-emphasize the weaponry. The fact that the 2014 event was delayed precisely because of Ferguson should have made someone notice. Apparently, it didn't. [Do I even need to mention that "Guns 'n' Hoses" is sponsored by Anheuser-Busch, whose product has contributed to untold numbers of drunken shootings?]
I understand that, after 28 years, the name "Guns 'n' Hoses" has become a brand. But so is Washington "Redskins," and even that is on the verge of change, because it's no longer appropriate.
So, Backstoppers, think about it. But be careful what you choose: It wouldn't help much to change the name to "Shoots and Ladders."