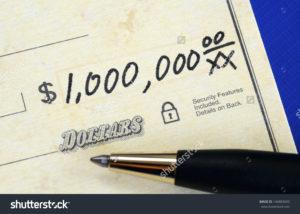 Missouri is one of only 12 US states that impose no limits on campaign contributions for in-state offices. [In Missouri, we don't limit gifts from lobbyists, either. But that's a different story.]
If you want to know what no limits looks like in an actual campaign season—this one: 2016–look no further than the Missouri Ethics Commission's website. By Missouri law, while accepting huge, unrestricted amounts of money for their campaigns is legal, candidates must list what they receive. And anything that comes in that is above $5,000 must be reported within 48 hours. So, at least there's a bit of transparency.
Unfortunately, knowing how much cash is being spread around doesn't make you feel better.
The numbers can be staggering. Here are some examples. [Hat tip to ShowMe Progress, where intrepid blogger Michael Bersin offers daily, annotated reports on the latest donations.]:
Josh Hawley, Republican candidate for Missouri Attorney General
$975,000 to his Missouri Freedom PAC, from the Republican Attorneys General Association in Washington DC [August 24, 2016]
Another $1,000,000 from the same group on the same day.
And another $100,000 from the same organization two days earlier.
For a grand total of more than $2 million in two days. And it's not even Labor Day yet.
Chris Koster, Democratic candidate for Missouri Governor
$500,000 from AFSCME on Aug. 23, 2016
$80,000 and $25,000 contributions in August 2016  from the Ironworkers Union [NY] and an individual named Bartimus Frickleton [Kansas]
$25,000 from James Nutter, August 19, 2016
Eric Greitens, Republican candidate for Missouri Governor [and rumored to be looking at a run for President in 2020]
$1,000,000 from venture capitalist Michael Goguen.
$500,000 from another California donor on January 1, 2016.
In July 2016, Greitens received what has been called the single largest campaign donation in Missouri history. It was a whopping $1.975 million donation from a Super PAC known as SEALS for Truth. Under rules that don't apply in Missouri, it would be illegal for a Super PAC to make a donation directly to a candidate. But this is, after all, Missouri.
Today, Aug. 26, 2016, Greitens received $2.5 million from the Republican Governors PAC. [It's hard to keep up with the incoming money!]
As reported in St. Louis' Riverfront Times:
By federal law, a super PAC can accept unlimited amounts of money, but it cannot donate that cash directly to a federal campaign or political party. A super PAC like "SEALS for Truth," for example, would be breaking federal law if it contributed directly to a presidential or congressional campaign. But donating to a state campaign like Greitens'? It turns out there's no law against that. From the Post-Dispatch:

A Federal Elections Commission spokeswoman confirmed that… as a super PAC, "SEALs for Truth" would be barred from giving any money directly to a congressional or presidential campaign — but that the FEC has no jurisdiction if it sends that money to a Missouri state-level candidate. Missouri election officials have said previously that they have no way to restrict money donated from federal PACs to state candidates, as long as it's disclosed publicly.
Candidates to be named later
There's also a lot of PAC money slushing around out there that is designated, in general, for various candidates for Missouri's State Senate. One example from this month is the $250,000 to the Eastern Missouri Senate PAC ponied up by Joplin, Missouri' building-products mogul David Humphreys. He gave another $250K to the Central Missouri Senate Republican PAC.
:Even the way-down-ticket campaigns are sloshing around in money
As just one example, Caleb Rowden, who is running for Missouri State Senate in the 19th district, received $250,000 from the Republican State Senate Committee on Sept. 1, 2016. The same group gave him $100,000 on June 30th.
How is Missouri different from "normal" states?
Just for fun, compare the above numbers to the average limits in other states, via this chart, compiled by the National Conference of State Legislatures. [For a complete rundown on specific limits in all 50 states, go to this spot on the  NCSL website.].
Average Contribution Limits
| | Governor | State Senate | State House |
| --- | --- | --- | --- |
| National Median | $3,800 | $1,000 | $1,000 |
| National Average | $5,619 | $2,507.69 | $2,375 |
| Highest Limit | $50,000 [New York] | $12,532 [Ohio] | $12,532 [Ohio] |
| Lowest Limit | $500 [Alaska} | $170 [Montana] | $170 [Montana |
You get the idea. Missouri candidates—especially the ones on whom big-money folks are placing big bets—are awash in money in ways that their counterparts in other states can only dream of.
.The candidates and the kingmakers are happy about this. As for the rest of us…this unrestricted campaign money thing has been in effect since 2008, and we don't think it's pretty. We are now in the Citizens-United era, when billionaires like the Koch brothers, Sheldon Adelson, and Missouri's own David Humphreys and Rex Sinquefield are shoveling ever-increasing amounts of money into campaigns as a way of exerting their own political-economic agendas.
But maybe there is hope. Missouri's Secretary of State Jason Kander [who is seeking contributions, himself, in his quest to oust Missouri's Senator Roy Blunt—but who is subject to Federal contribution rules, not those in Missouri] recently approved a ballot initiative for the November 8, 2016 election. We'll be voting on a measure that would establish contribution limits and require more disclosure of campaign contributions.
I'm voting yes. And I'm not taking donations to influence that decision.