When Attorney General Jeff Sessions announced on September 5 that the Trump administration would be terminating DACA, Trump and members of his  governing gang once again demonstrated their  propensity for spreading fear and confusion among the most vulnerable in the American population.
What did the Justice Department's announcement mean in practical terms? During the Obama era, DACA status was granted for two years at a time and was renewable. Now, if Trump's order stands, new applications for DACA will no longer be considered. Only those recipients with a permit set to expire before March 5, 2018, will be granted the opportunity to apply for a two-year renewal if they apply by October 5—with their status in limbo following that one-time renewal. DACA authorizations will be recognized until expiration at the end of their two-year period with the last authorization ending on March 5, 2020.
I ask you to ponder: Who in America right now is more vulnerable than the 800,000 Dreamers who have known no other lives than the ones they've lived in cities, towns, villages, and rural areas across America and whose future in the only country they've ever called home is now in doubt?
The outlook for the Dreamers is dim. They're caught in a cycle of uncertainty. Can they stay in their homes? Can they apply for loans? Can they apply and receive work permits? Can they go to college? Will they be allowed to thrive or will they be deported to countries they've never known and to places where they have no family, no friends, no connections? In the days following this cruel and capricious announcement, how do Trump, Sessions, and their  acolytes imagine that the 800,000—who, after all, are our neighbors, our friends, our co-workers and employees, our fellow students, or our productive business women and men—plan for school, for work, for their families?
Imagine for a moment that the cities of Richmond, Virginia, or Hartford, Connecticut, or Charlotte, North Carolina, were emptied of their entire populations. Their inhabitants deported to parts unknown. That's the magnitude of the population that Trump has targeted.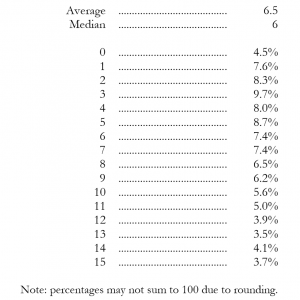 Let's remind ourselves that DACA was a thoroughly practical Obama-era initiative that gave hope to undocumented immigrants who were brought as children by their parents to the U.S. Let's remember too that the median age of entry into the U.S. of DACA recipients was six years old and that the most common age of entry was three. Those are ages not even close to the age of consent when a child can make a choice about his or her future. And, at a time when anti-Latino sentiment is being revved up by Donald Trump, it's no coincidence that the majority of young people who will be affected by shutting down DACA are Latino. Fully seventy-nine percent of those in Trump's cross-hairs came from Mexico.
 I wonder. Who did Donald Trump consult with when he decided to take what is being called one of the cruelest and most shameful presidential actions in modern times?
He certainly didn't sit down to seek advise from the heads of many of America's largest corporations—400 of whom have signed a petition calling on Congress and Trump to protect the Dreamers. CEOs of business giants like Amazon, AT&T, Wells Fargo, Best Buy, Ikea, Apple, Facebook, and Microsoft can be counted among those who oppose ending DACA.
And while we're talking about business interests, consider this. The statistics for the full integration of Dreamers into the fabric of American society and business are indisputable. It's estimated that 100 DACA recipients currently are attending medical schools in multiple states with hopes of serving underserved communities across the country. Of the top twenty-five Fortune 500 companies, more than 72 percent count Dreamers as employees, including Microsoft, which counts 27 Dreamers among its employees and Apple, which currently employs 250 Dreamers.
It appears that Trump didn't even bother to pick up the telephone in the Oval Office to consult with the Evangelical community. Like the business community, the Evangelical community breaks with Trump on this decidedly heinous decision. In recent polls, 66% of American evangelicals favor granting work permits to Dreamers, while 57% indicate they favor a path to citizenship for DACA recipients.
Tellingly, Trump also ignored the overwhelming sentiment of the majority of voters of both political parties. According to a Politico/Morning Consult poll released on September 5, 58% of all voters responded that Dreamers should be allowed to stay and become citizens. And party affiliation was not a predictor. 84% of Democrats, 74% of Independents, and 69% of Republicans agreed that Dreamers should be allowed to stay.
Who could Trump have consulted with that might have pointed him in a more empathetic direction? Perhaps someone with the President's ear might have suggested that he sit down and have a gentle grandfatherly talk with one or more of his eight grandchildren – five of whom are between the ages of three and nine. Joseph, Arabella, Kai, Donald III, Tristen, or Spencer would have been the perfect focus group to provide grandpa with a real-life perspective on the emotional toll of separating young children from their parents. Trump could have asked them how they might feel about being left behind when their parents travel to Aspen, or Mar-A-Lago, or any of the other destinations frequented by the Trump family. They might have given the commander-in-chief at least a glimpse into the delicate balance of a young child's sense of emotional security.
Of course, I'm sure Trump never bothered to even consider asking the question. But if he had, would his grandchildren's answers have made a difference? Would Trump have understood that the emotional ties that bind families together are the same — whether you're a Trump or a Dreamer? I doubt it.