The Missouri House Republican Campaign Committee (HRCC) seems to have a thing for scary words like socialism, state-controlled healthcare, atheists, liberal professors, progressive and, gasp, Bernie Sanders and Hillary Clinton.
Much of what you will find if you Google the phrase "Paid for by House Republican Campaign Committee, INC., Eddy Justice, Treasurer" will not be pretty. In fact most of the search results lead to downright nasty negative ads slamming Democratic candidates for various Missouri House races. Many of these pages have urls that look like the candidates' official sites.
The House Republican Campaign Committee was formed as a political action committee. The official HRCC website claims that it is "Building MO's GOP Majority Since 2004." It's treasurer is Eddie Justice. He's been in that role since 2010. He was one of Eric Greitens' nominees to the state school board. The state senate blocked him from that post.
There is no high road with the HRCC. Not even a chance of a civil conversation.
Of the web offerings by the HRCC, only three are positive sites pushing Republican candidates. At least seven are scare sites with the message that the named candidates are evil and that you should vote "NO." No reference is made to the candidates for whom they would like you to vote.
Here's a sampling of some of the HRCC vitriol:
Peggy Sherwin. 104th District, running against Adam Schnelting.
The 104th is in central St. Charles county. Sherwin is a retired professor and has taught newly released felons transferable skills related to re-entry into society. She has been endorsed by Missouri NEA, NARAL and various labor groups. Here is Sherwin's real campaign site.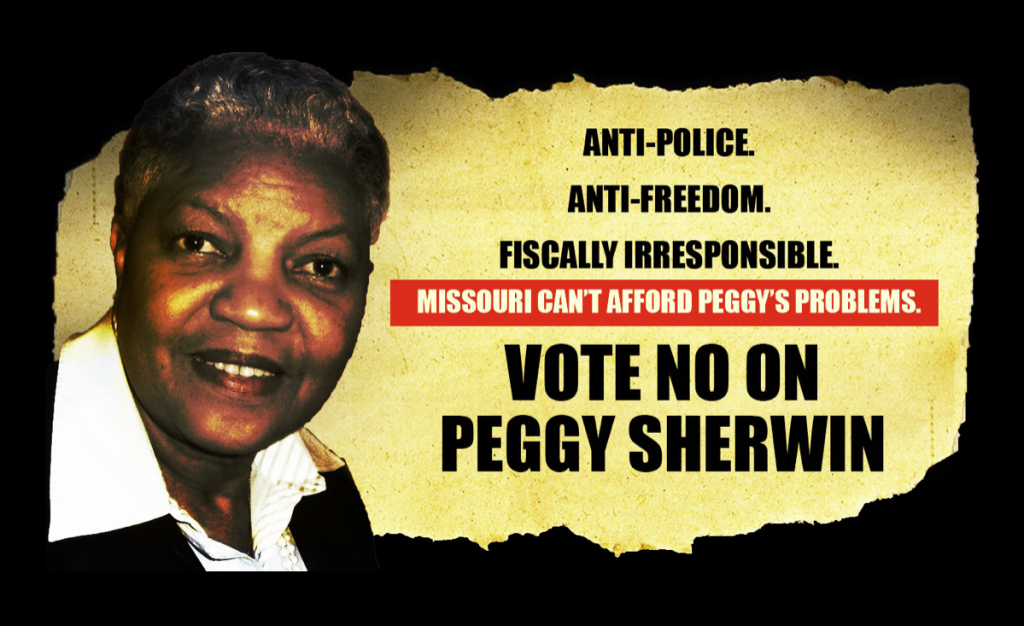 Using the url, peggyproblems.com, the HRCC claims:
She's a socialist extremist who wants government run healthcare, higher taxes, open borders and wants to take away our 2nd amendment rights.
Peggy supported both Bernie Sanders and Hillary Clinton during the 2016 election.
Jessica Merrick. 20th District, running against Bill Kidd (incumbent.) The 20th is near Kansas City, north of Blue Springs. She believes everyone should have access to affordable healthcare and that our public education system is drastically underfunded.  Here is Merrick's real facebook campaign page.

Using the url, realjessicamerrick.com, the HRCC screams:

Our faith. Our Freedom. Nothing is sacred to Jessica Merrick.
Too Extreme. Too Far Out of Touch. Vote NO on Jessica Merrick.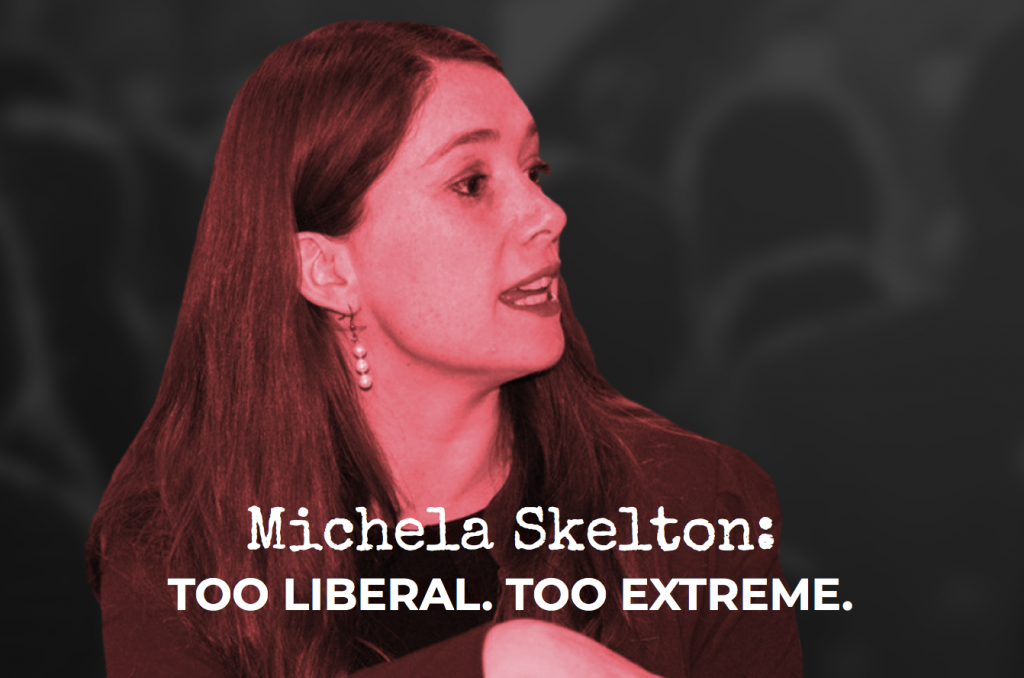 Michella Skelton. 50th District, running against Sara Walsh (incumbent.)  The 50th is south of Columbia. Skelton favors paid family leave, improved healthcare for all, the rights of workers to unionize and bargain for higher wages and better working conditions. She has a long list of endorsements from a variety of progressive sources. Here is Skelton's campaign website.
Using the url, extremistskelton.com, the HRCC declares:
Michela Skelton's campaign is backed and funded by liberal professors that defended Melissa Click during the campus protests that led to a decline in enrollment, lost tuition revenue and fewer jobs in our community.
Brady O'Dell. 11th District, running against Brenda Shields. The 11th is in southwest Missouri around St. Joseph. O'Dell calls himself a blue collar worker who is against "Right to Work" legislation and is for raising the minimum wage.  Here is his real campaign facebook posting.
Using the url, bradyodell.com, the HRCC claims:
Vulgar Brady O'Dell's progressive policies are wrong for Missouri
Brady O'Dell wants to bring socialism to Missouri. This destructive system will kill jobs, raise taxes, and expand failing, inefficient government programs.
Brady O'Dell clearly doesn't like our tax cuts. Socialist Brady O'Dell will try to repeal your tax cuts and increase government spending by MILLIONS.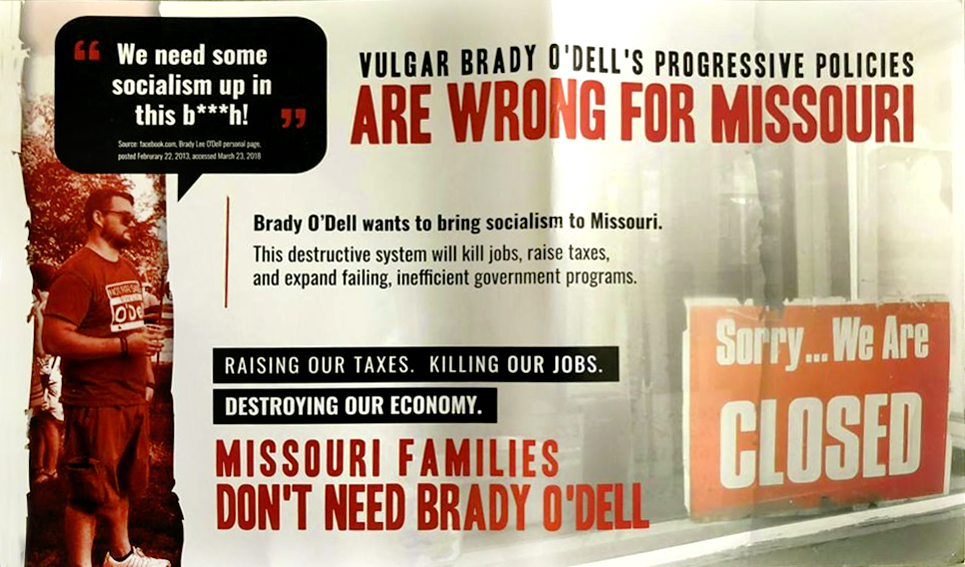 The HRCC has not restrained itself to web postings. They also are sending out direct mail like this one slamming O'Dell. The socialism quote allegedly came from a 2013 facebook post.
And then there's this direct mail piece which displays masterful Photoshop work on  Mike Labozzetta who is running against incumbent Republican Jean Evans in the 99th State Rep District in St. Louis County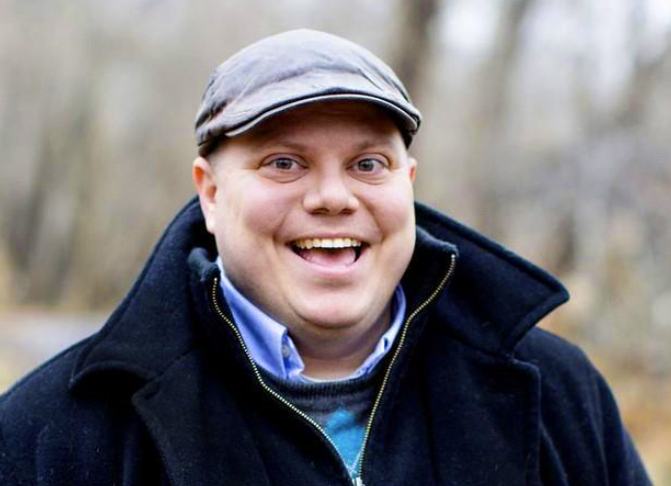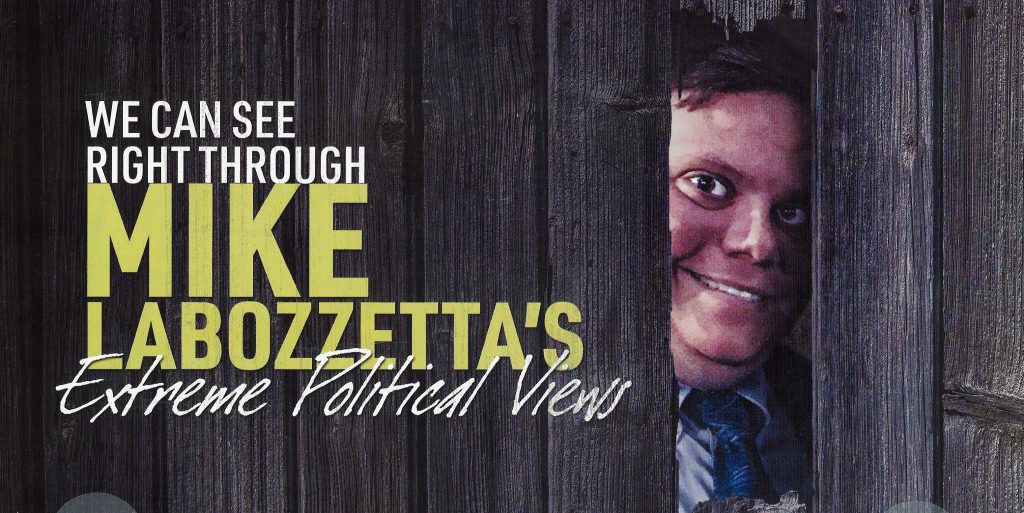 The HRCC mailer was an over-the-top hatchet job that made Labozzetta look like a depraved Jack Nicholson from The Shining. In reality, Mike is a friendly attorney who works with entrepreneurs, business owners, non-profits and startups. On his website, he says his goal is, "to create a government that invests in its citizens by investing in their education, in their healthcare, and in creating a diverse economy that provides opportunities for all." Here is Labozzetta's campaign website.
All of these targeted candidates are reasonable people with high ideals. One has to wonder if their Republican opponents are really on board with these ugly HRCC postings. When asked if she condoned the negative mailers about Labozzetta, Jean Evans stated only that she would not run negative ads and that she has no control over the ads produced by the HRCC.
If these negative offerings hold sway, it will be sad commentary on Missouri voters.