The National Memorial for Peace and Justice made me cry. And that, I'm sure, is not a unique experience. I can't speak for the busloads of other people who were there, and I can't pretend to know how black people feel when they see this stunning, symbolic representation of the thousands of lynchings in America's sordid racial history. I can only say that, for me, it evoked deep sorrow and outrage at the cruelty that human beings are capable of inflicting upon others.
As a fitting prelude to visiting what has come to be known as the "lynching memorial," we went to the Legacy Museum, about a mile away in Montgomery, Alabama. Housed in a building that was once part of the domestic slave trading hub in Montgomery, the  Legacy Museum sets the stage for the Memorial by poignantly telling the story of slavery and racial injustice in America through news photographs, headlines, archival film, animated and live video documentaries, and even an early 20th century recording in which a 100-year-old former slave describes his experience.
Walking through the exhibits is a gut-wrenching, sensory-overloading experience—almost too much to take in at a single visit.
To convey the scope of slavery in America, a video info-graphic at the Legacy Museum demonstrates how the domestic slave trade evolved after the U.S. government banned the African slave trade in 1808. Limited to slaves already in the country, traders shifted masses of enslaved people from the upper Confederacy to the Deep South, until there were more than a million slaves concentrated just in Alabama, with hundreds of thousands more trapped in other states. In another area of the museum, archival 19th century photos show the scarred backs of beaten slaves and blurry images of families on the slave auction block. On one wall of the museum, enlarged reproductions of advertisements published in newspapers tout the high quality of shipments of slaves scheduled for upcoming auctions.
Of course, the end of slavery did not end racial injustice in America. It merely shifted to other incarnations, such as share-cropping, and to laws institutionalizing white supremacy. One exhibit displays replicas of signs carried by segregationists, and notifications warning "undesirable" groups to stay out of restaurants and bathrooms. In one section, you can sit down at a simulated prison visitor's booth, pick up a telephone, and listen to a prisoner describe his/her experiences. Many of the people visiting alongside us appeared old enough to remember the fire hoses turned on civil rights marchers, the police dogs attacking, the burning of Freedom Rider buses, and the murder of three civil rights workers in Mississippi. I overhead snippets of conversations among visitors testifying to what they had seen and experienced themselves.  But I wonder how younger adults—and especially young children—experience these exhibits.
Walking through the museum, I felt worse and worse about the human race, and sadder and sadder for black people who have been regarded as lesser beings, treated violently, arbitrarily and unfairly—with nowhere to turn for help in so many cases. Their insecurity, fear and physical pain are unimaginable to a privileged person like me.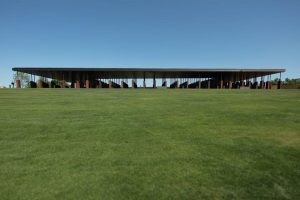 And then we went to the National Memorial for Peace and Justice. As we entered, busload after busload of other visitors arrived, too. Once inside the perimeter, there was almost total silence. Photos are not permitted, so there were no silly selfies, but I don't think many people would have tried such a thing, anyway: A feeling of reverence permeated the atmosphere. This was holy ground.
As you've probably read, the Memorial consists of a series of steel slabs, suspended from the roof, each representing a county in America where law-enforcement officials, huge mobs and small vigilante groups carried out lynchings. There's a slab for every state in the U.S.—broken down by counties—with the named of lynching victims etched into the hollow steel rectangles. The memorial begins on level ground, and then you descend into what ends up feeling like a forest of hanging bodies. On the outer walls, signs give the sad details of many lynchings: People who were murdered for "knocking on the door of a white woman;" "making a white woman feel frightened;" "not showing respect for a white man."
Since the memorial opened in 2018, people have come forward with more stories of lynchings in their families' histories, and more names are being added. When I asked a docent about the most recent lynching in the US, I was shocked at his answer. "It was in Ferguson, Missouri," he said. "In 2018."
He told me that a young man had been lynched in Ferguson, but that police were calling it a suicide, "like they always do." "But, you know," he added, "People don't commit suicide with their hands tied behind their back."  [News coverage of the incident does not seem to include the hands-tied-behind-his-back detail, so I am researching the news further, to try to figure out how to interpret what he stated as fact. But, then again, who am I to say? How do I know that this is not another case—in the long history of lynchings so dramatically depicted at the memorial—of an official cover-up?]
The final section of the memorial is a stone wall, inscribed with a remembrance for all victims, over which cascades a gentle but infinite waterfall. I experienced that waterfall as a flood of unending tears shed by the families of people who innocently went out of the house one day and never came back. They were victims of hate that I once thought unimaginable in the apparently fictional America I grew up in — but that I now see, in the current political climate, as frighteningly imaginable. That's when I sat down and cried. Many of my tears came simply from being in a place commemorating such horrific events. I was thinking about the broken-hearted mothers who lost their sons, and that made me think about the recent death of my own son, from cancer. I would not presume to equate my personal loss to that of generations of black families terrorized by lynching — but I do, in my own way, feel connected to their grief.
I'm not religious, and I'm not sure about the concept of sin. But if there is such a thing, lynching certainly qualifies, as do the perpetuation of racial hatred and the institutionalization of fear. I was heartened to note that several of the inscriptions placed around the memorial use the word "terrorism" to describe lynchings—as they were, in fact, designed to terrorize the black community into submission. I can only hope that the memorial helps people whose history has been stained by the hatred of bigotry to find affirmation of their story, and acknowledgment of their pain. In a normal ending to a post like this, I would probably add "hope for a better future." But as to that, I am agnostic.
Watch this video to get a glimpse of the Legacy Museum and the reasons behind it: