Sadia Khatri is determined to change the lives of women and girls in Pakistan—one tea-sipping, snacking, strolling, bicycle-riding excursion at a time.  The story of Sadia, a native of Karachi, Pakistan's most populous city, and her activism began with her decision to go to college in America. Sadia landed at Mount Holyoke, a prestigious, all-women's college in South Hadley, Massachusetts. Sadia's American experience changed her life. It seems possible that the sense of empowerment brought back to Pakistan by this one young woman might end up changing the lives of thousands of women and girls in cities across Pakistan.
Sadia's epiphany came to her after she returned to Karachi and realized that the lifestyle she'd enjoyed as a woman in America, particularly the freedom to go out alone with no purpose other than to enjoy being out in a public space, shed a harsh light on the constrained lives of women and girls in her hometown. As Sadia explains, male-dominated traditions, misperceptions about safety for women, and both subtle and overt social mores dictated that females have a male companion or chaperone accompany them in public spaces—whether that be a male friend, a father, or a brother. As a budding feminist and a young woman who had experienced the unfettered freedom of women in America, Sadia was seized with a passion for change.
Fueled by a new sense of self-confidence and a belief in the collective organizing they'd discovered in America, in 2015 Sadia and Atiya Abbas, a friend who had also observed on her own travels the contrast between the freedoms of women living abroad and the cramped lives of women in Pakistan, founded the feminist collective Girls at Dhabas.
The framework for their public protest is simple but brilliant and effective. Dhabas, which are popular, casual roadside cafes for locals and truckers, are places where men traditionally gather to drink tea, snack, and socialize. These are public spaces where the lone woman or girl traditionally was not welcomed. Girls at Dhabas encourages women to venture out alone to interact with public spaces, like the dhabas, in order to erase the fear of being out alone and to build a level of comfort with utilizing the public spaces in their cities.
Relying on personal narratives, storytelling, and social media, the Girls at Dhabas movement has created connections and strengthened the resolve of women to reclaim their right to public spaces in cities across Pakistan. The collective has either inspired or helped young women in other cities reclaim public spaces by staging their own actions, like organizing all-women cricket matches and collective bicycle rides.
Humay Waseem, a bicyclist participating in a group inspired by Girls at Dhabas called Islamabad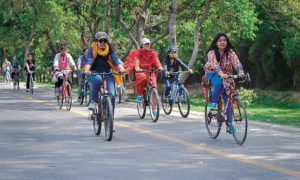 Girls on Bikes, explained her new-found feelings of freedom to a Western news service: "I drive on these roads all the time but this was maybe the first time I got to experience them while biking … I loved the feeling of freedom with the breeze in my hair."
As Sadia explains in the video below, the transformation of the perception of public space and who has permission to be there is freeing not just for women but for men as well. As she says, "the more we step out and the more we start getting comfortable in these spaces—not just for us does it get normalizing but also for the men."
American influence

In this upside-down era of Trumpism where intolerance has been elevated to the highest levels of government, it's easy to forget about the value of encouraging artists, academics, scientists, and students, like Sadia, to come to the U.S. and soak up the influence of America's cultural and intellectual diversity. Think about how just one young woman's experience of being in America has inspired thousands of women to find the courage to embrace a new definition of their rights as women in a place more than eight thousand miles away. Sadia's experience and the fervor she developed for women's rights is a shining example of the best of America and what the projection of American values and influence used to look like on the international stage.
What America is losing
How many more smart, motivated men and women, like Sadia, are out there? Given the opportunity, how many more will carry back to their countries the values of democracy, free speech, equal rights, and an open and diverse society that represent the best of the American experiment?  Sadly, we may never find out. The current harsh rhetoric and restrictive policies and intentional delays on immigration and visa allocation have cast a shadow over the numbers of individuals seeking to attend, do research, or teach at American institutions of higher learning.
The facts are telling an irrefutable story of America's loss. Following years of significant growth, the number of international students attending colleges and universities in the U.S. has declined precipitously. According to data from the U.S. State Department, the total number of F-1 visas—the visas that enable international students to attend school full time anywhere in the U.S.—declined from approximately 644,000 in 2015 to 394,000 in 2017.
The economic loss is significant as well. During the 2017-2018 academic year, international students attending American institutions of higher learning in states across the country contributed approximately $39 billion to the economy as a whole, helped to support the challenged budgets of colleges and universities from coast to coast, and contributed to supporting more than 455,000 jobs.
Loss of influence. Loss of dollars and jobs. Loss of access to the international brain bank. Loss of opportunity to influence the next generation of organizers and leaders like Sadia. This is not what winning looks like.