An internal argument among progressives is whether MSNBC is an honest, objective source of broadcast news or whether it is just a liberal foil to Fox News. Somewhat like The Daily Show with Jon Stewart, MSNBC gives us information about conservative travails and hypocrisy that we would not receive from the mainstream press. Regardless of which side of this argument you come down, there still is a special significance when clearly progressive arguments are made in the mainstream press. One of the best sources for this is the David Letterman Show on CBS.
On Wednesday, May 16, Letterman had NBC news anchor Brian Williams as his only talk guest (a rare gesture). Letterman asked him some "inside television news" questions at first, but then got on to issues such as the Bush taxes and Afghanistan. Below is the interview, which unfortunately cannot easily cut into "Brian Williams's segments" and rather includes the entire show. But it's funny, so bear with it. Among the highlights of the remarks are:
Praising Obama
Letterman: The day after the nine eleven attack, the number one priority in America – George Bush said that he wanted to get bin Laden, but instead he went into Iraq and Vice-President Cheney suggested. Halliburton was getting a little pay-off here.
Bin Laden is finally gunned down by Barack Obama, showing great courage and great intelligence. What more do you want to lead your country than that kind of courage and that kind of intelligence? [Considerable clapping; no booing from audience.]
Williams: While it's true that two wars post 9-11 had our attention occupied elsewhere than the country, and while it's true that every interview that I ever conducted with military officer whether they had stars or colonels and sergeants, on his uniform, they said, "We would like to kill him; we would like to find him, but it's not our priority right now. We now find out interviewing everyone in that picture that of course it was a priority, but it was a new priority when President Obama came into office.
Letterman: It makes me angry that we can't give this president anything. …. What more do we want this man to do for us, honest to God. And there you have it.
Letterman: What is at the core of those people disagree with gay marriage that clearly has the support of the administration?
Williams: Those opposed to gay marriage….. I can't speak to them; a lot of them have religious objections. In Romney's commencement speech at Liberty University he said that marriage should be between a man and a woman.
Letterman: The Biblical references they have a problem with.
Praising Mainstream Press
Letterman: I see that our friends at CNN are having some ratings problems. I postulated that this means that people don't want objective news the way you, Scott Pelley, or Diane Sawyer give it. They want the new that makes sense the way they see it so you have MSNBC, Fox, and so forth. They don't want it objective.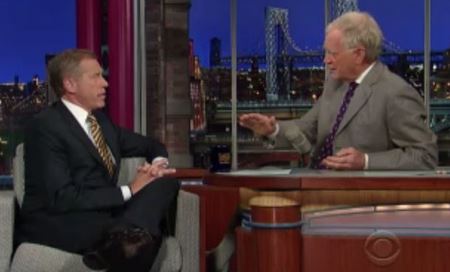 David Letterman is not a political pundit nor does he pretend to be one.  But he is rational and has a sense of fairness.  Brian Williams played it straight which allowed Letterman to make strong arguments in favor of Obama, and at times a more liberal agenda than the president has.
Letterman's audience is much greater than that of MSNBC or Fox.  More than once, he has presented the American public with the kind of sensitivity and logic that is needed.  Kudos to him; I only wish that his approach became contagious to others in the mainstream media.