It may be one of those times when President Obama is not receiving the support that he wishes he could have from either liberals or conservatives. He certainly learned during the first two years of his presidency that Republicans were not going to support him, even if he went to the extent of adopting their ideas (e.g. the individual mandate in his Affordable Care Act). During those two years, liberals were somewhat disenchanted as he distanced himself from truly progressive legislation such as Medicare for All or any form of gun control.
The president is currently at odds with conservatives over sequestration. This issue is one that President Obama hoped to avoid because he doubted that the Republicans would call his bluff on drastic spending cuts which would hit the Pentagon most and wouldn't touch any entitlements. But the Republicans, who still seem to have a primary goal of doing harm to anything that has President Obama's fingerprints on it, are quite content with weakening the country's defense and leaving millions of lower and middle income citizens at a loss.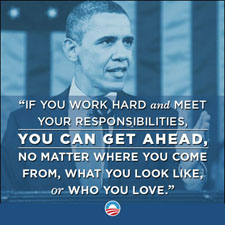 It seems that liberals are currently wondering about the president's support of principles that he has previously espoused and which are central to a progressive platform. After having truly stirred his base with a rousing Inaugural Address and an equally forward-looking State of the Union Address, the President seems to be mired in his effort to reach some sort of common ground with regard to sequestration.
Two important issues come to mind, both having to do with how our democracy chooses its leaders. The first relates to Section Five of the 1965 Voting Rights Act, which is currently being challenged before the U.S. Supreme Court by conservative and possibly racist groups. Section Five empowered the U.S. Department of Justice to "preclear" any attempt to change "any voting qualification or prerequisite to voting or standard, practice, or procedure with respect to voting…" in any "covered jurisdiction." These "covered jurisdictions" were southern states that had an ugly history of clearly discriminating against minorities, particularly African-Americans, as well as a few counties in other states that also engaged in voting irregularities that prevented qualified citizens from voting. While President Obama's Justice Department is joining most litigants in asserting that Section Five is clearly constitutional, it has not taken the truly progressive view that voting irregularities currently occur in many of the remaining 39 states and hundreds of jurisdictions.
First, Florida was not among the southern states cited for discriminatory practices and we're all aware of the transgressions that occurred there in 2000 and every presidential election since. More recently, northern states such as Ohio, Pennsylvania, and Michigan have had gross irregularities. Ever since winning re-election last November 6, President Obama has been talking about putting an end to the voting transgressions across the country. Many progressives are currently suggesting that the Section Five challenge to the Supreme Court provides an opportunity for the Court to rule in favor of "expanded equality."  This would entitle every U.S. citizen, regardless of where he or she might live, to be protected from voting irregularities. So far, the president and his Justice Department have not joined to contest to advocate on behalf of broader protection for all voters.
In the case of the 1965 Voting Rights court challenge, President Obama has not been as reactive as many progressives would like him to be. And in a second area related to improving our democracy, the President and his political aides have been pro-active in a fashion that makes our democracy all the more dependent on money, particularly from large donors.
Shortly after the election, President Obama and his inner political circle put together a plan to create a group to help rally public support for his second term agenda. He did create such an organization after winning in 2008 and it hurt him, as he had difficulty rallying support for proposals such as the Affordable Care Act and the economic stimulus. So after winning in 2012, the president authorized the establishment of Organizing for Action. This was met with considerable enthusiasm by millions of progressives as we envisioned a semi-united (about as united as Democrats could get) effort to advance much of the "unfinished business" that remained from the first term. President Obama had spoken numerous times about a "people's democracy;" one that was not characterized by inside lobbyist and big financial supporters. True, he had backed off from these words more than once, particularly in 2008 when he eschewed public financing for his campaign so that he could raise enough money to fund the vigorous campaign that he wanted. But it seemed that now that he was into his second term, he could proceed without as much worry about support from the large and powerful financial interests.
Such has not been the case with Organizing for Action. As Nicholas Confessore wrote in the New York Times:
President Obama's political team is fanning out across the country in pursuit of an ambitious goal: raising $50 million to convert his re-election campaign into a powerhouse national advocacy network, a sum that would rank the new group as one of Washington's biggest lobbying operations.

But the rebooted campaign, known as Organizing for Action, has plunged the president and his aides into a campaign finance limbo with few clear rules, ample potential for influence-peddling, and no real precedent in national politics.
Organizing for America is headed by Jim Messina who was Obama's campaign coordinator in 2012. While it will bear some of the grass-roots characteristics of Obama campaigns, it will also include the presence of big donors who will have special access to the president and other major figures in the administration.
I for one am most interested in helping President Obama advance progressive tenets of his agenda. However, I'm reluctant to do so because I don't want to be part of an organization that is structured in a fashion that I think should be illegal because it grants disproportionate power to an elite few.
I realize that it's difficult for the president to back off from the rich and the powerful. This is evident from his playing golf with Tiger Woods and two oil executives. It's evident when Michelle Obama acts as part of the "Hollywood cabal" in presenting the Academy Award for the best motion picture of 2012. They live in a glass bubble. Yet they're both very aware of where most Americans live. Like any people who are cloistered, they need to be reminded of that. Let's hope that truly popular support is what progressives can give to President Obama.