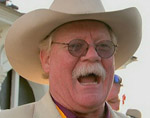 [by Arthur Lieber]
If every rule has an exception, thent "no one likes a sore loser" has Stephen Coburn as its exception. This Wilfred Brimley lookalike is the co-owner of the not-to-be Triple Crown Winner California Chrome.
After his horse came in a disappointing fourth place in the Belmont Stakes, the third jewel of the Triple Crown, Coburn could not contain his bitterness and sense that he had been dealt a raw deal. Interviewed less than five minutes after the conclusion of the race, Coburn said about his horse:
Well, I thought he'd stand his ground, but he didn't have it in him apparently. You know what, he's been in three, this is his third very big race. These other horses, they always sit them out. They sit them out and try to upset the applecart. I'll never see — I'm 61 years old, and I'll never see in my lifetime another Triple Crown winner because of the way they do this. It's not fair to these horses that have been in the game since Day One. I look at it this way: If you can't make enough points to get into the Kentucky Derby, you can't run in the other two races.
What he's saying is that, as opposed to California Chriome, the horses that beat his were well-rested. They had sat out either the Kentucky Derby or the Preakness in the weeks prior to the Belmont. Coburn wanted a level playing field, in which the competitors in the third jewel would have competed in the previous two and be equally fatigued going into the race.
What Coburn didn't say were the usual platitudes. Instead he sounded like a man who had been sucker-punched. If that's what happened, why shouldn't he be allowed to let off steam? Not everyone can be as gracious as Al Gore was after he had an election stolen from him. Coburn was not only talking about California Chrome; he was talking about horses not yet born but who, under the current rules, would be extremely unlikely to win the Triple Crown.
St. Louis Post-Dispatch columnist Bernie Miklasz wrote the following day:
After watching another flat, fatigued Triple Crown contender get consumed by the epic challenge of winning a third race in five weeks and doing so over the exhausting distance of Belmont's mile-and-a-half oval, I believe the sport of thoroughbred racing needs to saddle up and gallop in a new direction.

The gallant California Chrome never had a chance Saturday, having left his sharpness and finishing kick at the Kentucky Derby and the Preakness. When the moment came for Chrome to make his move Saturday and sweep through the long stretch at Belmont, he had had nothing left to give.

The opt-out, drop-in strategy prompted California Chrome co-owner Steve Coburn to rage against the system — calling it a "coward's way out" — moments after his horse finished in a dead heat for fourth place. Coburn wasn't gracious. A feel-good story suddenly boiled over in temper. But his frustration is understandable.

The point isn't to make it easy for an outstanding horse to win a Triple Crown; the purpose should be to give that horse a fair chance. And I want to see the highest number of talented, fit, fresh horses run in all three races. Extra time off between races would greatly enhance that possibility.
Two days after the race, Coburn offered the requisite apology, saying that he was "very ashamed" of his behavior in the moments following the race. But why did he have to do that? His only crime was one that is familiar to progressives; he spoke truth to power. I would like to reward him by putting his visage on my favorite breakfast cereal.