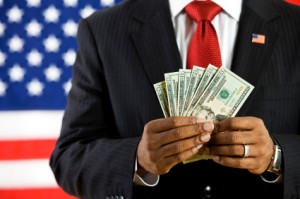 The fossil-fuel industry is reaping the rewards of its three-quarters of a billion dollar investment to secure a Republican controlled congress. But they weren't just buying Republicans—in a spirit of bi-partisanship, they bought 37 Democrats.
On January 9, 28 House Democrats voted with 238 Republicans to authorize construction of the controversial Keystone XL oil-sands pipeline. On January 20, nine Democratic senators voted with 53 Republicans to approve Keystone XL:
Michael Bennett, Colo.
Thomas Carper, Del.
Robert Casey, Pa.
Joe Donnelly, Ind.
Heidi Heitkamp, N.D.
Joe Manchin, W. Va.
Claire McCaskill, Mo.
Jon Tester, Mont.
Mark Warner, Va.
A list of the 28 House Democrats who voted for Keystone can be found here.
Corporate money and the Keystone vote
Think Progress reports that Senators voting in favor of the recent Keystone XL bill have received a combined $31 million over their careers from the oil and gas industry, compared to under $2.7 million in career contributions for the Senators who voted against the bill.
In other words, Republican and Democratic senators voting for Keystone XL have received seven times more oil and gas industry money than the 36 Senators who voted against it. Republican and Democratic Representatives who voted in favor of Keystone XL received 8.5 times more oil and gas industry money in the 2014 election cycle, on average, than those voting against the bill.
Because the Keystone pipeline will cause a significant increase in greenhouse gas emissions, and will threaten the land it crosses with toxic spills, scientists and environmentalists have pronounced it too dangerous to build. Yet 37 Democrats, who claim to represent interests of the people, voted for it.
The motivations of Democrats to vote for Keystone XL, I'm sure, are complicated and varied. But the money connection is there.
Democratic betrayal more damaging than Republican
Republicans have always been the party of banks and corporations. We don't expect them to be interested in the welfare of ordinary people or in promoting democracy. Their blatant efforts to suppress the vote are well-known. Traditionally, Democrats have been the party of the people. We expect them to be interested in our welfare and in promoting democracy. So when Democrats campaign as progressives, then join Republicans in serving the interests of banks and corporations, when they vote "yes" for the Keystone pipeline in return for donations or favors from the fossil-fuel industry, when they mindlessly accept the false narratives generated by corporations to sway the public, they deliver a huge blow to democracy. When Democrats become corporate Democrats, we have no one left in Washington DC to represent us.
The EPA and Obama's veto
Obama, a long-time friend of the fossil-fuel industry, has enthusiastically promoted "clean coal," fracking, and offshore drilling. However, he has decided to veto Keystone X—if it is found to adversely affect climate change. The U.S. Environmental Protection Agency (EPA), by directly contradicting the bogus pro-Keystone studies generated by the State Department, has given him cover to do so.
On February 2, the EPA issued a letter on the proposed Keystone XL Pipeline, in which it advised that, "development of oil sands crude represents a significant increase in greenhouse gas emissions."
The EPA found that greenhouse has emissions from the extraction, transport, refining and use of the 830,000 barrels per day of oils sands crude would result in an additional 1.3 to 27.4 million metric tons of carbon dioxide equivalents per year. To put that in perspective, 27.4 million metric tons per year is equivalent to the annual greenhouse gas emissions form 5.7 million passenger vehicles or 7.8 coal-fired power plants.
If Obama vetoes the Keystone Pipeline bill, it is unlikely there will be enough votes in congress to override his veto. No thanks to Senator McCaskill, and other DINOs, we will have dodged a bullet. But, Sen. John Hoeven, [R-ND], sponsor of the Keystone bill, stated that if Obama vetoes it and there aren't enough votes to override, Republicans could attach approval for the Keystone to other legislation. Unfortunately, this story is not over.