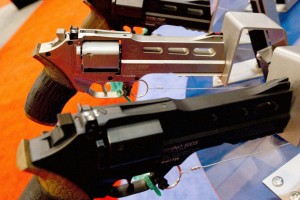 In advance of the National Rifle Association's 2015 convention, the widely circulated rumor that the NRA was banning "operational" guns from the conventional hall offered a delicious bit of irony. Word was that at the convention in Nashville, Tennessee,  any guns brought in would have to be "inoperable," meaning that the firing pin would be removed.
Oh, man, I was so hoping that it was true, so that I could gloat about NRA hypocrisy and also share the tasty headlines and internet memes that poked fun at it.
But, alas, the NRA is not as tone deaf or as dumb as I had envisioned. And the rumor doesn't pan out.
The first debunking I came across was on a site called "Bearing Arms: Guns & Patriots, Saving Lives and Liberty." I don't usually stop in at these kinds of sites, but that's where I landed. The blogger made a pretty strong case against the rumor, stating:
The National Rifle Association holds an annual meeting every year in a different host city, and requires that attendees follow the federal, state, and local laws applicable in that city, like every major convention of every significant national group, ever.
So, according to that report, the NRA was merely following the local rules, and the venue where they were holding the convention bans operational weapons on display.
But I still desperately wanted him to be wrong.
Then I read a similar debunking at NPR. As a lefty, that's a site that I tend to—rightly or wrongly– knee-jerk trust. And that's where I became convinced that the rumor was baloney—something fabricated, I suppose, by others who wish to undermine the credibility and motives of the NRA.
As Blake Farmer of member station WPLN in Nashville tells our Newscast unit, one of the venues is enforcing its ban on guns. Here's more:

"[I]t's not unusual for meeting sites to restrict guns. In Nashville, those with carry permits are allowed in the convention hall, but not across the street in Bridgestone Arena, where the nightly concerts are held."

And, as Blake notes, display firearms on the exhibit floor at the NRA convention will have their firing pins removed — which is typical for such shows.
NPR sent readers to an MSNBC report, which said:
The original report from the New York Daily News, which said the NRA had "banned working guns" from the convention, was inaccurate – Tennessee's open-carry laws still apply at the NRA event. The Memphis Daily News published a piece explaining Tennessee gun laws in more detail. Similarly, when The Tennessean reported, "All guns on the convention floor will be nonoperational," that referred to the guns on display at exhibitors, not the guns attendees bring themselves.
Contrary to the rumor, the fact is that convention-goers can still pack their own heat at NRA conventions.
Attendees can bring their own firearms as long as they are compliant with local ordinances, NRA spokeswoman Jennifer Baker said. Also, Baker said displaying disabled guns is standard practice at the event, which she emphasized is a trade show for gun makers.
MSNBC does note, though, that the NRA did impose some  limits on attendees at the convention
This does not mean, however, that convention attendees face no limits on where and when they can carry loaded firearms. We learned late Wednesday, for example, that no guns are allowed in the convention room during performances from Alan Jackson and Jeff Foxworthy. There's also an expectation that gun owners will have the proper permits before bringing loaded weapons to see speeches from presidential candidates.
So, the whole irony thing was wrong. Sigh.
But we should also remember that the convention was held in Tennessee, where gun laws are pretty darned loose. And where a Tennessee lawmaker recently asserted that guns are as safe as bicycles. And where, just days before the NRA convention was called to order, one Tennessee State Representative pushed for a state law that would make it easier for people [meaning NRA conventioneers] to carry guns into public parks.
I still disagree with essentially everything the NRA stands for–except for the necessity of gun safety. I'm just slightly disappointed that, this time, they took away my opportunity to have a laugh at their expense.