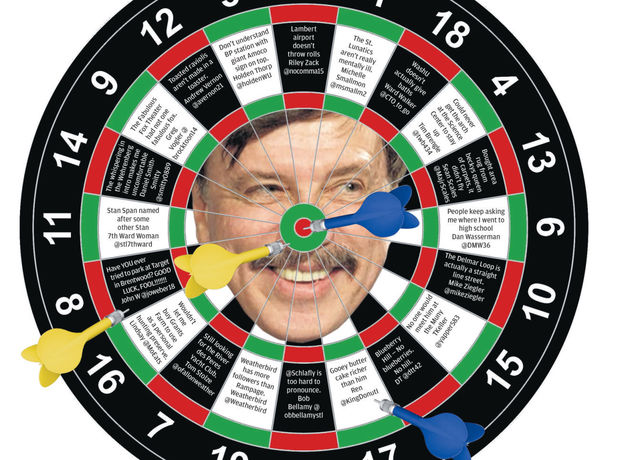 Stan Kroenke's recent verbal abuse of St. Louis may, at long last, have awakened this town to the sick relationship it has had with the NFL and Kroenke, the owner of the St. Louis Rams football team.
The verbal abuse came in Kroenke's application to the NFL to relocate the team to Los Angeles.In an attempt to justify moving the team, Kroenke said:
St. Louis lags, and will continue to lag, far behind in the economic drivers that are necessary for sustained success of an NFL franchise…

Any NFL Club that signs on to this proposal in St. Louis will be well on the road to financial ruin, and the League will be harmed…

St. Louis is not capable of supporting three major sports teams. No other NFL franchise would be interested in the current proposed riverfront stadium…and it doesn't make economic sense to be in the city.
That hurt. And this cruel assault on St. Louis' self-esteem is typical of abusive behavior. [Interestingly, the harsh criticisms in Kroenke's letter to the NFL came after years of zero communication from Kroenke, who St. Louis pundits have dubbed "Silent Stan." The silent treatment is yet another symptom of abuse.]
But until the Rams—curiously—made Kroenke's letter public, St. Louis football fans and civic "leaders" desperately wanted to keep the Rams in town. So desperate, in fact, that city leaders were willing to spend hundreds of millions of tax dollars to build a new $1 billion football stadium to regain Kroenke's love, and that of the NFL, too.
Now, the anger aroused by the otherwise silent Stan's criticisms of St. Louis may be raising awareness of just how unhealthy this town's relationship with Kroenke and the league has been.
Abuse
What's an emotionally abusive relationship? The Center for Relationship Abuse Awareness defines abuse as
…a pattern of abusive and coercive behaviors used to maintain power and control…. Abuse can be emotional, financial, sexual or physical and can include threats, isolation, and intimidation. Abuse tends to escalate over time.

An abuser is a grand manipulator and will sulk, threaten to leave, and emotionally punish you for not following their idea of how things should be. An abuser will try to make you feel guilty any time you exert your will and assert what is right for you.
In the St.Louis/NFL case, the abuse began years ago, in 1995, when the city built a domed stadium as a way of enticing an NFL lover, er, team to town. Then, city leaders agreed to lease out the newly constructed dome to the Rams under a rather strange contingency forced on them by the NFL: The Rams' lease required [St. Louis] to provide an updated "first-tier" stadium for the Rams — in the top eight of 32 National Football League teams — first by 2005, and again by 2015.
In other words, the stadium had to stay pretty to keep the love. Then, in 2013, the Rams complained that the dome had let itself go, was soft in the middle, and needed $700 million in cosmetic surgery and body work. And when the city said no, the Rams threatened to walk away.
More recently, less than a week after Kroenke submitted his St.-Louis-hating proposal, the NFL piled on. Preparing for the long-awaited owners' meeting, at which the fate of three teams [St. Louis, San Diego and Oakland] could be decided, NFL commissioner Roger Goodell dissed St. Louis' proposal for a new stadium, calling the plan "inadequate and unsatisfactory."
An emotional abuser goes through life feeling entitled to be treated like royalty, and wants you to be a willing servant. He or she expects you to do everything and will not help at all.
Rams owner Stan Kroenke got rich by marrying a Wal-Mart heiress and by developing Wal-Mart anchored shopping complexes all over the US. He wants out of St. Louis, and he apparently feels entitled to get his way, even if he violates NFL rules. He has already purchased hundreds of acres of land in Inglewood California, where he intends to build a sports-stadium, entertainment and shopping mega-complex—with his own money.
He has offered zero dollars to help build a new stadium in St. Louis.
Victims' reactions to abuse
When an abuser calls their partner names, puts them down and plays mind games it can make the victim feel bad about themselves. Many times victims believe that the abuse is their fault or that they deserve the abuse.
Over the past few years, as Kroenke and the NFL escalated the threat to leave St. Louis without a football team, fans responded as abuse victims often do: They begged and protested their undying love.
A facebook page launched in 2014 by Rams fans said: "Our mission at Keep the Rams in St. Louis is continue to build our tradition in St. Louis, with our passion and commitment. Let's show the world that we LOVE and support the Rams; and we want them to stay in St. Louis." The group said it hoped to show Los Angeles and the rest of the country that St. Louis loves its football team and that team should stay right where it is.
There are probably even some St. Louis football fans who actually do blame this whole mess on themselves and on the city's political leaders, for not attending games, for not supporting the stadium tax giveaway, and for not being the razzle-dazzle city that would make the NFL and Kroenke love us more.
Breaking away?
Kroenke's gratuitous comments to the NFL have sparked an angry backlash from his victims. They're calling his criticisms "preposterous pot shots." Missouri's governor zinged back, saying, "Our fans support their professional and amateur teams—Especially ones that win." St. Louis Mayor Francis Slay shifted the blame back to Kroenke, saying "If the Rams leave, it will not be for something the region failed to do. Or the fans." The St. Louis Post-Dispatch published a half-page dartboard, with Kroenke's image in the bullseye, and the best of #kroenkecomplaints around the perimeter.
But is any of this enough? Vicitms can cry, hurl zingers, self-justify, or throw the blame back to the abuser, but will it make a difference? Kroenke and the NFL still have the power to decide. The only power citizens, policymakers, and the little people have is to walk away—not just physically, but emotionally, too– from the madness. Some suggest that victimized cities band together and form a coalition–perhaps even a collective-bargaining organization–that would refuse to be blackmailed, extorted and pitted against each other by professional sports leagues and teams.
This is not just about St. Louis. I'm looking at you, too, Oakland and San Diego, and all of the other cities who have  been–and will be in the future–bullied and abused by NFL owners and the league.
So, instead of continuously trying to placate these abusers, maybe NFL cities should be going to court to petition for orders of protection.