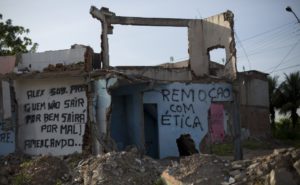 Throughout the coming weeks of sport and competition, keep in mind the cost Rio and Brazil are bearing to host us. More than 77,000 citizens have been forced from their homes and communities and placed in public housing far out on the peripheries. Many can't afford their new rent.
Since 2009, "Pacification" forces have been deployed throughout many of Rio's working-class communities, (paradoxically) killing 307 residents in 2015 alone  — the majority young, black men. A "shoot first, ask later" attitude matched with virtual impunity has lead to the deaths of children by stray bullets, innocent youth by prejudice and suspicion, and a retaliatory spike in violence and crime (followed by a 103% increase in police killings only recently). An involved property developer was quoted admitting the "pacification" strategy was really one of deliberate isolation, designed to hide the squalor and disarray working-poor communities are subjected to not by gangs, but by the government. His goal, he said, was to make Rio, or at least give the impression of, "a city of the elite."
Very few plans for improvements in these communities that helped win Rio the games in 2009 were implemented. The single metro line that was completed only reaches the most affluent areas, and bus lines have been changed to avoid poorer areas. Some of those areas have been literally walled-off from highways and travel routes. Rio legislation requires community participation in budgeting, yet the community as a whole has been left in every meaning of disregard. The internationally-lauded family financial assistance program that helped raise 50 million Brazilians into the middle class over the last decade recently ran out of funding. Schools and hospitals have seen funding cut and even been closed over and over while politicians and elite public servants raise their salaries and ignore the constitution (well, at least they're working to change that so their activities wouldn't be illegal…). Even the police and other first responders, who are clearly playing such a central role in this event, went without pay because of shameless corruption and mismanagement on the city and state levels.
On the Federal level, President since 2010 Dilma Rousseff was ousted several months ago amid the largest corruption scandal in Brazilian history on accusations of accounting tricks in order to clean up her record for reelection. The Senate investigative committee, full of those who voted to impeach her, found no evidence at all of the crime. More than half of those in Congress who voted to impeach her, however, are implicated and/or convicted in the multibillion dollar scandal, among others (of course). Several recorded conversations have been leaked revealing that the motivation behind impeachment is killing the investigation. The former-Speaker of the House Eduardo Cunha, who championed and prioritized her impeachment process over the past year, was found guilty of multiple counts of corruption and stripped of his title (though not his perks, unlike Dilma). Current President and former-Vice President Michel Temer — who is also implicated in the ongoing scandal — operated very closely with Cunha to drive the effort for impeachment, promising cabinet offices to leaders of major parties to draw support. Within three weeks, three cabinet ministers in Temer's all white, all male, all millionaire cabinet had resigned facing corruption charges (including, ironically, the anti-corruption minister). REMINDER THAT HIS PREDECESSOR DILMA WAS THE COUNTRY'S FIRST FEMALE PRESIDENT.
This so-called "soft coup" by the pragmatic corporatist party of Temer, Cunha, and Rio's mayor — Eduardo Paes — has been fueled in large part by the country's mass-media, who have a history of supporting conservative coups. For instance, when paper Folha de São Paulo polled Brazilians on their thoughts on Dilma vs. Temer, Folha published results construed to show that the majority of the country wanted Temer to remain president until the end of the term. In reality, originally unreleased data implied that a clear majority still wanted new elections. Domestic media as a whole are now suggesting Temer run for reelection in 2018, though he is legally banned from doing so for violating campaign finance laws in his last personal campaign. Other media have downplayed anti-Temer protests and highlighted and even exaggerated anti-Dilma acts, while offering mostly pro-impeachment commentators on air and in print.
Though most Brazilians did and do support Dilma's impeachment for her lack of charisma along with her being head of government during a major scandal, just as many or more did and do not want Temer as president (he received a shockingly low 1% of the vote in a presidential poll only months ago). He's less popular now than Dilma at her worst. Yet, he, unlike Dilma, refuses to entertain the notion of new elections. With no vote or other input by the nation, he is pushing major "reforms" with a huge swing to the right from the previously social-democratic government, privatizing the nation's resources and slashing any and all social programs (in order to please "Goldman, Sachs and the IMF" and his adoring foreign investors — those with no investment whatsoever in the country or people, only in making money), while simultaneously increasing the salaries of the judges who will vote on whether to proceed with Dilma's impeachment and whether or not to indict he and those in his party and new coalition. That coalition heavily features the right-wing party who has lost four consecutive elections to Dilma's center-left party.
Clearly, there is quite a bit for Brazilians to be angry about, so please — POR FAVOR — cut them some slack over the next few weeks. They, like most of us, would prefer to continue to be able to go to school and to get an ambulance in under 5 hours. Keep them and their struggles in sight and in mind. An investment of your patience, attention, and empathy will go a long way to finally grant the longtime "Country of the Future" its rightful place as a country of today.