Need a sample ballot? Many Missouri voters are worrying about the 2018 midterm ballot. We've been warned: It's unusually long. It includes a slew of Constitutional amendments, propositions, County charter amendments, retention questions for state judges most of us have never heard of, and, of course, candidates for offices ranging from US Senator to local tax assessor.
We've been warned, too, that the length of this ballot could result in an average voting time of, perhaps, 20 minutes. The result could be long lines at polling places, as an unusually energized electorate turns out in larger-than-usual numbers.
So, in the interest of being better informed and getting through the process more efficiently, many voters are asking their elections boards, as well as voter advocacy groups like the League of Women Voters about getting sample ballots in advance.
The good news is: they're available. The even better news is: They're available in several ways.
Mass mailing from your election board
Your local election board –at least those in St. Louis City and St. Louis County—will be sending you a printed, sample ballot about a week to 10 days before the election, along with information about the location of your polling place.  However, while mailing out a sample ballot is a very nice, transparent, good-government way of informing voters, the printed version you'll receive will most likely use very small type, because there is so much to include. It will include all local, state and federal candidates in your area. Also, the mailed-out version will include the ballot language of the issues, but there will be no explanation of what they are. [Because ballots can vary from precinct to precinct, resulting in many versions of the ballot, the election board will probably not be able to mail you an individual ballot. You have to wait for the mass mailing.]
Print a sample ballot from St. Louis County Election Board
Because the candidates and issues can vary from area to area, there's no one-size-fits-all generic sample ballot. But you can get a customized sample ballot for St. Louis County by going to http://www.stlouisco.com, searching on "sample ballot," and following the on-screen prompts. You'll then see a sample ballot for your specific area. You can print it out–but be aware that, because of its length, printing on letter-sized paper will result in some very small print. Still useful, though.
Vote411.org
This very helpful website is a project of the League of Women Voters' Education Fund. You enter your address, zip code, city and state, and it brings up all the electoral contests and ballot issues in your specific area. By clicking the + sign next to each issue, you'll get a screen that gives not only the ballot language, but also a plain-English explanation, and a summary of what supporters and opponents say about each issue. You'll also find a list of all the judges up for retention, accompanied by the rating each received from the Missouri Bar Association.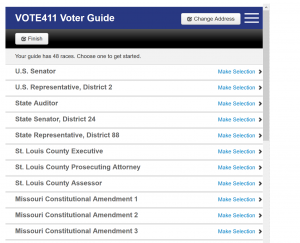 For each candidate and issue, you can indicate how you want to vote [it's all confidential, of course. You never put in your name.] To get a sample ballot, click on the Finish button. The site will ask for your cell phone and email address, and it will then send you an on-line version of the ballot, complete with all candidates and issues. Very convenient!
Missouri Secretary of State website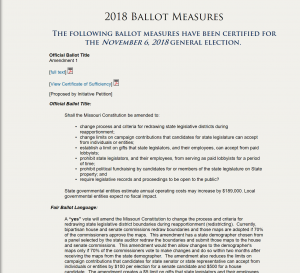 Although it doesn't get you a sample ballot, clicking on https://www.sos.mo.gov/elections will get you the official title and the Fair Ballot Language" of each of the statewide constitutional amendments and propositions that you'll see on the Nov. 6 ballot.  Under Fair Ballot Language, you'll see what each proposal would do, if passed.
Voters Guide in St. Louis Post-Dispatch, Oct. 26
The St. Louis Post-Dispatch —  in collaboration with the League of Women Voters — will include a comprehensive Voters Guide as a supplement in the [Friday] October 26 daily newspaper.  [They do this for every election, including primaries.] The guide will include all the information on the Vote411 website–but it won't be customized for individual addresses. It covers St. Louis City, St. Louis County, St. Charles County, Franklin County and Jefferson County. You'll be able to read all of the ballot language for all of the amendments and proposals, plus review all candidates for federal, state and local offices, including their statements about themselves and their positions on current issues. The guide also contains the names and "scores" for all judges up for retention. It's a very useful tool. We should applaud the Post-Dispatch and the League of Women Voters for this huge undertaking–and we should be glad that we still have a daily newspaper in our region.
If you don't subscribe to the daily edition, you can pick up a copy of the guide at your local library [the League of Women Voters has a volunteer corps that delivers bundles of them throughout the region]. Copies are also available at churches, synagogues and the offices of many non-profit organizations that request them.
Hint: Make yourself a "cheat sheet" to take to your polling place
It's not cheating to take your own notes into the polling place. A so-called "cheat sheet" will help you remember what each proposition is about, and how you may have decided to vote when you had the time to review them in advance.
Note: I recently voted absentee in-person, and saw for myself the value of a cheat sheet.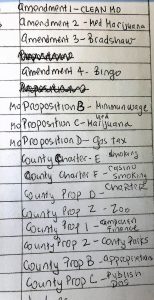 The electronic voting machines in St. Louis County include a review screen that appears after you have finished voting on the issues and candidates. That's where you check to make sure that you voted the way you wanted to, and that the machine recorded your preferences correctly. But here's the thing: On the ballot issues and amendments, the review screen does not state the issue associated with each amendment or proposition—so you might not remember what, for example, Proposition D was. That's when a crib sheet listing the item and its topic comes in very handy. Here's my crude version for St. Louis County.
Read, Google, Ask
Whatever you do, don't get blind-sided by the ballot on Election Day. If you walk in prepared, you'll congratulate yourself on being an informed voter. When you see the actual ballot—or scroll through the many screens—you'll be glad you studied up. And the people in line behind you will thank you, too.