On their 2018  ballots, many voters in St. Louis County may be surprised to encounter a quartet of proposed County charter amendments–plus a fifth that is, essentially, a no-brainer. Reading them over for the first time, they can seem obscure, and, as a result, voters may opt to skip over them. But don't. While they may seem obtuse and "inside baseball," the proposals are actually worth consideration.
And, incredibly, they are bi-partisan, supported by Republican and Democratic council members.
The St. Louis Post-Dispatch offers an excellent analysis of where these proposals came from, and what they are intended to do:
…County Executive Steve Stenger has frequently overstepped his boundaries, and the County Council is taking action to restrain him through several ballot initiatives. County executives have, for decades, treated the council as a rubber-stamp body — a formula for corruption and mismanagement.

Republican and Democratic council members have joined forces to put a stop to this, primarily by restricting the ability of the county executive to abuse his power and by clarifying the council's role as a necessary check and balance on executive power. We recommend voting yes on the first four county charter amendment items as they appear on the Nov. 6 ballot. Here's why:

County Prop 1 would codify the campaign-finance limits that the council wants to place on county elected officials. It asks voters to approve a $2,600 limit per election on campaign contributions by individuals or entities to elective office candidates. A key element of the proposition is its prohibition on donations from any person or entity seeking a county contract, extending from 90 days before contract bids are solicited to 90 days after the contract has been awarded. This provision would help eliminate the hint of undue influence in the awarding of government contracts.

County Prop 2 is a response to the sneaky effort by Stenger's allies to slice off a chunk of Creve Coeur Lake Memorial Park last year to build an ice-rink complex, including a St. Louis Blues practice facility. Prop 2 would require that future land transactions involving county parks be approved by voters.

County Prop B goes to the heart of the power struggle between Stenger and the council. Stenger has used funds transfers within departments, including restrictions of County Council funds, to wield power and limit the council's legislative powers. Once a budget is submitted by the executive and approved by the legislative branch, it should be respected by both branches. But that hasn't happened. Prop B would require the county executive to obtain council approval before making such funds transfers in the future.

County Prop C is a straightforward effort to impose transparency on government by requiring the county to create a website where the public can access financial documents. If you want greater specificity about how your taxpayer dollars are being allocated, this website would make access easier.

A yes vote on these four items would restore much-needed balance in county governance.
County Proposition D
The mysterious Proposition D: While it simply asks if there should be a charter commission to revise the County Charter, it is causing consternation among voters. [I know. I've been answering the phones at the League of Women Voters. This is a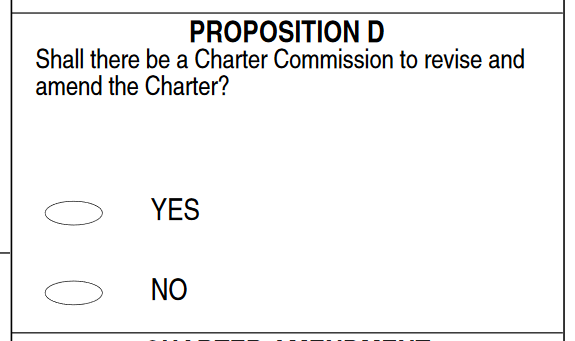 question that a lot of people are asking.] The answer,, as I understand it, is simple: Every ten years, St. Louis County is required to review its charter [which is sort of the constitutional for the county.]. This proposition authorizes the charter commission to do its job.