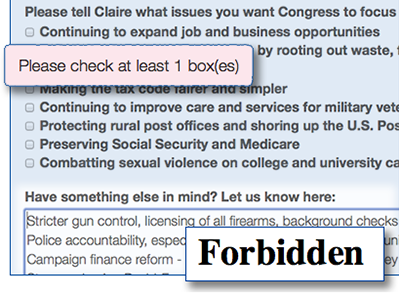 I recently received an email from Senator Claire McCaskill, D-MO, asking for my ideas about Congress' efforts in the months to come.
As Claire says, "some of the best ideas for what to tackle come directly from constituents, and that's why I'm asking for your help. I want to know what you believe Congress should focus on this year." Great! I have a chance to get behind my Senator and see that important stuff gets done.
It was a bit of a letdown when I went to take the survey. Here are the options Claire put forth:
Continuing to expand job and business opportunities
Holding government accountable by rooting out waste, fraud, and abuse
Protecting consumers
Making the tax code fairer and simpler
Continuing to improve care and services for military veterans
Protecting rural post offices and shoring up the U.S. Postal Service
Preserving Social Security and Medicare
Combatting sexual violence on college and university campuses
Really? That's the best she can do?
Okay, there's a box labeled "Have something else in mind? Let us know here." A big box with lots of room. Skipping the proposed checkbox topics, I filled the suggestions box with issues like gun control, campaign finance reform, increasing the minimum wage, greater police accountability and lots more.
There, that should do it. Click submit. Oops, I'm taken back with a message that I must check at least one box.
Okay. Fill out the form again, check at least one box, refill the suggestions box with the important stuff. Click submit. Next screen: FORBIDDEN. What's THAT mean?
As it turned out, if any "other" suggestions were entered, the survey response was FORBIDDEN. Surely, her staff would have tested the survey site to make sure that other ideas from her constituents would be heard. But then, maybe not.
What happened to the Democratic party of Mario Cuomo at the 1984 Democratic National Convention?
In his eight minute address, he spelled out a vision of the Democratic party and of this country that bears repeating today. Referring to Ronald Reagan's "shining city on a hill," Cuomo said,
"But the hard truth is that not everyone is sharing in this city's splendor and glory. A shining city is perhaps all the President sees from the portico of the White House and the veranda of his ranch, where everyone seems to be doing well. But there's another city; there's another part to the shining the city; the part where some people can't pay their mortgages, and most young people can't afford one; where students can't afford the education they need, and middle-class parents watch the dreams they hold for their children evaporate"
Spend time watching that speech and you will get a vision of what could be.
Full text of Cuomo's speech here.
Michael Gerson recently wrote for the Washington Post, that Democrats are stuck in the past. He referred to Cuomo's speech. He said it, "provided progressives with the best version of themselves, as tribunes of the forgotten and excluded." He goes on to say that Bill Clinton shifted the party's focus more to the center.
Gerson then complains, "President Obama has now effectively undone everything that Clinton and the New Democrats did in the 1980s and '90s. Issue by issue, today's Democratic Party is about where it was in 1979."
If only that were so.